Welcome to HuffPost's Keeping It 100. From infusing our culture with data to figuring out how to reach Gen Z and cultivate niche distributed communities, we'll give you an inside look at the hits and misses of HuffPost's biggest bets.
Over the past year, HuffPost has transitioned from a content-first organization to an audience-first one ― zeroing in on who we're serving at every step of the editorial process. Our latest experiment took this one step further, going so audience-first that content creation wasn't even a part of the road map for the first few months.
To truly be 100 percent audience-first, we decided to invest in niche Facebook communities as appendages of the HuffPost brand. The pages wouldn't push HuffPost content or even bear the HuffPost name. Here's how it went...
Develop niche non-HuffPost branded Facebook pages for underserved communities with the long-term goal of serving mission-aligned HuffPost content to an incredibly engaged audience.
We started with a Facebook community geared toward millennial and Gen Z (18 and under) female introverts, called "Canceled Plans." We pinned a note to the top disclosing that HuffPost was behind the page, and set off cultivating the community.

For the first three months, it was imperative for us to curate the introvert experience in the most authentic way ― which meant not pushing HuffPost or any other big publisher content. We pulled from the best of the internet (always with permission, of course) to curate an experience that held a mirror up to the community. We gave ourselves a goal of 20,000 followers in the first three months and blew past that goal in the first month. The community was driven by organic sharing and peer-to-peer recommendations through comments. We got love letters from community members saying this was the first community they'd found that was actually for them. We were feeling good...
With the growth of the page exceeding expectations, we started testing HuffPost content that was very clearly aligned with the ethos of the community. With a new community that was just one-seventeenth the size of our legacy HuffPost Lifestyle Facebook presence, where this type of content would normally live, we started seeing on average 10 times more engagement on Canceled Plans. For example, the story "10 Things That Don't Make Sense To Introverts" resulted in 544 percent more shares on Canceled Plans than the same post that was shared on our HuffPost Lifestyle Facebook account. Similarly, the story "12 Snarky Cards That Sum Up Life As An Introvert" received 428 percent more shares on Canceled Plans than from HuffPost Good News' Facebook page, which had 25 times the number of followers. And in a record week, Canceled Plans saw a total reach that was just 11 percent shy of our HuffPost Politics Facebook page reach (a page that has 22 times as many followers).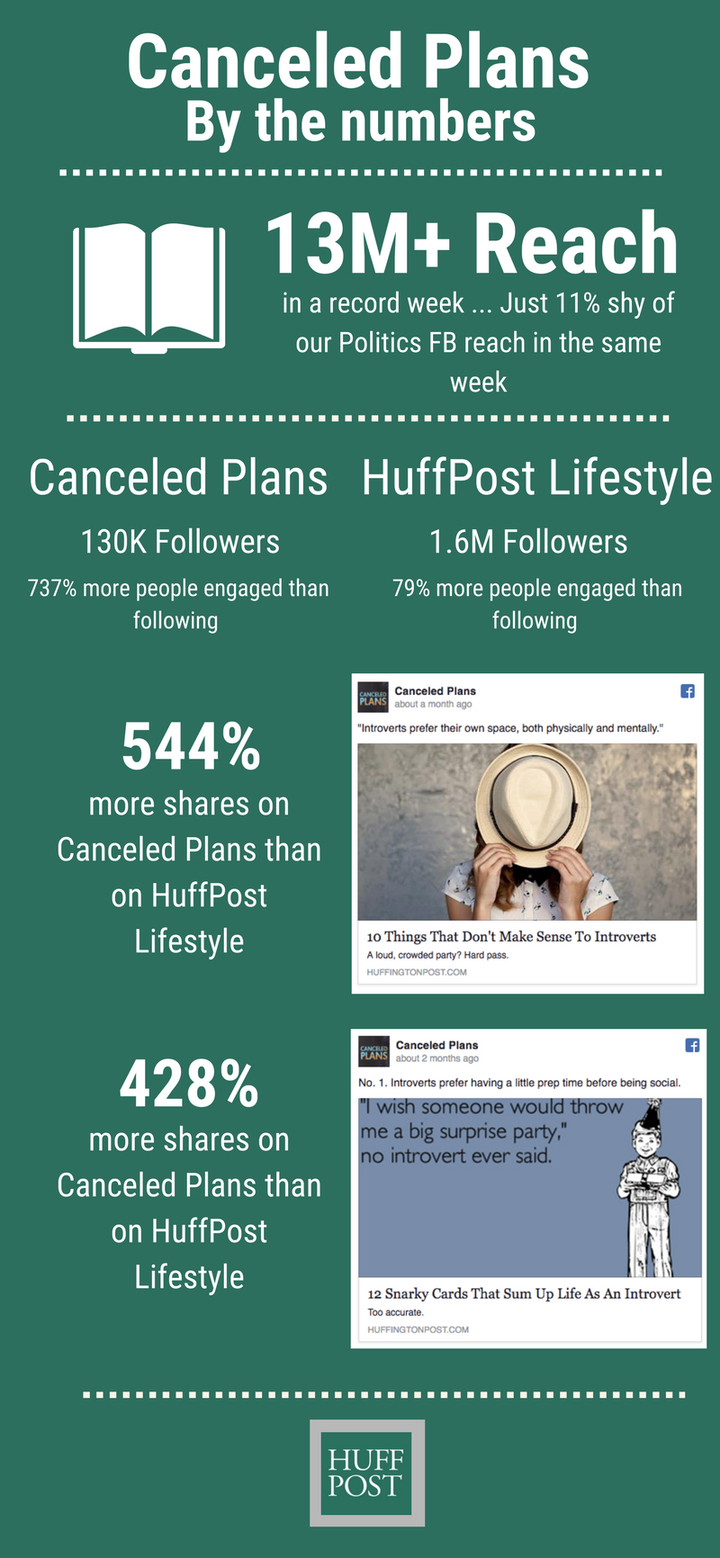 Don't try to cultivate a community that your curator doesn't identify with ― community members will sniff out a phony instantly.

The power of images/graphics/memes when it comes to articulating a shared experience is huge.

It's tempting to start aligning your brand with your new community as soon as you start to see engagement, but it's important to give the community some real breathing room before you start seeding your own content with them.
Popular in the Community