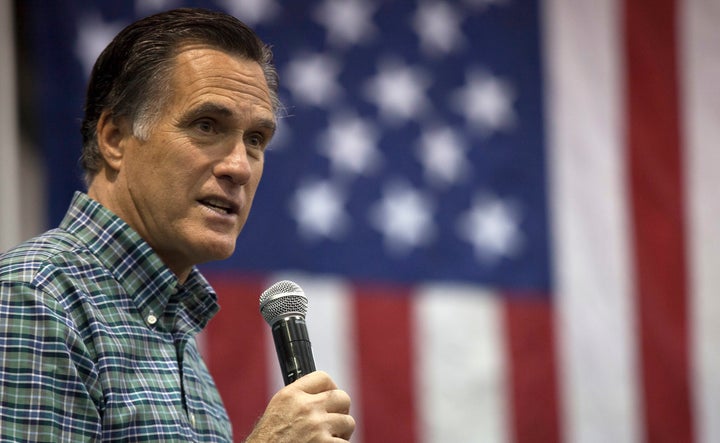 WASHINGTON -- The Federal Election Commission last month fined a super PAC for illegally re-airing a commercial in 2012 that had been produced by Mitt Romney's presidential campaign. Better late than never.
In 2012, Restore Our Future, the super PAC run by Romney's former aides, spent $4.3 million to run a television ad detailing Romney's role in helping to locate a coworker's missing child while he was head of Bain Capital. That spot was originally created by Romney's even-less-successful 2008 presidential campaign. The super PAC simply rebroadcast the exact same ad with a new disclaimer saying it was paid for by Restore Our Future.
The move violated multiple campaign finance laws. The republication of campaign materials must be reported to the FEC as an in-kind donation to the campaign, which the super PAC did not do. Even if it had, super PACs are prohibited from contributing to a candidate's campaign. The running of the ad therefore constituted a form of illegal coordination between the super PAC and the campaign.
At the time of the ad's airing, the Campaign Legal Center filed a complaint with the FEC. Restore Our Future's lawyer Charles Spies, now the lawyer for Jeb Bush's super PAC, told The Huffington Post that the super PAC had bought the footage from the firm hired to create it. Paul Ryan of the Campaign Legal Center said the act of purchasing it did not matter.
"If the ad was prepared by Romney or an agent of Romney, then this rule applies," Ryan said at the time. "The rule would be meaningless if you could transfer the legal rights from the campaign to another actor."
Restore Our Future further argued to the FEC that the use of footage produced by the 2008 Romney campaign could not be an in-kind contribution to the 2012 Romney campaign because "Mitt Romney as a 'candidate' in 2008 is an entirely different entity from Mitt Romney as a 'candidate' in 2012."
The FEC had not previously considered whether the law could be applied across election cycles to the same candidate. The agency decided it could.
In November, the FEC levied a $50,000 fine on the super PAC.
Despite its apparent victory, the Campaign Legal Center was not pleased by the size of the fine or the length of the investigation.
"This was a blatant violation of the law. It's unacceptable that the FEC took nearly four years to resolve the matter with a fine that amounts to a light slap on the wrist for millions of dollars in illegal spending," Ryan said in a statement.
He has a point: A comparatively small fine, levied long after the election concluded, does not amount to vigorous enforcement of the law.
"On the bright side," Ryan said, "the FEC has now confirmed the obvious: it's illegal for Super PACs to recycle candidate campaign ads."
Popular in the Community