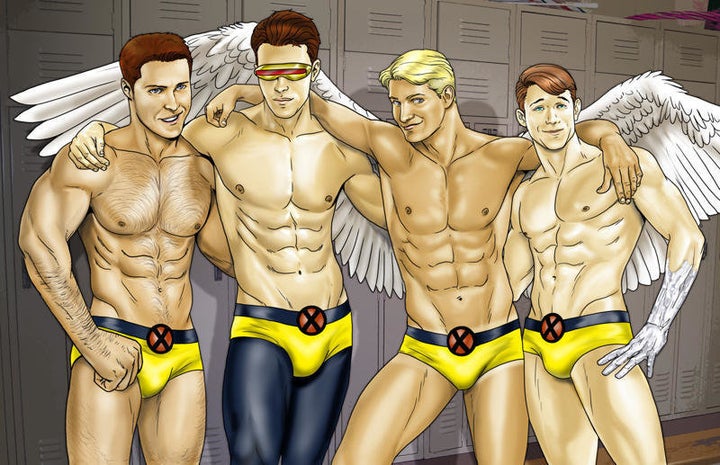 It's common for superheroes like Batman, Superman and Spider-Man to have secret identities, but there has long been speculation in certain circles that they have other secrets as well.
The whispers began in 1954 when psychiatrist Dr. Fredric Wertham wrote "Seduction Of The Innocent," a book that alleged, among other things, that Wonder Woman was a lesbian and that Batman and Robin were gay lovers.
Although Wertham's allegations have been long been ridiculed by the comics community, some industry insiders like Joe Phillips see a gay subtext throughout the superhero genre.
"It is there," he insisted to The Huffington Post. "Think about it: A guy develops the ability to do something incredible and the first thing he does is to wear something tight-fitting and colorful and tell the world, 'I'm going to fight crime'?"
Phillips has illustrated heroes like Superman and the Avengers for DC and Marvel. He says he's fascinated by the underlying "gayness" of the superhero, and he's taking it out of the closet and into a series of paintings he calls "Beefcake Heroes," currently on display at a San Diego art gallery.
The series shows classic characters like Batman, Dr. Strange, Superman and Captain America baring their oiled, rippled physiques in either tight jockey shorts or skintight spandex and wearing come hither looks more common in gay magazines like Blue Boy than, say, the pages of "Superboy."
He admits the pictures are provocative, especially because he's using iconic male characters, but takes a "what's good for the goose" posture.
"There's a huge audience that loves seeing pin-up pictures of girls," he said. "I wanted to take the same approach with these iconic characters and have them them do the same sexy looks and poses."
By design, Phillips makes his pictures perfectly suitable for publication in a mainstream comic -- except he has the character raise an eyebrow or stare provocatively at the viewer.
"We are so used to seeing women as sexual beings, but we don't want to see men doing the same thing. Men are supposed to be stoic and distant," he said. "I wanted these works to show off these heroes' strength, but also their cockiness and competitiveness."
Although the typical reader of a superhero comic is tagged as a heterosexual young adult male, Phillips says the characters have also had a big influence on the gay community. For instance, much of what is considered the ideal modern physique among that demographic is greatly influenced by the hyper-masculine illustrations of seminal artists like Jack Kirby and John Romita in the 1960s.
"It really actually started with the California body building movement in the 1960s which promoted a more well-defined physique," he said. "But the superhero genre recognizes body-conscious clothing. Take Comic-Con: If a chunky guy knows he wants to wear a Batman outfit, he knows it doesn't look right unless he works out."
Phillips sells his works for $1000 each and, so far, he has been amused by the reaction to his work.
"I've seen some guys buy a piece for their girlfriend -- at least, they say it's for their girlfriend -- and I think it's because they realize, 'Hey, I've been looking at boobs!'" he said.
Meanwhile, he says he's getting an interesting reaction from professional artists.
"It's a mixed bag," he said. "It's not overwhelmingly negative, but different people have different comfort levels."
Phillips is considering doing a similar series involving villains like the Joker, and he believes that will be even more provocative.
"Villains would be interesting," he said. "They take power and have this attitude of 'Look at me! I don't play by the rules.'"
Gallery owner Alexander Salazar, who is displaying Phillips' series, thinks his work is a sign of the times.
"Comic art is finally coming out of the closet," he said. "The heroes and their fans can't ignore they are sexy."
Although Phillips is openly gay, Salazar admits putting a gay-friendly spin on popular superheroes is an act of bravery since he still works in the industry.
"We do have to play it safe in some ways, because he's still in his career as a comics illustrator," Salazar said. "He's long been doing this in some respects. All of his males have bulges. They're well-hung."
Will Phillips' interpretation of Superman being super-sexy play to the mainstream? Well, the verdict is still out on that one.
One Comic-Con attendee, a twenty-something male who asked not to be named, admits admiring Phillips' artistry, but not much else.
"He's a good artist -- I'll give him that -- and I'm cool with guys who are gay, but I want to see superheroes saving the world, not picking each other up," said the man.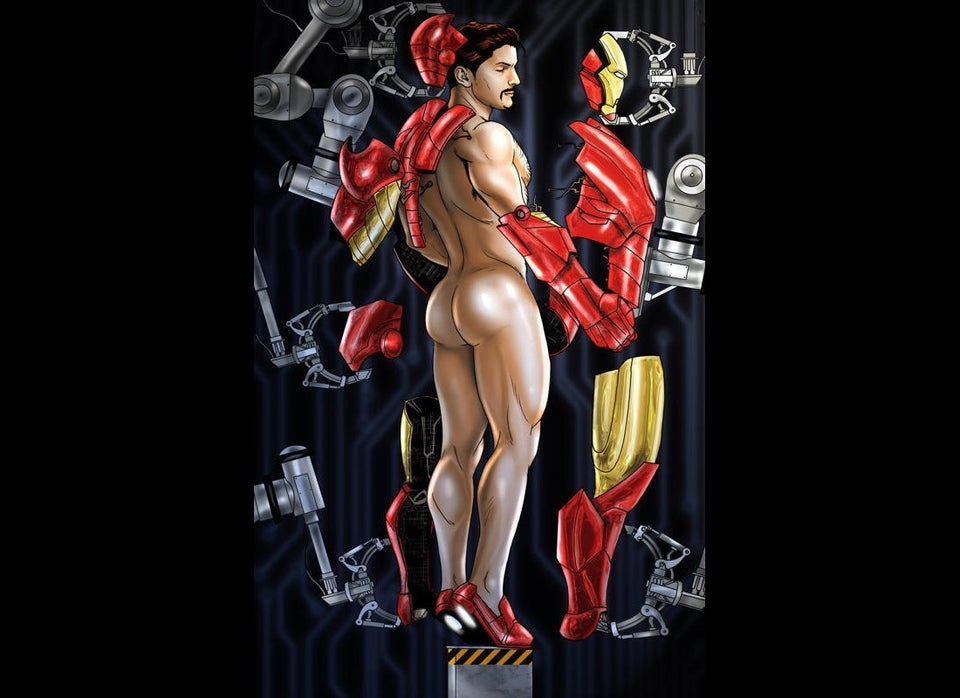 Gay Comic Artist Brings Superheroes Out Of The Closet
Related
Popular in the Community