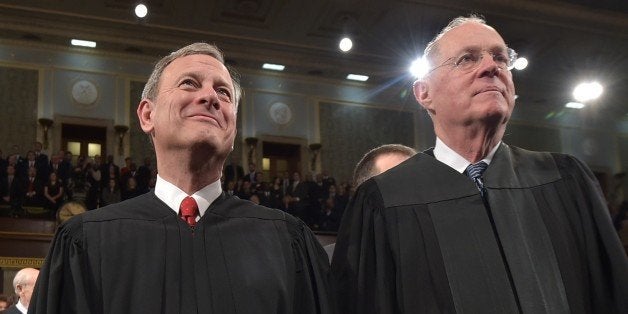 (Adds details from argument, paragraphs 9-11)
WASHINGTON, March 2 (Reuters) - The U.S. Supreme Court on Monday appeared skeptical of a voter-approved plan that stripped Arizona state lawmakers of their role in drawing congressional districts in an bid to remove partisan politics from the process.
The nine-justice court's conservative majority, including regular swing vote Justice Anthony Kennedy, asked questions during a one-hour oral argument that indicated there could be a majority willing to find that the ballot initiative violated the U.S. Constitution's requirement that state legislatures set congressional district boundaries.
The state's Republican-controlled legislature objected to a 2000 ballot initiative endorsed by Arizona voters that set up an independent commission to determine the U.S. House of Representatives districts.
The commission was created as part of an effort to eliminate partisan redistricting by whichever party happened to control the state legislature when new congressional districts had to be drawn. The case could affect similar commissions in six other states, including California.
Critics say partisan "gerrymandering" leads to House districts being drawn in a way intended to give the party controlling the legislature the maximum number of seats possible while marginalizing voters favoring the other party.
The legal question focuses on whether the Constitution's language giving legislatures the role of setting the "times, places and manner" of federal elections refers to a specific legislative body or instead to a state's general authority to legislate on the issue, which could include a voter-led initiative.
During the argument, the justices delved into the history of how the word "legislature" was used in the Constitution itself and elsewhere in U.S. law.
Kennedy cited the movement to elect U.S. senators, which did not come to fruition until the Constitution's 17th Amendment was passed in 1913. Prior to that, senators were appointed by state legislatures. Kennedy said there was never any question that "legislature" in that context meant only the elected state representatives.
"It seems to me that history works very much against you," Kennedy told Seth Waxman, the lawyer representing the commission.
Fellow conservative Justice Antonin Scalia made similar remarks, asking Waxman whether he had found any references to "legislature" in the Constitution that suggested the word was intended to refer to the legislative process in general.
"I couldn't find a single one," Scalia said.
Liberal justices Elena Kagan and Sonia Sotomayor were the most outspoken in defending the commission.
A ruling is due by the end of June. (Reporting by Lawrence Hurley; Editing by Will Dunham)
Calling all HuffPost superfans!
Sign up for membership to become a founding member and help shape HuffPost's next chapter
BEFORE YOU GO
PHOTO GALLERY
The Second-Term Curse