After handing over food and drinks to a stranded boat full of migrants in the Andaman Sea last week, a survivor of the ordeal says, the Thai navy then threatened to shoot the vessel.
Sirajul Islam, 23, a migrant aboard the boat, told the Associated Press the navy threatened to open fire on them "within 10 minutes" after handing over supplies. He added that 10 passengers had already died of starvation, "including women and children."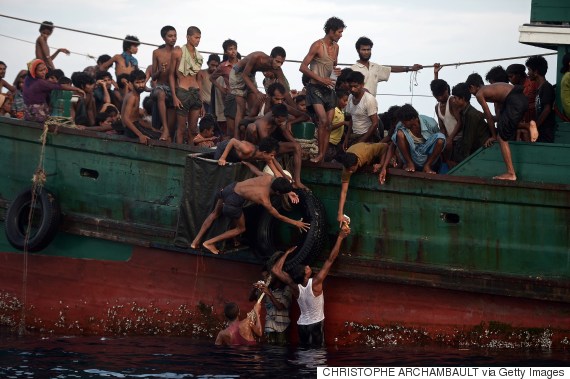 Rohingya migrants pass food supplies dropped by a Thai army helicopter to others aboard a boat drifting in Thai waters off the southern island of Koh Lipe in the Andaman sea on May 14.
Around 400 refugees from Myanmar, most of them Rohingya, a persecuted ethnic Muslim minority, were crammed onto the boat and had spent the last three months at sea in search of a country that would take them in.
The group originally hoped to immigrate to Malaysia, but was turned away by authorities there. Earlier this month, smugglers piloting the vessel abandoned it, leaving it adrift and its starving passengers without much-needed food and water.
Thai authorities say they offered to bring the immigrants to shore in their country, but were rebuffed.
"The Thais agreed to allow them to disembark, they said no," Jeff Labovitz, a spokesman for the International Organization Migration, told CNN from Bangkok. He wasn't sure why the refugees would have declined the offer, he said, but said he assumed "they don't really understand what's going on."
On Wednesday, Indonesian fishermen spotted the refugees 37 miles off the country's coast and brought the group to land.
"When coming close, I was very surprised with what I saw on the boat," Razali Puteh, the fisherman who first spotted the migrants, told the AP. "It was crammed with people. ... I was speechless and breaking down into tears when watching them screaming, waving hands and cloth."
REAL LIFE. REAL NEWS. REAL VOICES.
Help us tell more of the stories that matter from voices that too often remain unheard.
BEFORE YOU GO
PHOTO GALLERY
Myanmar And Bangladesh Migrant Crisis