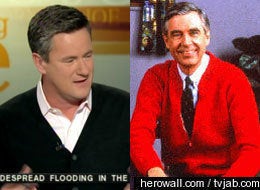 In honor of Mr. Rogers, who died of cancer five years ago, today is Sweater Day! Everyone should be wearing their own version of his trademark attire: the cardigan sweater.
While we know this is a little late notice, we're pretty sure that between the miserable "First Day Of Spring" weather and the consummate hip-ness of the cardigan, chances are, you're already wearing one! We know we are.
In any case, it's the least we can do for the frontman one of our favorite TV shows growing up. (We would say absolute favorite, except this HuffPost editor is from Canada, and I can't help but show favor to my number one Mister: Mr. Dressup.) And, we're going to lose the brackets here because this is no longer an aside. In our diligent fact-checking / research / googling, we discovered that Mr. Rogers actually debuted in Canada (!), and went on to run for three seasons before moving to a US network. Interestingly enough, while in Canada, Mr. Rogers brought his friend Ernie Coombs to the set as his understudy. And who might Ernie Coombs be, you ask? None other than Mr. Dressup himself! Talk about world's colliding. This is one happy Canadian.
In any case, we think Mr. Rogers deserves his own special HuffPost honor, so check out this glorious video we found on YouTube.
And considering everything we learned today, and since HuffPo is clearly an equal opportunity employer (three Canadians!), we don't think it's fair to honor Mr. Rogers without also honoring Mr. Dressup, who died of a stroke in September of 2001. And so, we bring to you the opening credits of Mr. Dressup.
Happy Sweater Day to all!

Related