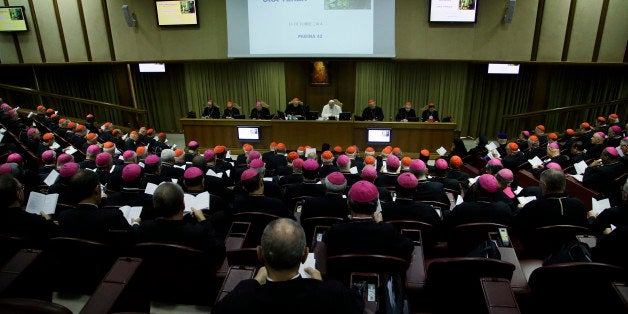 Welcome to this week's ALL TOGETHER, the podcast dedicated to exploring how religious ideas and spiritual practice inform and shape our personal lives, our communities and our world. The show is hosted by Rev. Paul Brandeis Raushenbush, the Executive Editor of HuffPost Religion.
It's been a rocky ride for the past week and a half as Bishops from around the world gathered at the Vatican to participate in the two week long Synod on the Family.
A working document called the relatio that was meant to reflect the discussions of the assembly at the midway point was described as revolutionary, and 'an earthquake' for it's new pastoral language towards gay people. It contained such language such as welcoming homosexuals and acknowledging their gifts to the Christian community.
However, conservative bishops were not at all happy with this shift in tone and specifically the English speaking bishops changed the translation of the Italian word for welcome to 'providing for.' So, the line in In the text, the line "Are we capable of welcoming these people", meaning gays and lesbians, was changed to, "Are we capable of providing for these people."
It's a shifting landscape, as the Bishops continue to rework the document and revising it. The moderate Austrian Cardinal Cristoph Schonbrun told journalists that he predicted the synod's final report would speak of "welcoming" gays.
in the meantime Raushenbush spoke with three Catholics -- Father Jim Martin, Jesuit Priest and author of Jesus a Pilgrimage, David Gibson, Reporter for Religion News Service, and Sister Monica, who is a nun whose ministry is with the trans community -- to get their reactions on the potential new moment in the Catholic Church.
As Pope Francis said in his homily before the document was released: 'God is always new.. he always surprises us' We will see what happens next.
As always, All Together ends with Raushenbush's picks for this weeks Saints and Sinners.
LISTEN TO EARLIER ALL TOGETHER SEGMENTS BELOW
'WHAT'S THE REAL REASON TO DO YOGA' HERE:
WHAT ARE WE TALKING ABOUT WHEN WE TALK ABOUT MEDITATION?
RAPTURE RHAPSODY: IS LEFT BEHIND REALLY A CHRISTIAN MOVIE?
GREEN SPIRIT vs CLIMATE CHANGE

CONFRONTING FUNDAMENTALISM
REAL LIFE. REAL NEWS. REAL VOICES.
Help us tell more of the stories that matter from voices that too often remain unheard.