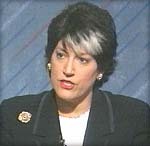 We hear that "Hardball" exec producer Tammy Haddad is officially out thanks to Chris Matthews becoming the lowest-rated host on MSNBC primetime. Matthews — a front-and-center face at MSNBC and certainly a go-to pundit on all things political, including election coverage in November and chosen as to moderate one of MSNBC's two kickoff presidential debates in April, along with NBC Nightly News anchor Brian Williams — has seen his ratings clock in consistently below Keith Olbermann — who is getting a network try-out this Sunday — and even Dan Abrams, who stepped in for Joe Scarborough amidst some changes to the show, yet still manages to consistently beat Matthews' ratings. Only Tucker Carlson , who is on at 4 and 6 pm, has lower ratings on the network.
Haddad, who has been with "Hardball" since 2004, caught, er, heck from Matthews last month when he unwittingly dropped an "s-bomb" on the air when he didn't know he was being broadcast. Rumor had it that Matthews wanted Haddad out after the episode, but there was no fallout, at least not then.
Last July, Haddad was named Vice President, Washington, for MSNBC, and MSNBC General Manager Abrams had this to say about her: "'Hardball' is the smartest political program on cable, and one of the reasons it is so good, is Tammy Haddad. She is one of the most tenacious, driven and energetic producers out there — she takes tremendous pride in her work for the network and for Chris Matthews and we are thrilled to have her on our team."
From the same press release:
"Tammy has been my friend for over twenty years," said Chris Matthews. "She is a big-time winner who delivers on her grand ideas."
Haddad has a long and storied career of success in cable news, including pioneering "Larry King Live" for CNN, being part of the team to take NBC's "Today Show" to number one, and was called "the most influential woman behind the TV news camera in Washington" last year by U.S. News' Paul Bedard. That she will land on her feet is a foregone conclusion; for Matthews, an old face at a network with new stars rising, things may not be so easily predicted.
We hear that MSNBC will be making the announcement shortly; email queries to the network have not yet been returned.

Update: Confirmed by TVNewser, which has more.

Clarification from MSNBC: "Tammy remains MSNBC's VP, Washington and will continue to oversee all of our political coverage, including super Tuesdays, primary coverage, debates and the College Tour."
REAL LIFE. REAL NEWS. REAL VOICES.
Help us tell more of the stories that matter from voices that too often remain unheard.