The Centers for Disease Control and Prevention received an urgent call in 2013 that would forever change the way scientists think about cancer. Doctors in Medellin, Colombia, reached out to the agency for help in understanding bizarre cells they had found in biopsied lung tumors of a 41-year-old HIV-positive man.
The cells, which were lumped together and melding into one another, appeared to be cancer-like in nature but none of them looked like human cancer cells.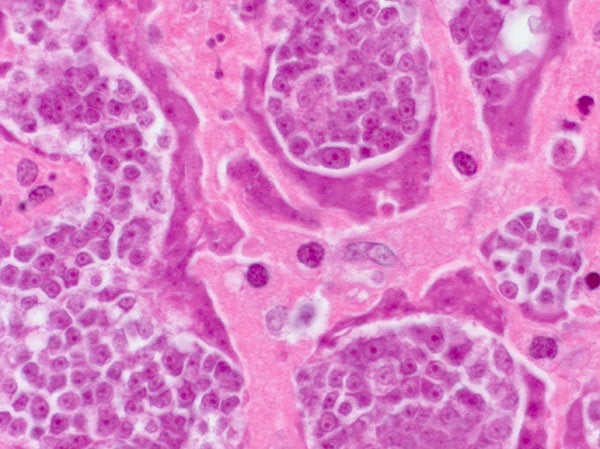 "The patient was not doing well and the Colombian doctors asked, 'can you please help us with your lab,'" Dr. Atis Muehlenbachs, a pathologist at the CDC in Atlanta, told The Huffington Post. "So we were speeding up testing but, unfortunately, it came down to the wire and we were too late." 
The patient died of kidney failure, but the mystery of the tumor cells that contributed to his death remained unsolved for two more years. The CDC announced on Wednesday that it had finally come to at least partly understand the cells, and had released a report about them in the latest issue of the New England Journal of Medicine.
Researchers discovered that cancer cells from tapeworms, or Hymenolepis nana, are able to take root in people with weakened immune systems and cause cancer-like tumors, the study says, and determined that this had happened in the Colombian patient.
"It was very challenging trying to figure the source of the cells," Muehlenbachs said about the patient. "But we, by chance, detected tapeworm DNA."
We had to convince ourselves that the cells were indeed tapeworm cells. We could not believe it."
A microbiologist testing the patient's biopsied tumor tissue discovered the DNA while running a battery of tests. The scientists concluded that the patient had a tapeworm that had cancer, and the worm's cancer easily infected the man's HIV-compromised immune system.
"We could not believe it," Muehlenbachs said. "I think it would not have occurred if he had not been immunocompromised. A healthy immune system could clear this."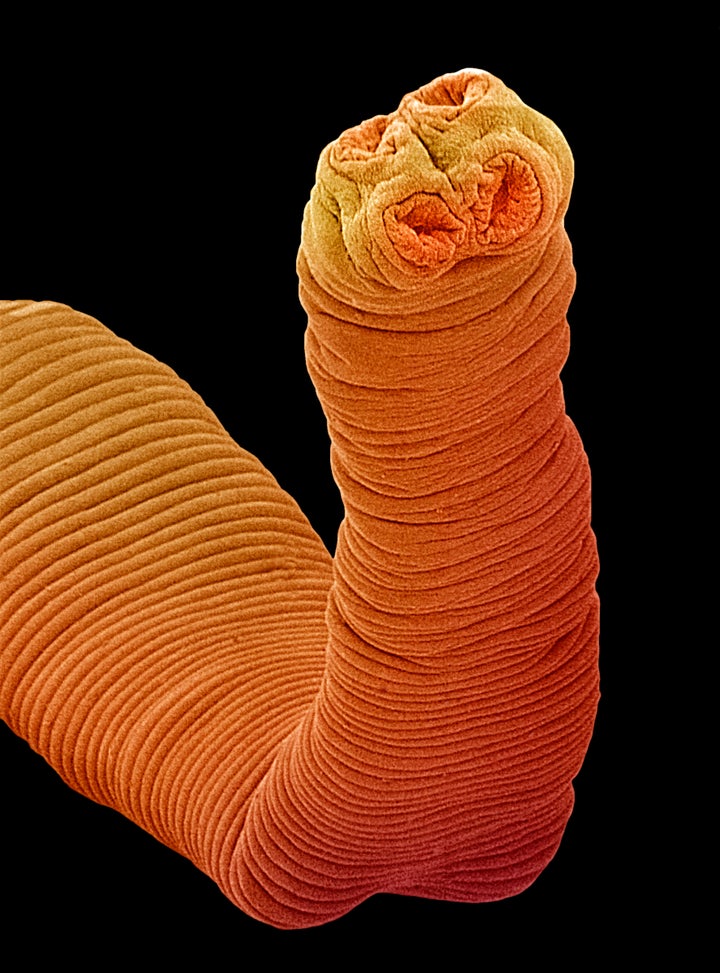 Doctors had previously seen tapeworms growing abnormally in cancer patients, NPR reported. In 1976, for instance, a patient with a tapeworm whose immune system was compromised due to taking steroids and undergoing chemotherapy experienced something similar to what the man in Colombia did, Muehlanbachs said.
But the phenomenon is yet to be fully understood or even given a name.
"We don't have a category for this, we don't want to call it cancer because it would lump this patient in with patients with normally presenting cancers," Muehlenbachs said. "This is a unique disease."
The CDC is unable to release screening guidelines for these types of cancer cases because they are so rare, but the scientists hope that doctors are now aware that these cases are possible.
Also on HuffPost Science:
PHOTO GALLERY
Cell Biology In Living Color
Calling all HuffPost superfans!
Sign up for membership to become a founding member and help shape HuffPost's next chapter