This is Part I of an article on Turner Classic Movies' film festival with a focus on "All About Eve." In Part II, this film classic will be explored further with commentary by the director's biographer, Kenneth L. Geist, author of Pictures Will Talk: The Life & Films of Joseph L. Mankiewicz.
All About Eve (1950) was screened free to the public at the Ziegfeld Theatre last Tuesday. It kicked off Turner Classic Movies' first-ever classic film festival here in New York City. The main festival takes place in Los Angeles from April 22 to 25, 2010.
TCM's primetime host, Robert Osborne, and Broadway's Tony-winning actress, Elaine Stritch (Elaine Stritch at Liberty, Company, A Delicate Balance), were on hand and in rare form to introduce the film that won six of its fourteen Academy Award nominations including Best Picture, Best Director, Best Screenplay, and Best Supporting Actor (George Sanders as Addison DeWitt). While Davis did not win for Best Actress (1951's trophy went to Judy Holliday in a category including Baxter, Gloria Swanson, and Eleanor Parker), she received recognition for her performance from The New York Film Critics Circle and the Cannes Film Festival.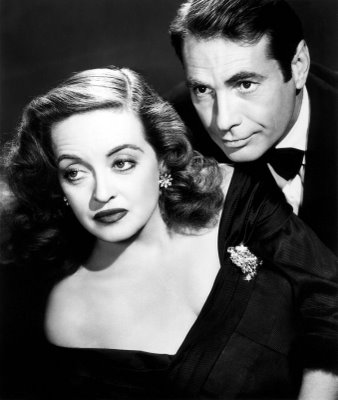 Love in bloom in All About Eve (1950). Bette Davis and Gary Merrill fell in love during the shoot and were married shortly thereafter.
Osborne remarked that classic films such as All About Eve were made to be seen on a large screen, but lamented that they seldom are. He enticed the audience with the April film festival by naming some of the classic films and actors who will be seen "three stories high" just as they were when the films debuted. Bette Davis, Sanders, and the All About Eve cast which also featured Celeste Holm, Anne Baxter, Gary Merrill (soon to become Davis' fourth and last husband), Marilyn Monroe (in one of her earliest credited roles), and the irrepressible, superb character actress Thelma Ritter did not disappoint the 2010 New York audience. From the impossibly enthusiastic response, it's safe to say that Davis and company remain giants of the silver screen.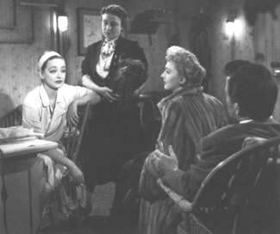 Bette Davis as Margo Channing and Thelma Ritter as Birdie about to deliver one of her memorable, witty pearls of wisdom to Celeste Holm and Hugh Marlowe.
Mankiewicz's script, which may include more quotable lines than any other film in cinema history, was aptly described by Stritch as a reflection of "The real humor of the American theater." Her favorite line, however, wasn't Margo Channing's warning at the beginning of the tense cocktail party scene, "Fasten your seatbelts, it's going to be a bumpy night!" or Addison DeWitt's introduction of Monroe's character as a graduate of, "the Copacabana school of acting," but Ritter's line as she enters a guestroom with a bed piled high with fur coats where upon she exclaims, "Holy smoke, a dead animal act!" She and Osborne reminisced about Thelma Ritter's dazzling, Oscar-nominated, performance as Birdie, an ex-Vaudevillian and Margo Channing's all-knowing, salt-of-the-earth companion.
A sampling of the films in TCM's main festival will include: the world premier of a new restoration of George Cukor's A Star Is Born (1954) starring Judy Garland and James Mason; the adaptation of Pearl S. Buck's classic novel The Good Earth (1937) starring Paul Muni and two-time Oscar winner Luise Rainer--the Austrian-born actress who recently turned 100--making a rare appearance to introduce the film; Hitchcock's Saboteur (1942) introduced by veteran character actor Norman Lloyd (Spellbound, Limelight, St. Elsewhere, The Age of Innocence) who plays villain Frank Fry; Douglas Sirk's melodrama exploring sensitive racial issues starring Lana Turner, Imitation of Life (1959), followed by a discussion with co-stars Susan Kohner Weitz and the heart and soul of the film, Juanita Moore, who played the unforgettable Annie Johnson; Fritz Lang's silent, science-fiction masterpiece Metropolis (1927) in a new restoration that includes lost footage; French New Wave director's Jean-Luc Godard's Breathless (1959) introduced by Jean-Paul Belmondo; and Nicholas Ray's cult classic In a Lonely Place (1950) starring Humphrey Bogart and Gloria Grahame, among many others.
All About Eve is unique and beloved for many reasons, only one of which is that it was the first time a film's director and screenwriter won back-to-back Oscars in both categories. The year before, Joseph L. Mankiewicz held the same awards in each hand for A Letter to Three Wives. Insight into his films, his enormous respect and love of the theater, and legendary intelligence and wit will continue in a conversation with his biographer, Kenneth L. Geist, a member of The National Board of Review.
Related
Popular in the Community