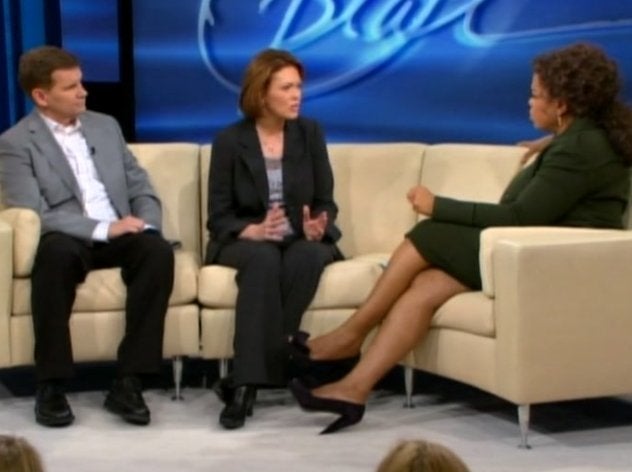 ***SCROLL DOWN FOR VIDEO***
Disgraced Pastor ted Haggard's fall from grace was swift and devastating. Once one of America's most influential religious figures, he all but disappeared from the public square when it was revealed that he had been engaging in sexual relations with a male escort and was paying him to score crystal meth.
Since his downfall Haggard has made a couple forays back into public life, like when he claimed to have undergone intensive "restoration" which made him into a "complete heterosexual" (which was then disputed by the new pastor of Haggard's church, who said Haggard quit the program early and was not yet completely "restored"). However, he is now on a promotional blitz for his new HBO documentary, "The Trials of Ted Haggard," made by Alexandra Pelosi, daughter of Speaker of the House Nancy Pelosi.
Haggard, along with his wife Gayle, took to the Oprah Winfrey show today to promote the documentary and discuss his life-long struggle with his attraction to men. He also addresses new allegations that he had a cash-for-sex relationship with a young, male church volunteer for over three years. Haggard writes:
Oprah, I did not reveal the relationship on your show out of privacy concerns--even though there was never any physical contact. I have regretted my irresponsible behavior. I apologized to Grant, my family and the church two years ago. I now ask him again for his forgiveness as well as the people of the church.
Watch clips of Haggard and his wife on "Oprah" below.
Haggard on the 'dark and repulsive' part of his life coming to the surface.
<2--170--hh>2--170--hh>
Haggard on his therapist telling him he's a 'heterosexual with homosexual attachments' and being sexually abused by one his father's employees when he was in the second grade.
<2--171--hh>2--171--hh>
Haggard on allowing himself to have sexual thoughts about men and his wife and children seeing him as a "sinner" for the first time.
<2--172--hh>2--172--hh>
Haggard's wife, Gayle, on knowing about Haggard's struggle with same-sex attraction and their "amazing, highly intimate relationship" and "great sex life," and why she stayed married to him.
<2--173--hh>2--173--hh>