KG and Jaybles have done it again. Festival Supreme has now blossomed into the Coachella of comedy, drawing the best and brightest of today's stand ups and musical acts and has now become the place for legends to reunite.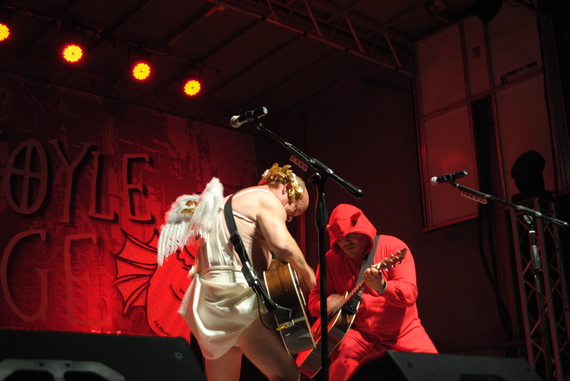 The D, that's Tenacious D to those who have been living in captivity for the past twenty years, carefully curated the day picking their favorites to perform on four stages at the Shrine Expo grounds in LA. One stage, entitled the Circus Of Death, even included spooky artwork and mini carnival rides.
This being October, costumes were highly encouraged and the crowd complied. Lots of dudes pre-gamed Halloween in tight unitards or showed leg in Lt. Dangle costumes. Not many were concerned with bringing sexy back. Performer Doug Benson was less than impressed with the crowd's get ups: "I haven't seen much. Nothing good. Couple a hot dogs and three Jesuses. Eh."
Comedian highlights of the day included Ron Lynch and his magical plastic bags, Maria Bamford's engaged raccoon, Margaret Cho's divorcee quest for dick and Arj Barker's alternative Bob Marley interpretation.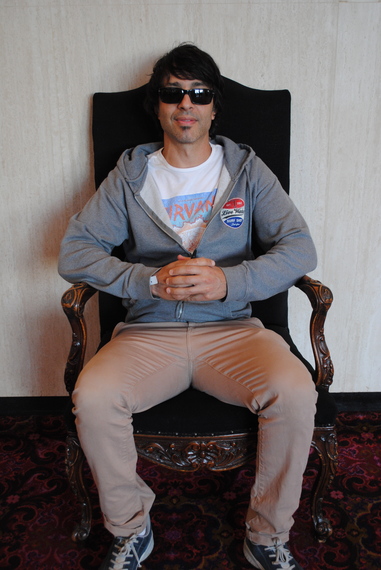 Barker (Flight Of The Conchords), who makes his home in Australia, made the trip especially for the festival when contacted by Jack Black.
I flew in because it's a fun festival and it's really good. I've done longer comedy festivals like Adelaide, Aspen and Edinburgh, but this is a one-day power fest. It's a great crowd that's really knowledgeable about comedy. I can try some new jokes out. I can do my LA jokes. I can do my Museum Of Tolerance joke. Until every city puts in a Museum Of Tolerance, I can't really do that joke much.
Barker mentions Chris Rock, Mitch Hedburg, and Louis CK as a few of his favorite comedians, but he also counts fellow festival performers Margaret Cho, Craig Anton, and The Marijuanalogues cast mates Doug Benson and Tony Camin as influences. He was excited to see many of these people again at the festival.
"It's like a Largo reunion," name checking the popular local LA cabaret that launched the careers of many now famous comedians. "A lot of good people are here. Plus, it's Halloween. They don't really do Halloween in Australia."
Back inside the Shrine Theater, one guy was dressed a lot like Adam Scott, who it turned out was a secret guest for Scott Aukerman's Comedy Bang Bang set. Backstage, Zach Galifinakis was dressed as his new persona, which he mentioned is spelled Z-A-Q-U-E.
Weird Al, the special secret guest for the Tenacious D set, and one of the nicest and most gracious legends in musical comedy, remarked that Jack Black's costume was his favorite of the day. He joined The D onstage to wail on accordion and received thunderous applause.
Not only did Jack and Kyle bring the rock themselves, but they booked some awesome acts as well. Boston's powdered wig power band, Upper Crust rocked the early crowd. Fred Armisen plugged in with some silly songs.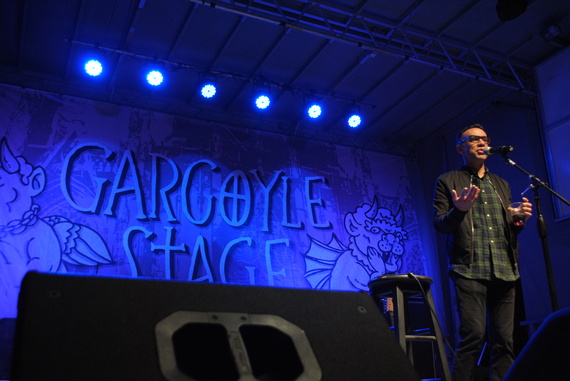 Peaches killed it with her badass electro punk.
Comedy legends Cheech and Chong reunited for some sing along belly laughs and Dethlok melted everyone's brains.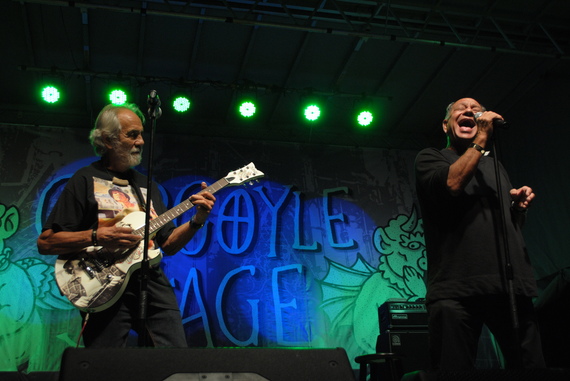 The highly anticipated act of the night, if not the year, was the reunion of sketch institution of the nineties, The State. With apparently very little rehearsal, the 11 players moved almost seamlessly through several fan favorites including a medley of their greatest character hits set to the tune of Billy Joel's Piano Man. The characters threw out favorite quotes along with other familiar lines uttered by Buffalo Bill in Silence Of The Lambs and Sidney Poitier, if you were paying attention. Other standouts skits were Porno Radio Theater and Making Paulo, which was the best episode of Boardwalk Empire ever, involving a Cookiepuss ice cream cake.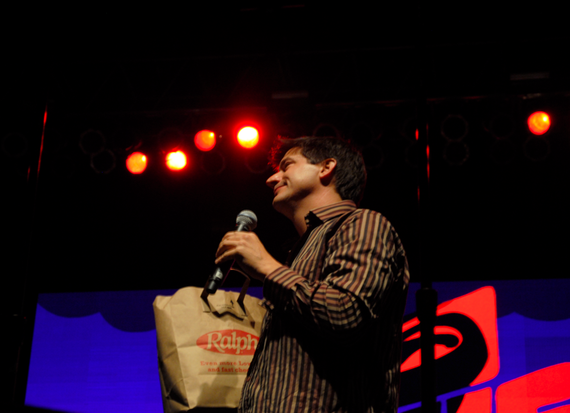 Not only was The State the highlight of the festival, but also it was a joy to see these characters again. It was great to be reminded about the strength of the writing and fascinating to see how strong each individual actor has grown since the show. Each one is a powerhouse in their own way and if the show were on today (aside from Key And Peele), there would be no match for them. With the glut of You Tube boobs who believe that if you have an iPhone then you can be a comedy star, The State proved there is a craftsmanship to sketch comedy. They are sorely missed. Those who were in the audience were lucky to witness a few more seconds of The State. Hopefully Festival Supreme will bring back more comedy greats next year.
Calling all HuffPost superfans!
Sign up for membership to become a founding member and help shape HuffPost's next chapter