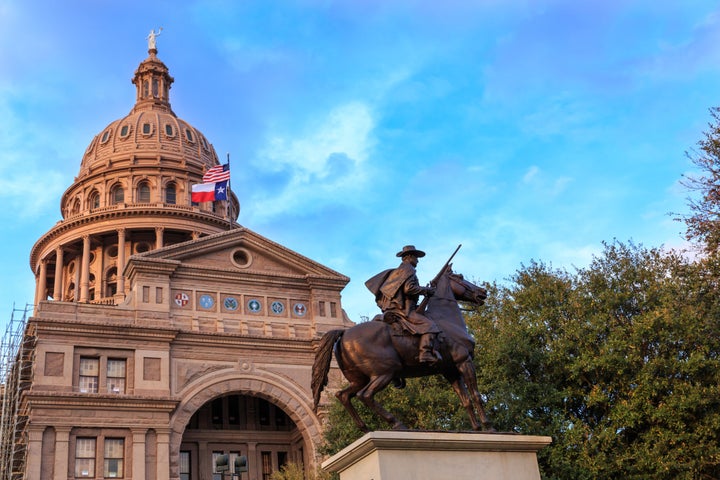 A federal judge gave Texas 45 days to implement a new process for taking voter registrations and changing registration information when residents use a state online information portal, after ruling the state's current practice was illegal.
U.S. District Judge Orlando Garcia on Friday ordered Texas to change its online process by July 2 so that people can simply check a box online indicating that they wish to register or update their voter registration when they use the Texas Department of Public Safety's online portal to renew their driver's license or change their address. The order came as part of a lawsuit brought on behalf of four Texas voters whose voter registration information was not updated when they went online to update the address on their driver's licenses.
If someone wanted to register or update their voter registration, the state required they print out, sign and mail in a separate form. Texas officials argued that state law required any voter application to be signed, but the challengers said that the state's practice violated the 1993 National Voter Registration Act, which requires state motor vehicle agencies to offer people the opportunity to register to vote and to use the information in a driver's license application simultaneously as a voter registration document if they want to register.
From  2013 to 2015, over 1,800 people complained they were unable to register to vote when updating their information online. There are over 15 million registered voters in the state.
Garcia sided with the challengers and permanently blocked Texas from continuing its current practice for online driver's license renewals or changes of address. Lawyers for Texas Attorney General Ken Paxton (R) said in a court filing Monday they were appealing Garcia's order to the U.S. Court of Appeals for the 5th Circuit. They asked Garcia to pause his order while the appeals court considered their request.
Beth Stevens, the voting rights director at the Texas Civil Rights Project, which brought the suit on behalf of the plaintiffs, praised Garcia's decision.
"It's long past time for the State to stop wasting time and resources defending its unlawful violation of this pivotal voting rights law," Stevens said in a statement. "We urge State officials to come to the table and work with us to implement the court's plan which will ensure that not one single voter loses their opportunity to vote."
Garcia also gave the state two weeks to submit a proposed educational campaign using three forms of media to inform the public about the changes to the online process. He also ordered the state to provide annual updates to the Texas Civil Rights Project, including information on the number of voter registrations that resulted from online driver's license renewals and change of address applications and the number of complaints it received about the process. He ordered the state to conduct monthly quality control tests until 2019 to ensure continued compliance with his order.
Garcia first ruled in favor of the plaintiffs in April and asked the plaintiffs and Texas officials to propose remedies. State officials largely declined to offer a solution last week and objected to what the Texas Civil Rights Project proposed. In a court filing, they said it would be impossible to implement a new system in 45 days because a new vendor was taking over managing the state's website on Sept. 1 and it would take at least 90 days to change the system. They also argued that if it intervened, the court would infringe on the authority that the U.S. Constitution gives states to regulate their elections.
Calling all HuffPost superfans!
Sign up for membership to become a founding member and help shape HuffPost's next chapter