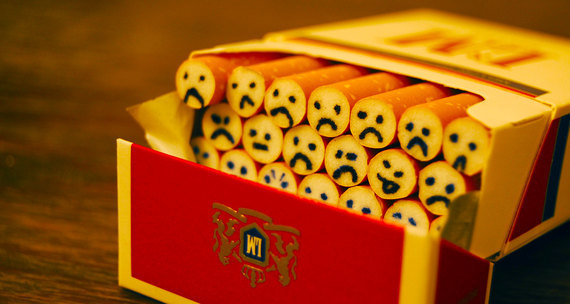 As millions of failed ex-smokers can attest, it's not easy to ditch cigarettes for good. Two factors that can help? Sleeping well and sweating on the reg.
With this in mind, in 2011, a team of public health researchers launched a program called "Stop My Smoking USA," which used text messages to remind young-adult smokers to put down the cigs and get more exercise. The pilot study showed promise, inspiring the researchers to try it again.
This time, they factored in sleep habits. Their results were published in the July issue of BioMed Central: Public Health.
One-hundred and sixteen young adults, all smokers, enrolled in a six-week text-message therapy trial. Researchers randomly split participants into two groups: Two-thirds received messages primarily focused on smoking cessation. For the other third, sleep and exercise habits were included as well. Example texts:
"Sleeping and exercising go hand-in-hand when you're trying to quit smoking. You have more energy, you sleep better, and it gives you the strength to quit"
"Regular exercise has a lot of benefits: Better sleep and relief from stress are just a couple. Remind yourself of YOUR reasons to make these life changes."
Three months later, researchers followed up to assess changes in the subjects' amount and quality of sleep, as well as their physical activity. The most notable change involved short-sleepers (defined as hitting the sack for fewer than six hours a night) in the exercise/sleep group; they reported getting more sleep than before therapy began. Researchers didn't see the same sleep-quantity bump, however, among short sleepers in the cessation group, who were still scraping by on too-few hours.
The findings suggest that text message-based programs could help improve sleep habits among smokers, which may in turn help them become smoke-free.
Going forward, researchers wrote in the study, it's worth exploring text-based programs to target sleeping disorders. Studies suggest that insomniacs derive similar benefits from Cognitive Behavioral Therapy, for example, whether they participate in face-to-face therapy or internet-based programs. With mobile therapy, including these types of text message-based programs, more people can be reached.