 A war is shaping up that pits an entrenched, aging, and uncompetitive fossil fuel industry against a young, innovative and increasingly competitive set of renewable energy technologies. The former relies on their entrenched status chalk full of obscenely high subsidies to fight of a set of disruptive innovations that could send them the way of whale oil. While renewables are doing an impressive job they continue to play on the home teams' turf. It just so happens a new front -- a guerrilla insurgency -- has opened where their opponents are weak that could help tip the balances -- off-grid energy markets that serve the worlds' poor.
This front is critical to the broader war because technological disruption, and more importantly economic activity, doesn't happen in a vacuum. It occurs in a world of imperfect information that is exacerbated by power politics. Politics shaped by political maneuvering that would make Sun Tzu blush. That is why a value destroying and increasingly expensive industry (read coal) is able to maintain itself in spite of the clear advantages of its competitors.
For disruptive innovations to succeed in this environment they must be fueled by reaching customers the incumbents aren't -- in other words, attacking them where they are weak. For coal that is off-grid markets where 1.3 billion customers are waiting to upend the dominant narrative of coal's ability to cost effectively feed the world's ever-expanding appetite for energy.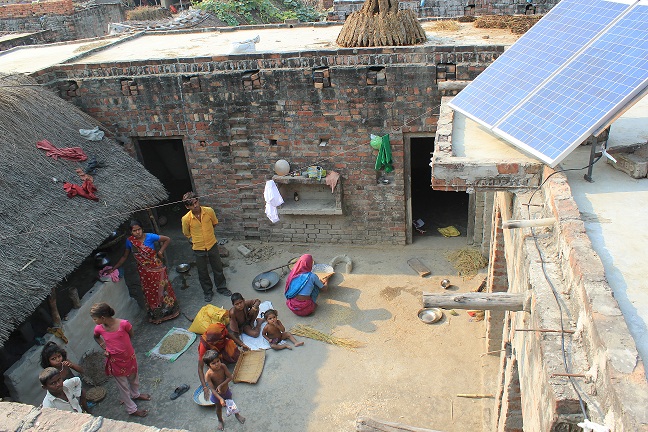 This Achilles heel was confirmed by the International Energy Agency (IEA) in a series of reports that conclusively show that in order to deliver universal energy access over half of all energy services flowing to the un-electrified must be provided by off-grid decentralized clean energy. The reports also show that an over-reliance on the opposite (large-scale centralized power -- often dirty coal plants) will still leave one billion of the world's poor without energy access by 2030. That means regardless of climate concerns the right tool for the energy access job is decentralized off-grid clean energy.
It just so happens that a vast amount of entrepreneurial energy is laying the foundation for decentralized clean energy to succeed by piggybacking on the most successful leapfrog technology to date -- mobile phones. Currently 411 million people have access to a mobile phone network but lack access to energy. That's because over the past decade there has been a rapid increase in mobile phone users in rural parts of the developing world. India for instance is home to almost 300 million people without electricity access, but has nearly universal mobile phone coverage.
On top of this scramble the mobile phone companies must now construct 639,000 off-grid "base stations" -- radio towers that convert electricity into radio waves -- by 2012. In India alone there are an estimated 240,000 towers projected to grow to more than 350,000 by 2012. Currently these towers are powered by costly and insecure diesel supplies whose economics simply don't work in a world of ever increasing oil prices. In fact some countries like India have mandated diesel be replaced with cheaper and cleaner decentralized clean energy -- solar, biomass, and wind. Current estimates peg the Indian cell phone tower conversion market alone (diesel to solar) at 2 GW.
But that's just the tip of the iceberg. Building excess capacity into these systems builds the bridge into the real market -- the 1.3 billion people currently lacking access to electricity. This excess capacity can be sold to local communities via mini-grids, transportable batteries, or by directly charging applications on site expanding this market opportunity through distributed community power. The cell phone operators provide anchor demand and a stable revenue stream, third party entrepreneurs (the Husk Power), Frontier Markets, Simpa Systems, SELCO-India, greenlight planet, and OMC's of the world ) own/operate these renewable energy plants, and local communities receive electricity and provide revenue for the entrepreneur.
But the opportunity doesn't end there. These social entrepreneurs are also busily pioneering 'pay as you go' solar systems that leverage mobile money and M2M technology to create flexible payment systems for the world's poor. This can break down traditional barriers of cost and cash flow that have halted efforts to shift away from dirty energy to the world's most sophisticated technologies. In essence, innovations like these open the financial door to the 1.3 billion-person-strong market ready to fund our insurgency.
There is no reason to believe the scale and speed of this transition will be anything less than revolutionary. Remember in the U.S. the shift to cars from horses or from steam to diesel electric locomotives took less than 12 years. Or more recently the shift from landlines to mobile phones has largely happened in just 10. Already off-grid solar has grown leaps and bounds with countries like Bangladesh installing 30,000 to 40,000 solar home systems every month with a total of one million systems installed to date. Indeed, small can be quite big.
As the shift from centralized and dirty to distributed and clean speeds up, it will remove the rhetorical justification fossil fuels rely on. But more importantly it will dry up the cash reserves that would have helped maintain political influence. That means that how we power the world's poor is just as important, and perhaps even more, than how we power the rest.
REAL LIFE. REAL NEWS. REAL VOICES.
Help us tell more of the stories that matter from voices that too often remain unheard.