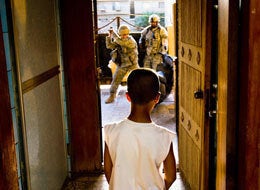 Ahh... Don't you love the summer? Lemonade, frozen grapes and former presidential nominee scandals? It's so easy to get a little lost in the stream of life --How shall I keep the kids busy? Should I "friend" that Colombian guy on Facebook with no mutual friends? Can I afford to drive to any body of water this weekend? It's quite easy to forget that...um...THERE'S A WAR GOING ON.
It's not just because news stations barely cover it unless someone has made it a campaign topic, nor is it that the "image-cleansing" of U.S. Media conceals our coffins -- it's not until we hit a safe abstract number-- 500 in Afghanastan that a bell goes off [Ding. Dong.] in our heads. Thank god for artists who illuminate it anew and for those thoughtful television executives who are also repulsed by the distance we put between the brutalities of war and our collective inability to grasp it.
Still from Stanley Kubrick's Paths of Glory (1957) featuring Kirk Douglas as Colonel Dax.
First, television~ beginning August 17 (next Saturday), Ovation TV, the arts network, is focusing on how war has been depicted across artistic disciplines and across the centuries in The Art of War, a week long programming event. The program begins with the U.S. premiere of director James Kent's War Oratorio. Shot in war-torn Afghanistan, Kashmir and Uganda, this music film is an artistic statement about the globalization of warfare in the 21st century. Among other great features, the program then considers the survivors of the Holocaust in J.S. Bach in Auschwitz, a documentary featuring prisoners of war who recount their coerced experience starring in Auschwitz's bizarre all-female orchestra who survived entertaining their Nazi officers. They end the week with a Kubrick double feature of Paths of Glory where superior officers put soldiers on trial prosecuting their cowardice and Full Metal Jacket a tale of soldiers cracking under the pressures of combat.
Now allow me, in this summer heat, to turn you onto other artists that are using these timely topics of war, conflict and its aftermath in their work: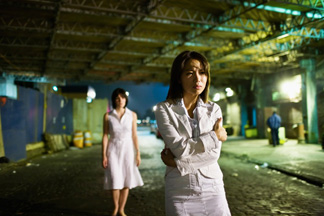 Silvia Kolbowski. "A Japanese man and a French woman in Hiroshima, 1959," 2008. Photo by Jeff Barnett-Winsby.
In her work After Hiroshima Mon Amour (2008), Argentinean born artist Silvia Kolbowsi reexamines French Director Alain Renais moving interpretation of post-World War II Hiroshima, Hiroshima Mon Amour (1959), in the wake of 9/11. Compiled of segments from the original film and found footage of contemporary American military activity abroad and at home, this 22-minute video plays with text, image, and narration to encourage us to take on different points of view from French to Japanese to Arab to American. The realities and interpretations of war's aftermath are paired and contrasted in this video to provide poignant commentary on American military action in our present and still very relevant past. Silvia Kolbowski's After Hiroshima Mon Amour opens at LAXART, Los Angeles, on September 20.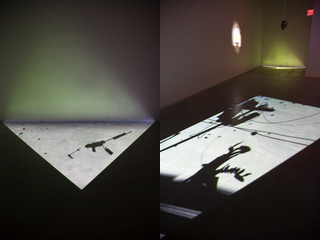 Paul Chan. (Left to right) 5th Light, 2007 and 1st Light, 2005. Digital video projection.
Paul Chan often contemplates the apocalypse. Chan's most recent exhibition 7 Lights unfolds as enigmatic encounters with light and darkness with general references to 9/11, the war in Iraq, and the terrorist violence around the world. With stunning simplicity, shadows play in animated landscapes while bodies tragically fall through the air and silhouettes of guns float skyward among cell phones and birds. Best known for his politically charged projects that toe and often cross the line between art and activism, Chan recently staged a production of Samuel Beckett's iconic play, Waiting for Godot in the 9th Ward of New Orleans in the wake of Hurricane Katrina and has even created a free map of New York which was produced during the Republican National Convention for protestors, pinpointing convention events, delegates' hotels and public toilets. His works are pointed and relevant without being excessively angry or aggressive, allowing us to draw the connections between contemporary art and current events. Tune in to listen to Paul Chan and curator Hans Ulrich Obrist chat about Chan's work here. Chan's exhibition on view at Greene Naftali, New York opens October 23.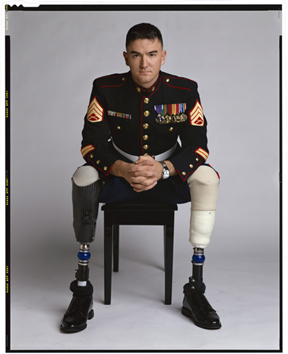 Portrait of Marine Staff Stg. John Jones by photographer Timothy Greenfield-Sanders from his series "Injured Soldiers."
In a frame free from distractions, photographer Timothy Greenfield-Sanders' subjects stare directly into his camera and make eye contact with the viewer. Using a large film format, his technique has been poignantly honest when capturing porn stars with their clothes on an off as well as political and celebrity figures. In his recent series, "Injured Soldiers," of wounded Iraq war veterans, Greenfield-Sanders confronts the less publicized and devastating aspects of war with the same honest power and compassion. Six Army veterans and four Marines were photographed in conjunction with the documentary, "Alive Day Memories" that premiered last September on HBO Dawn Halfaker, a West Point graduate, holds the prosthesis for her missing right arm; decorated Marine John Jones stands dressed in uniform from the waist up, while exposing his two robotic legs. The series "Injured Soldiers" has been on view at museums and galleries internationally, most recently in Tokyo where one visitor commented, "We need to see these photos. We don't think about war or talk about it usually." Timothy Greenfield-Sanders' The Black List Project, featuring 22 portraits of African Americans is currently on view at the Museum of Fine Arts, Houston through October 26.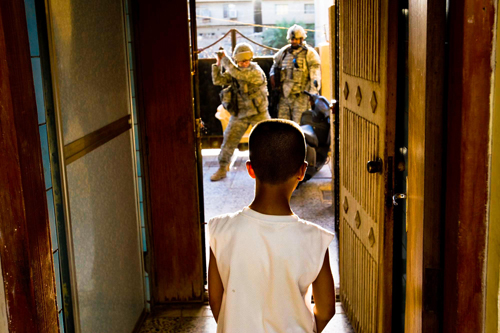 Zoriah's photo journalism documenting the conflict in the Middle East has garnered notoriety for its honesty. Zoriah is an award winning photojournalist on the ground in the Middle East documenting the people, places and conditions in some of the most war-torn areas on earth. In particular, "War Photographer: Documenting Life in Conflict " , records some of most atrocious realities from Iraq Detainees to the Baghdad ER in a conflictingly beautiful style and format. Zoriah is able to use a visually captivating aesthetic to depict the violent, heartbreaking and often grotesque contemporary conditions in the Middle East and, through major media outlets, inform a larger public about the realities of life in these war-stricken areas.
Joining him as a guest curator for the Ovation presentation on Art and War is Lily Casura, a writer and editor with a passion for veterans issues, who writes about those topics regularly at her richly resource-filled blog, www.HealingCombatTrauma.com. Veterans using art therapy to overcome war trauma has been a recent topic on her blog, but Casura claims all the work is fundamentally about catharsis, and assembling the appropriate therapeutic resources for overcoming trauma, of which art and poetry are some of the more creative, innovative and exciting ones.
First Person Artist is a weekly column by artist Kimberly Brooks in which she provides commentary on the creative process and showcases artists' work from around the world. She has just returned from a summer break. Come back every Saturday for more Kimberly Brooks.
REAL LIFE. REAL NEWS. REAL VOICES.
Help us tell more of the stories that matter from voices that too often remain unheard.