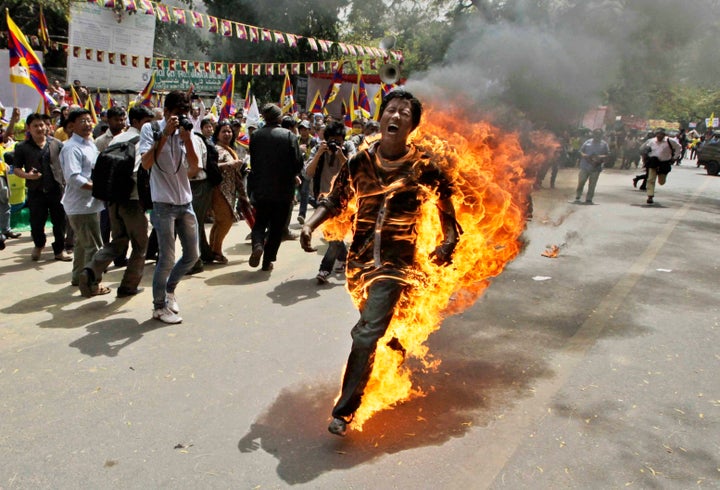 Just before the Christmas holiday, a blue flower improbably blossomed from the cold earth of the Tibetan plateau in the depths of winter. It happened in Kyegu, an area in eastern Tibet that was rocked by a devastating earthquake in April 2010. Whatever the reason for its unseasonal appearance (climate change? The Tibetan plateau is warming twice as fast as the rest of the earth), many Tibetans in the area saw the flower as an auspicious sign, symbolic of hope over despair. Images posted on Tibetans' Facebook pages showed white and yellow Tibetan blessing scarves and offerings carefully arranged around its delicate blue petals.
A Tibetan friend told me:
"When I was a child in Amdo, the first flowers to appear in Tibet in the spring were always blue. Flowers never appear here in the winter, at this time of year. So maybe people saw this as a metaphor, that the suffering in Tibet will end. People were also commenting on the websites that perhaps it was also somehow symbolic of hopes for the Dalai Lama's return home."
But another image of what happened next was also posted online. In this picture, a Tibetan man is walking away from the flower, his hat in his hands, clutched at his chest, his head down. And armed troops in black uniforms are gathered all around the man and the blue flower.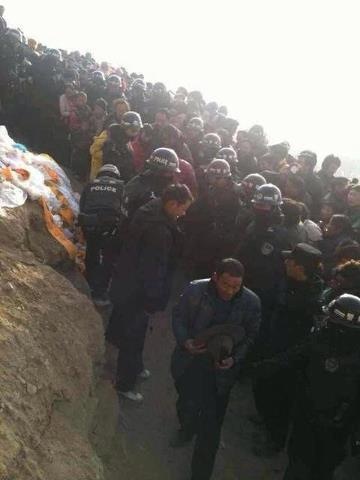 The Chinese authorities' reading of the gathering of Tibetans around the flower was that it was something to be prevented by force. At a time of crisis in Tibet, instead of seeking to understand this gentle symbolism, the armed military response in Kyegu to placing scarves around a flower demonstrated a deeper truth -- that the Chinese leadership appears to have no other strategy on Tibet beyond oppression.
Since February 2009, more than 95 Tibetans have set fire to themselves. Beijing has responded to the self-immolations by intensifying the military buildup in Tibet and strengthening the very policies and approaches that are at the root cause of the acts, such as aggressive campaigns against loyalty to the Dalai Lama. The feared erosion of their authority also leads to retributive actions against families, relatives, or monasteries associated with those who have self-immolated, which creates a vicious spiral in which more people are prepared to set fire to themselves because of the oppressive conditions.
But even while the crackdown has intensified in scope and tactics in Tibet, an alternate narrative of cultural resilience is taking shape as Tibetans take increasingly bold steps to defend the core values of their national and religious identity.
Some striking images that have emerged from Tibet tell a story of this new political moment in Tibet, which is documented in the International Campaign for Tibet's new report "Storm in the Grasslands."
One image, taken earlier this year, depicts guns and knives stacked in a public place in eastern Tibet and adorned with white blessing scarves. The photograph was taken before their destruction, as a symbolic demonstration of Tibetans' intent to adhere to the Dalai Lama's emphasis on non-violence, despite the intense provocation from the Chinese authorities.
Schoolchildren held hands during a demonstration in the eastern Tibetan area of Rebkong (Chinese: Tongren), Qinghai. Several self-immolations at the time of the Chinese Communist Party's once-in-a-decade leadership transition in November were followed by spontaneous gatherings of thousands of Tibetans to mark the deaths of those who had set themselves on fire and in peaceful protest and vigils. On Nov. 9, thousands of schoolchildren and students marched peacefully through Rebkong (in the Tibetan area of Amdo), making peaceful and moderate demands for change, and gathering to chant long-life prayers for the Dalai Lama.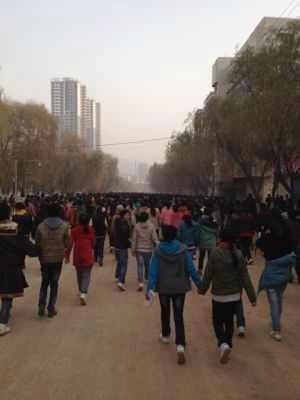 Hundreds of Tibetans converged upon a hillside bearing Tibetan white blessing scarves for the cremation of a young Kirti monk called Phuntsog, who set fire to himself on March 16, 2011, and died.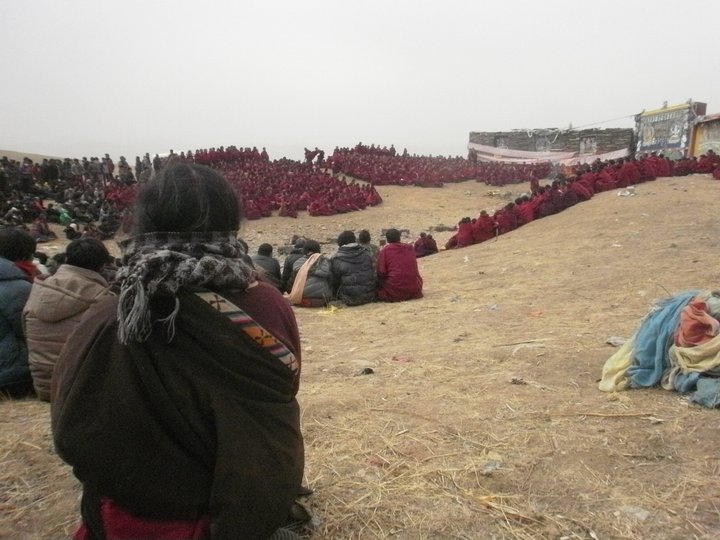 The Tibetan who took the picture said:
"The noise of their chanting the mantra dedicated to the Dalai Lama rang in my ears. There were mothers carrying children, there were old men walking with a stick. People were crying, they were sharing their sorrow. It was as if there was nothing else for them to do. It felt as though my heart was breaking. It felt like a moment when ordinary people are coming together to protect what is most precious to them. There may be unbearable oppression, but as one young Tibetan said to me, 'Who can say with any certainty that there is no hope?'"
Calling all HuffPost superfans!
Sign up for membership to become a founding member and help shape HuffPost's next chapter