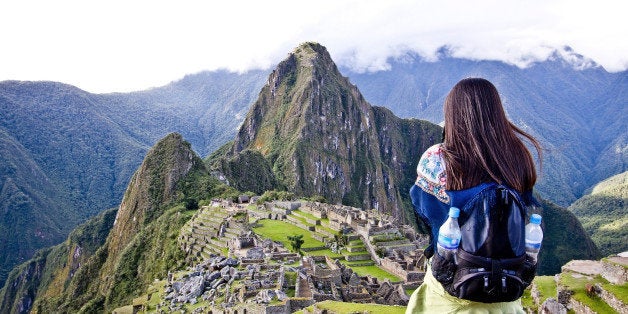 "So, where is your husband?"
A question I have been asked abroad since way before I was actually married.
Women travel alone. We get that. We know that. There are a million and five articles out there about solo female travel -- we read blogs about amazing, independent, fearless women who travel alone. We read about their stories in hostels, their "safety tips" that their male counter parts need not worry about, their amazing life altering experiences by being alone.
I was one of those writers. And in the past 3 years, I have become a new breed.
I am a married woman who still travels by herself. The applause has stopped. To travel without one's husband must mean something negative: pending divorce, a "rough patch," a lack of intimacy.
My marriage to my husband, Alex, was based on your average set of values. Family, religion, and yes -- even travel. An aspect that was so important to me that I dedicated my life to it while I had the chance. Dedicating ourselves to each other had the underlying meaning that as a couple, we would further commit ourselves to seeing the world around us. And, of course, making adventures out of the small stuff.
"There's one other thing," I said to Alex one night in 2012 when we talked about our future together.
"I still want to travel alone."
About six weeks after Alex proposed, I visited India for two months to volunteer with a nonprofit. Without my fiancé. This was my first experience in the unknown territory of "Oh you're committed to someone and he's not with you?"
One night, I was sitting around a fire with the other volunteers,
"So... does Alex not enjoy to travel?" Someone asked.
"Of course he does," I said clearly while thinking, "Why the hell would I marry someone who didn't?"
Several volunteers exchanged glances from across the fire. I realized that people don't do this too often.
Eight months later, I found myself working for a stateside non-profit visiting one of our communities outside of Jinja, Uganda.
"Where is your husband?" The young girls would ask giggling.
I froze. I already dreaded the response. Before I would have described myself as a woman of utmost confidence who thrived on traveling alone. Now, I was the woman dreading a stranger's opinion on a relationship that he or she had never even seen in person. I cared about what a stranger thought about my relationship when the person hadn't even met my partner. Why did I care?
Three months after Uganda, Alex and I visited Costa Rica and Brazil for the World Cup. We were applauded, congratulated, commended for being a young couple that travels together. In that moment I realized -- this is how it would be for the rest of my life. People not surprised to meet couples traveling together. People constantly judging me for being alone, yet with a wedding band on my finger.
In 2012, I met an inspirational PHD candidate while taking a culinary class in Italy. She had been married for over a year and in Italy by herself for two months.
"People just don't get it really..." she said plainly.
We are still great friends today -- and she has no idea how much value I placed in that simple sentence.
I knew that if I were to get married, I didn't want every experience to be with my husband. I wanted to feel things -- discover things -- on my own. At this point, I didn't know Alex would be my husband. But in some strange way, I already wanted the same for him. I wanted to be with a strong, independent individual. Someone like me in that way so then as a couple, we would be nearly unstoppable.
Six months before our wedding, I told Alex that I found a Groupon deal to Trek to Machu Picchu. One of my dreams. And a $300 round trip flight.
"It's a month before our wedding," Alex said not even bothering to glance up from what he was reading. "I'm not surprised."
And now, I was in Peru. Alone. The month before our wedding.
And once again, they just didn't get it. Everyone was confused. I nearly felt like an outcast.
"Do you have to travel alone a lot?" A group member asked.
"Well, I choose to," I said with a muster of confidence.
I don't write this today to say that I've overcome the fear of what people think about me while traveling alone. The truth is, I haven't. I still care. I still get insecure. I still get drained to the point that I just make up excuses.
Or my personal favorite used last week while eating alone in the Dominican Republic,
"He's upstairs sleeping."
I write this to encourage more women to follow this example. If you want to travel alone in your marriage: do it. Be prepared for the negative opinions and queer looks. Be prepared to feel drained and annoyed. But the more of us who commit to doing it -- the less likely it will be so strange in the future.
One day, I can only hope that my daughter will be backpacking across South America on her own. When asked where my son-in-law is she will smile with full confidence and say simply: