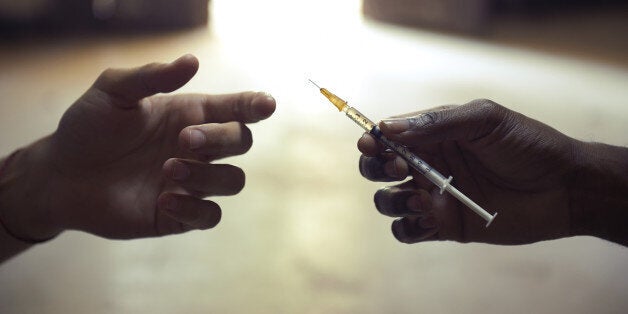 These days, across New England, firefighters respond to more overdoses than fires. So many addicts have been found unconscious in bathroom stalls that fast food chains like Dunkin' Donuts have changed their locks to make it easier for first responders. And even the mundane ritual of logging into Facebook has become such a macabre experience for some Bostonians we met that they now refer to it as "Deathbook." "Everybody sort of has like a gallows humor view of Facebook," a recovering addict named Brendan explained while we reported our latest documentary on the nation's opiate epidemic. "All you see is people who are overdosing and dying. And we're growing used to it. And that's a scary sign." The new normal is anything but. Take Massachusetts, which has been at the center of the opiate crisis since the late 90s. Over the last decade, the state counted an average of about 570 overdose deaths a year, which was already high. But suddenly in 2013 those numbers jumped to more than 900. And for 2014 -- the latest year statistics are available -- overdoses are expected to reach over 1,200. In neighboring New Hampshire, the situation has become so bad that some polls show it's the number one issue for voters in the first-in-the-nation primary, ahead of the economy and education. "I was not prepared to hear from so many about what was happening in the families of New Hampshire -- addiction, the heroin epidemic, which is at one of the highest rates in this state of any in the country," Hillary Clinton told attendees at a town hall in Manchester on Jan. 22. Clinton wasn't the only candidate to express shock at the scope of the crisis. "The first question I was asked in my first town hall meeting was about the heroin epidemic," Jeb Bush said during an interview. "And I was like, 'Really, tell me about it?'" It's both encouraging and maddening to see the scales fall from the eyes of presidential candidates on an epidemic that's been two decades in the making, one that claimed a record 28,647 American lives in 2014. But they're still behind the curve. It's not heroin that's killing people at such alarming rates in New Hampshire and surrounding states. It's something far more dangerous and worrying: a powerful synthetic opioid 50 times stronger than heroin called fentanyl. In New Hampshire, 351 people fatally overdosed on opiates last year, according to the state's medical examiner. Twenty-eight of those victims overdosed on heroin alone; fentanyl was a factor in 253 of the deaths.
Two weeks before the capture of the world's most notorious drug lord Joaquin "El Chapo Guzman, we entered his stronghold of Sinaloa, Mexico to look at one source of the drug.
"There's almost nobody making pure heroin anymore because el diablito is so much stronger," one trafficker, who we'll call Javier, told us, using the local nickname for fentanyl -- "the little devil."
Javier explained that his family sourced the precursor chemicals from China, and paid a Colombian chemist $50,000 to teach them how to cook up the fentanyl. It was well-worth the investment he said. Demand for the product has tripled.
Javier wasn't the first person to tell us about lacing heroin with fentanyl, however. Back in Massachusetts, we interviewed two young addicts who also sold drugs to support their habit. Well before traffickers in Mexico started mixing fentanyl into their heroin, these guys were doing it to gain a competitive edge over other dealers in the neighborhood. The fentanyl they were using didn't come from clandestine labs, however. They used the stuff that comes from pharmaceutical companies and is prescribed to treat severe pain.
Both men described how they would squeeze the gel out of a prescription fentanyl patch and mix it into their dope.
"You can make your heroin seem so much more explosive," said David Harak, 27. Harak said it was easy to find pharmaceutical fentanyl. He would buy it off a neighbor who was prescribed the drug, use a quarter of it himself, and then mix the rest into the heroin he was selling.
"I would microwave the fentanyl patch to get it soft. I'll suck it right up in my needle and put it right in my arm with just a little water added," Harak said. "The fentanyl is the purest form. It's a pharmaceutical."
The black market for pharmaceutical fentanyl has grown alongside the black market for all prescription opioids, like oxycodone. Between 1999 and 2010, prescriptions for opioids in America quadrupled, and growing hand-in-hand were rising rates of addiction and overdoses, according to the CDC.
One of the reasons why such a big black market exists is because some pharmaceutical companies continue to push these powerful and highly addictive painkillers for conditions for which they aren't approved.
In our investigation, we found multiple fentanyl companies that have become the subject of lawsuits and indictments for illegally marketing their drugs "off-label," including paying kickbacks to doctors to get them to prescribe more of their product.
One whistleblower at a pharmaceutical company called INSYS Therapeutics told us that she was encouraged to mislead insurance companies to get their fentanyl drug, Subsys, covered.
"It's real simple: It's only FDA-approved for cancer patients with breakthrough cancer pain. If you don't have cancer, and breakthrough cancer pain, no insurance company is going to pay for this medication," Patty Nixon told us.
But most -- 90 percent -- of the patients referred to Nixon and her colleagues for Subsys sales were cancer-free, she said. "When 10 percent of the patients' charts that came over or less were cancer patients, that's not a lot of money. Nobody's going to get rich off of that," she said.
"But you have this whole other world of everybody. That 'my back hurts' money, 'my knee hurts' money," said Nixon.
The solution, she said, was for company reps to tell insurance companies that patients had cancer when they did not.
In market research conducted by another fentanyl company, they estimated that there are fewer than a million Americans with the kind of cancer pain for which their product was approved. If the company could sell fentanyl for more common conditions, like back pain or arthritis, they figured their customer base could grow thirtyfold.
"You can't make very much money if the product is only prescribed to people with breakthrough cancer pain," said Dr. Andrew Kolodny, chief medical officer at Phoenix House and a critic of the over-prescribing opioids. "The way you make money is by getting doctors to prescribe it for chronic pain."
To be sure, the majority of the fentanyl killing people in places like New England today is likely the stuff coming from Mexico. But the cartels are answering a demand that was created by pharmaceutical companies and their marketing practices. Today, 4 of 5 new heroin (and now fentanyl) users started on prescription opioids.
Fentanyl is killing people at such a rate that it's going to be difficult for politicians to ignore. There will be a lot of tough talk about building walls and fighting the cartels, but we shouldn't forget that this epidemic was made in America.
Mariana van Zeller is Chief Investigative correspondent for Fusion. Darren Foster and Cristina Costantini are producers. Their latest documentary is "Death by Fentanyl."
Calling all HuffPost superfans!
Sign up for membership to become a founding member and help shape HuffPost's next chapter