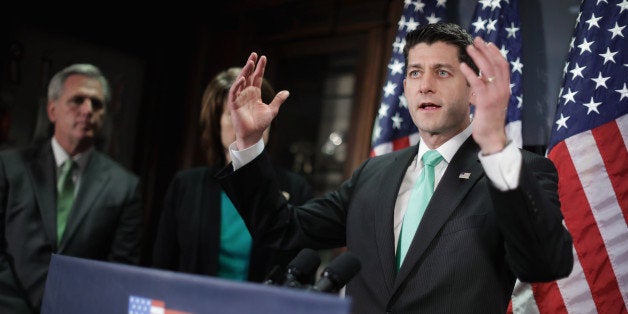 With the nation's attention captivated by a presidential primary season that feels like a reality TV show, Republican obstruction of a U.S. Supreme Court vacancy, and the beginning of NCAA March Madness, the routine business of funding our government probably won't get much air time until a government shutdown looks imminent later in the year.
This spring, the greatest threat to the American people on the legislative calendar likely will come from appropriations -- the process for funding our government -- and the danger may be greater than it has been in previous years. To understand why, it helps to know a little about how the appropriations process works.
As it must do annually, Congress will set federal funding levels for the year ahead. Lawmakers must allocate resources for everything from our roads and bridges, to education, to defense, to protections for our air and water. This year, Congress is attempting to pass 12 spending bills, each of which funds a different part of our government, instead of combining them into a huge, last-minute omnibus spending bill. Passing 12 individual bills is how appropriations is supposed to work. Although this "regular order" process hasn't worked since 1994, this year lawmakers will try.
The new Speaker of the U.S. House of Representatives, Rep. Paul Ryan (R-Wis.), has been a strong advocate of moving a budget and regular order appropriations. "We can't let how you vote on an amendment to an appropriations bill define what it means to be conservative, because it's setting our sights too low," Ryan said at a Heritage Action policy meeting in February. Ryan knows that to pass spending bills one at a time, Republican lawmakers probably will have to resist the urge to attach large numbers of ideological policy riders to those bills. After all, regular order is supposed to be about funding our government, not sneaking though special favors for big business and far right ideologues.
Last year, hundreds of these riders were proposed for inclusion in the spending bill: from defunding Planned Parenthood, to weakening our campaign finance rules, to undermining Wall Street reform. Most of them would have harmed American workers, consumers and families -- making them unpopular and controversial with voters in both parties. These policies could not become law on their own merits, which is why lawmakers try to attach them to must-pass spending bills as riders. Last year most of these riders were eliminated before the final bill could pass, thanks in no small part to the public outcry against them.
This year, if Congress tries to pass 12 spending bills through regular order, there could be 12 chances for unscrupulous lawmakers to hitch ideological riders onto spending bills. And if the public and lawmakers are too distracted to speak out, some of these dangerous provisions could have a chance to become law. That is why hundreds of progressive groups are sounding the alarm about poison pill riders now.
In February, a coalition of more than 100 organizations -- representing millions of Americans -- sent a letter calling on all 535 members of Congress and the president to pass a clean budget, free from inappropriate riders. Whether the appropriations process continues through regular order or turns into an omnibus package later in the year, policy riders simply have no appropriate role in funding bills.
As funding processes for the next year begin to move, Congress and the president should push back on riders wherever they appear and make sure that the business of funding government remains just that: a straightforward appropriation of resources for the agencies and safeguards that protect the American people.
Gilbert is director of Public Citizen's Congress Watch division.
Calling all HuffPost superfans!
Sign up for membership to become a founding member and help shape HuffPost's next chapter