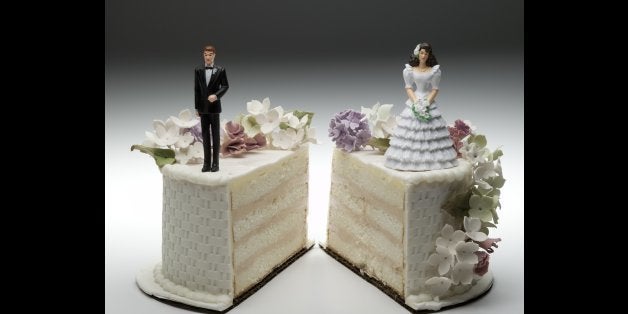 On October 6th, 2001 I got married. On January 30, 2012 the Court of Common Pleas of Philadelphia County decreed that I was hereby divorced from the bonds of matrimony.
My feelings on each of the past 13 October 6ths have run the gamut. Happiness, joy and celebratory marked the first and second. Excitement at year three, our first baby had just been born! Calm and love marked the fourth and fifth. By the sixth October 6th, illness and loss had entered our lives. Subsequent Octobers 6ths were met with sadness, hope, avoidance, denial, resignation and by the end, dread.
Our last anniversary as a legally wed couple was our 10th. We planned meetings with our lawyers and bore witness to the sadness we shared. We offered each other hope for something better in the future, knowing that these something's wouldn't be shared together.
Then, on a regular nothing-special Thursday, I sat at my desk opening mail and received a notice from the commonwealth of Pennsylvania. They informed me that they recognized the irretrievable breakdown of my marriage and said marriage was now officially void.
For all of the pomp and circumstance a wedding ushers in at the beginning of married life, the conclusion of that same marriage comes completely unadorned. There is no ceremony, no witnesses, no one holding your hand to escort you to your new life.
The first October 6th post divorce brings a dose of reflection and reality. It's filled with tears, memories, madness, sadness and a little bitterness.
The tide turns and the following October 6th is met only with indifference.
This past October 6th was the 13th anniversary of the day we got married and on that day I smiled. I am now on the other side. It's different for everyone. Some get there quickly and some never seem to get anywhere, their life continues with bitterness and blame. They never get to the other side; they don't even know it's there.
Two years ago I was sad and mad, the last indifferent and this year I smiled. I am on the other side.
People say, "You can't regret marrying because now you have your kids." Obviously. But this irks me. It belittles the reasons I don't regret marrying my ex. There were many reasons I married him on October 6, 2001. None of those reasons were my unborn kids.
I recall vividly the day I took public vows and made private promises. Now I can't help but wonder, what happens to anniversaries after divorce?
I am no longer buying a card for and celebrating with the man I married. I am also no longer in denial, resigned, mad or sad. Looking from the other side, I'm sorry that young bride and groom had to make such a mess and go through so much heartache.
October 6th will now be a day of calm and quiet reflection. I have never regretted my marriage and not one day goes by that I'm not grateful that my marriage is now over. Each year on that day I'll say a quiet meditation to that young bride and groom and wish them separately and together, happiness and peace.
Related