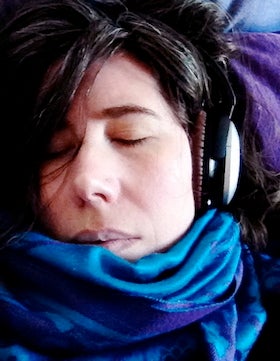 I met Lilan when I moved to San Francisco to live with my father in the fourth grade. A sparkly-eyed, spry little girl with braids, freckles, a sharp wit, and an infectious laugh, I liked her immediately. We became friends – best friends – and together we created some of my fondest childhood memories, though we got to spend only two short years together.
In sixth grade, Lilan transferred to another school, and we lost touch. Then, one day in my early 30s, Lilan emailed me. She wasn't emailing to reconnect with an old friend. In fact, she had no idea she was even emailing an old friend. As managing editor at Parenting.com, she was on the hunt for a new blogger, and she had culled my mommy-blog from so many others. "Then," Lilan recalls, "we had this mind-blowing moment when we realized who we were." Naturally, we became fast Facebook friends, and soon I was seeing her sparkly eyes, her drawings, and her various amazing knitting projects online. She was as vibrant as I had remembered.
It wasn't long, however, before I noticed that her presence on Facebook became erratic. By this point she had moved from New York to Germany, so I assumed her absence was due to her acclimating to her new home and job. What I didn't know was that Lilan had become ill. In fact, she had been ill for some time, but now her condition was worsening. She didn't have cancer, or something that you could easily identify with a blood test or an MRI. Rather, her illness was elusive. It took seven years and too many doctors' visits to count to get the right diagnosis: myalgic encephalomyelitis / chronic fatigue syndrome (ME/CFS).
ME/CFS is a multisystemic neuroimmune disease that is little understood and from which 17 million people around the world suffer, trapped inside their bodies like prisoners in solitary confinement. It affects their senses, joints, muscles, sleep, digestion, stamina, and cognition. Those imprisoned are often accused of malingering by doctors, friends, and even family members because, at least at first, they don't look sick. Jay Leno (like so many others) called ME/CFS "yuppie flu": nothing more than affluent people seeking attention or a day off from work.
Multiple studies have since debunked the malingering, it's-all-in-your-head view of ME/CFS, yet many in the medical community continue to propagate it. Take, for instance, the multi-million dollar PACE trial, which has recently come under scrutiny. In 2011, this seriously flawed UK study concluded that ME/CFS patients just needed to overcome their alleged fear of activity and increase their physical activity to recover.
This could not be more wrong.
For some diseases where fatigue is a disabling symptom, such as lupus, multiple sclerosis, and rheumatoid arthritis, research shows that aerobic exercise does improve fatigue and other symptoms. For those afflicted with ME/CFS, however, aerobic exercise can actually bring on a crash – what researchers call postexertional neuroimmune exhaustion (PENE) – sometimes immediately, sometimes days later. So, unlike the other diseases, exercise in ME/CFS works to exacerbate existing symptoms rather than improve them.
In his documentary Forgotten Plague, ME/CFS sufferer and multimedia journalist Ryan Prior describes postexertional neuroimmune exhaustion (also known as postexertional malaise) this way:
In simple terms, what happens to a cyclist at the end of a Tour de France is the same physiologically as what happens to any CFS patient when he or she simply takes a shower.
It's not just aerobic exercise that brings on PENE: any type of exertion – physical, social, mental, and/or emotional – can trigger a crash. It then takes days, sometimes months, to recover. This is what I think is so difficult for people who are well, and who may experience some fatigue now and again, to truly understand. Yet this is what distinguishes ME/CFS from any other illness.
Lilan now lives with her cat, Leopold, in Germany. She is tended to by caregivers provided, in part, by the state. She rarely has the strength to receive visitors. She tolerates just three foods. She spends many of her days in silent darkness. She can stand upright only shortly. She cannot leave the house. Most indoor activities are lost to her, too. When she is able, she connects to the world online. She has to stifle the guffaw that I remember so well. "Laughing hurts," she tells me. This has been her existence for the past seven years of her fourteen-year illness. With all of the gifts she has inside her to give to the world, this should not be her life.
Generally, when I talk to people about Lilan and ME/CFS, they want to change the subject. I get it. It's taken me an entire year to write this article – and it's not just because it's difficult to connect with Lilan due to her illness or because I've had other projects.
Researching this disease is difficult. I read about a patient's suffering, watch a documentary, or scan a research article, and I have to step away. I feel overwhelmingly sad. And worried. I start to worry that every little ache, pain, or bout of fatigue is a sign that I, too, will stumble into a darkened room, never to reemerge. While that may seem ridiculous, I know the truth: No one is immune. As Lilan recently wrote on her Tumblr page (after more than a year's absence):
I did not know, so many years ago, what it means to watch the pieces of yourself get shaved away, the so-you-you-always-took-them-for-granted pieces, the closer-and-closer-to-the-core-pieces.

The loss is immeasurable.

And I am afraid.
When you learn about ME/CFS, you become afraid, too, because the cause is unclear, and there is no known cure. There isn't even an effective treatment.
But we must find all three.
Right now, there are an estimated 1 – 2.5 million Americans suffering in silence. They are missing from our communities, workplaces, joyous occasions, and from the lives they thought they were going to live. We cannot forget them simply because we are afraid. Or we don't understand. Or we think it's all in their heads. Because it's not. This disease is real. Their suffering is real. And those families who are caring for their suffering loved ones, they need our support, too.
Lilan is one of the millions of faces of ME. And they all need our help. Here's what you can do:
According to the NIH, the funding spent on research in 2015 was as follows:
Rheumatoid Arthritis: $59 million

Lupus: $90 million

Multiple Sclerosis: $94 million

ME/CFS: $6 million
Donate. You can also donate directly to organizations studying ME/CFS.
The Microbe Discovery Project is a patient-led initiative supporting the Columbia University Center for Infection and Immunity. Lead researchers Ian Lipkin and Mady Hornig released a landmark study in 2015 providing ample evidence that ME/CFS is a biological and not a psychological illness. Their newest research aims to identify how the interaction of bacteria, fungi, viruses, and the immune system contribute to the disease. Please help them pursue their work.
The End ME/CFS Project at the Open Medicine Foundation requires ongoing donations. Spearheaded by Ronald W. Davis, professor of biochemistry and genetics at Stanford University, the study's first goal is to find a useful diagnostic biomarker for ME/CFS. Dr. Davis' own son, Whitney Dafoe, is an extreme sufferer of the disease.
We need to keep the message of more funding and better medical attention alive.
And we need to send the message to the millions missing that they are not forgotten.
1. Pilutti, L. A., Greenlee, T. A., Motl, R. W., Nickrent, M. S., & Petruzzello, S. J. (2013). Effects of exercise training on fatigue in multiple sclerosis: a meta-analysis. Psychosomatic Medicine, 75(6), 575-580. ; Carvalho, M. R. P. d., Sato, E. I., Tebexreni, A. S., Heidecher, R. T. C., Schenkman, S., & Neto, T. L. B. (2005). Effects of supervised cardiovascular training program on exercise tolerance, aerobic capacity, and quality of life in patients with systemic lupus erythematosus. Arthritis Care & Research, 53(6), 838-844. doi: 10.1002/art.21605; Neuberger, G. B., Aaronson, L. S., Gajewski, B., Embretson, S. E., Cagle, P. E., Loudon, J. K., & Miller, P. A. (2007). Predictors of exercise and effects of exercise on symptoms, function, aerobic fitness, and disease outcomes of rheumatoid arthritis. Arthritis Care & Research, 57(6), 943-952. doi: 10.1002/art.22903
Before You Go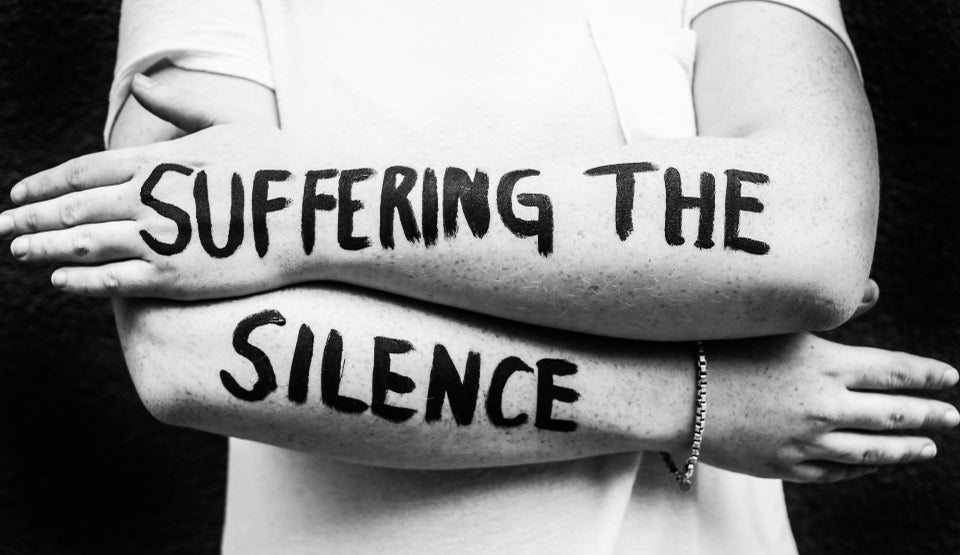 Suffering The Silence: Portraits Of Chronic Illness