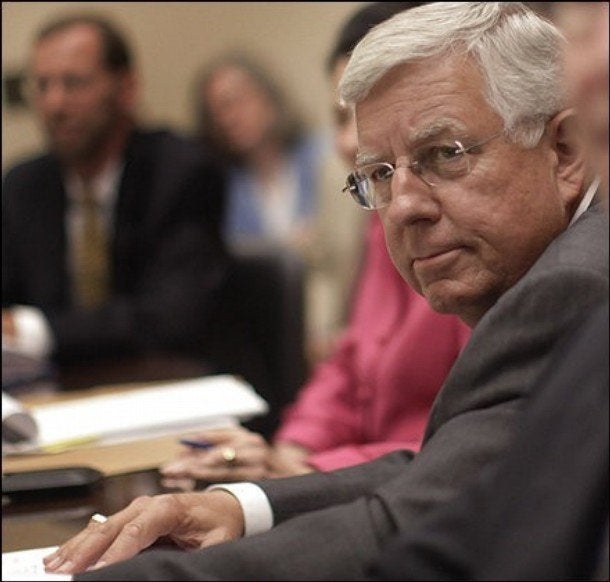 The signature achievement of the late Republican ascendancy was government failure. Regulators scaled back enforcement. Agencies were filled with former lobbyists.
It worked superbly for the party's supporters, but not so well for the rest of us. And today, though the GOP has paid for its sins at the polls, it is still playing the same game.
Last week, Sen. Mike Enzi, Republican of Wyoming, announced that he was placing a "hold" on the nomination of M. Patricia Smith as solicitor of the U.S. Department of Labor. I suspect his reason for going after Ms. Smith, who is currently the New York State labor commissioner, is because she is an effective and innovative labor bureaucrat. With Mr. Enzi's hold, she will now need 60 votes in the Senate to win confirmation.
What Mr. Enzi claims to find intolerable about Ms. Smith is the way she has described New York's "Wage Watch" program, which encourages employees to report labor law violations. In a letter to President Barack Obama, Mr. Enzi claimed there were "four significant inconsistencies between Ms Smith's statements" and documents describing the program. One of which--prepare yourself--concerns just who came up with the idea for the program. Ms. Smith originally said it was somebody in her department, but later she allowed that one of her lieutenants may have gotten the idea from someone who didn't work for the department. Woe betide those who get their ideas from others!
Mr. Enzi characterizes Ms. Smith's mistakes as damning errors, but the real issue is regulation, and government's willingness to enforce it. We now know that it wasn't a good idea to defund and demoralize the agencies that were supposed to supervise the financial industry, but the lesson should go much deeper than that. The late Bush administration practiced regulatory euthanasia all across Washington, and the consequences have been felt in every corner of the economy.
The Labor Department was hit worst of all, a bureaucracy that was run in reverse until the motor seized up and the wheels came off. This past March the Government Accountability Office (GAO) released a report on the department's Wage and Hour Division that reads like one of the pranks Spy magazine pulled off in its heyday. It seems that over the preceding nine months, a group of GAO investigators filed 10 made-up complaints with the Wage and Hour Division to see how it would respond. One of them alleged that kids were working "on heavy machinery" in a meatpacking plant during school hours. Wage and Hour simply blew that one off. As the report concludes in its inimitable government style, the Labor Department "successfully investigated 1 of our 10 fictitious cases."
But maybe that's the sort of batting average you should expect after you pack the lineup with business-friendly all-stars. One of the brightest was conservative wunderkind Horace Cooper, a former chief of staff in the U.S. Labor Department's Employment Standards Division who was indicted for obstruction of justice and other charges in August after allegedly using his position to do favors for a Saipan garment manufacturer and allegedly accepting numerous comped meals at Jack Abramoff's restaurants. Mr. Cooper has pleaded not guilty and denies wrongdoing.
What is it about Ms. Smith that makes her unfit to follow such august public servants? Is it the dread possibility of a Labor Department that works?
Ms. Smith has "created some of the best outreach and enforcement programs in the nation," says Kim Bobo, head of the advocacy group Interfaith Worker Justice and a critic of the Bush-era Labor Department.
Outreach is just what understaffed labor agencies need. Governments ought to enlist private citizens and community groups to help people "come forward if they have complaints and problems. That's exactly the kind of thing we need to extend capacity," Ms. Bobo told me.
Yet the menace of outreach is why conservatives objected to the "Wage Watch" program even before they decided that the real problem was Ms. Smith's statements. It was a dangerous scheme, Mr. Enzi's office asserted in a statement quoted by Crain's New York Business; a program that would "endow union organizers and community activist groups like ACORN with vigilante power."
Never mind that Acorn had nothing to do with Wage Watch, or that its participants would have no enforcement power greater than handing out flyers, or that the program itself is only now barely off the ground. This is another fight to save liberty itself from the totalitarian onslaught of the liberals. Call the Glenn Beck hotline!
The days when the system didn't work at all? That was a golden age of human freedom, presumably. A government that encourages workers to find out about the nation's labor laws? Mob rule.
Calling all HuffPost superfans!
Sign up for membership to become a founding member and help shape HuffPost's next chapter