As the saying goes, "It takes a village to raise a child." Nowhere is this more evident than in our nation's schools. Each day, millions of America's young people are educated, fed and nurtured in these academic "villages." A crucial aspect of each child's education is learning how to maintain a healthy lifestyle. School nutrition employees and school nurses play critical roles in this mission, and I am fortunate to witness, first-hand, the dedication of these professionals as I visit USDA school lunch and breakfast programs around the country.
Over the next few days, we have the opportunity to pay tribute to those who work so hard to ensure the health of our children at school. On Friday, we celebrated National School Lunch Hero Day, a time to recognize hardworking school nutrition employees nationwide. This week, we are continuing to honor these professionals during National School Nutrition Employee Week. Both events allow us to demonstrate our gratitude to those who dedicate their careers to preparing and serving healthy meals to our nation's children.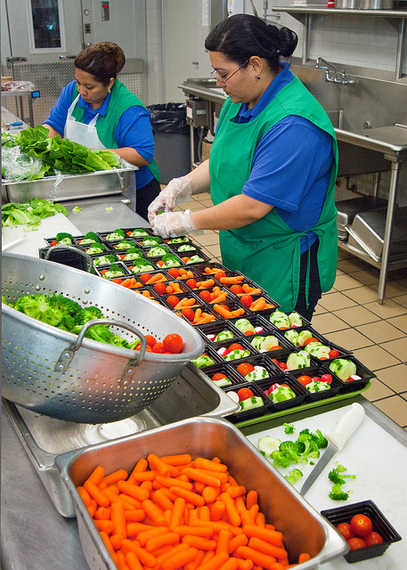 School nutrition employees are our front-line troops: they directly engage with more than 30 million children participating in the school meals programs each day. They know many of the students by name. They enthusiastically don silly costumes or transform the cafeteria into a luau to entice students to sample new foods. They ensure that students receive well-balanced meals. They are committed to the best for "their kids."
School nutrition employees are not the only ones who deserve our recognition, though. This week, we also have the opportunity to honor another group of individuals who support the health of America's young people: Wednesday, May 7, is National School Nurses Day. School nurses have been enthusiastic champions of the updated school nutrition standards, and attest to the positive impact that school meals have on the lives of children. While visiting schools, I am frequently approached by school nurses who comment that school meals reduce children's frequency of visits to the nurse's office, particularly for issues like stomachaches and headaches.
USDA shares in the commitment to the health of our nation's children. Over the past couple of years, we've introduced significant improvements to ensure that the food children receive in school optimizes their health, and doesn't put them at higher risk for chronic conditions such as diabetes and heart disease. We recognize that implementing change can be challenging. But, school nutrition staff and school nurses, driven by their commitment to student health, have risen to the occasion. Thanks to their efforts, schools are offering students more fruits, vegetables and whole grains. This means that students--whether they are taking a test in class or demonstrating their athletic prowess on the field--are fueled with more nutritious foods.
Our children deserve the best we have to offer, and I commend school nutrition employees and school nurses for giving students their best each day. They may not wear super hero capes, but they are undoubtedly real, authentic heroes. I encourage each of you to take a moment to thank these folks for fostering a healthier next generation.
REAL LIFE. REAL NEWS. REAL VOICES.
Help us tell more of the stories that matter from voices that too often remain unheard.