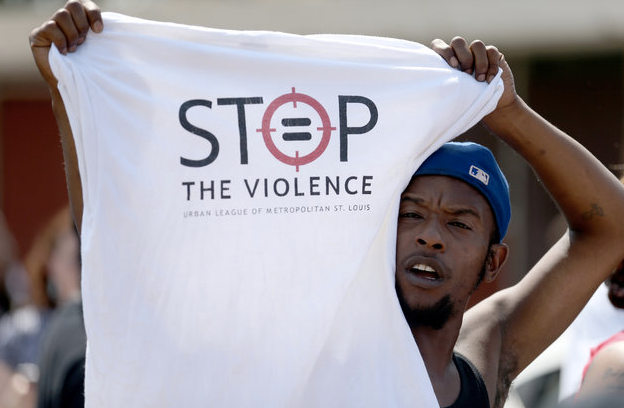 But, like clockwork, many right-wing conservatives and BLM critics are unfairly laying blame on the organization and have wrongfully labeled the attack the #BLMKidnapping. 
The video is haunting and horrific. The suspects, who have not yet been identified, took the victim, who reportedly knew at least one of the suspects, into the city in a stolen van, according to Chicago Police Commander Kevin Duffin. They then yelled "fuck white people, boy" and "fuck Donald Trump" at the teen in between beatings. The video has since been taken down and the victim is currently recovering at a local hospital. It's not clear if the victim was kidnapped or willingly went with the suspects. It is also not clear if the victim was a supporter of the president-elect.
What is clear is that the attack had absolutely nothing to do with the Black Lives Matter movement.
"This is hate. And hate doesn't have a color," former Chicago police officer Dimitri Roberts said Thursday, according to CNN.  "So for folks to talk about this is somehow connected to Black Lives Matter is absolutely the wrong way to look at this. ... And we cannot respond to hate with hate. It's just going to perpetuate the cycle."
This message was reinforced by the network's Chicago chapter on Wednesday who declared on Twitter that the attack has "nothing to do with BLM." The group later published a more extensive statement on Facebook condemning the attack, denouncing violence and demanding a "restorative justice process" so there can be healing and justice in this case. 
BLM has routinely been used as a scapegoat of racial violence against white people or police.  The movement was wrongly labeled at fault for the tragic death of five police officers in Dallas last July as well as during the Virginia shooting in 2015 where a black news reporter fatally shot two white colleagues, neither of which had anything to do with the organization. But that didn't stop right-wing conservatives from spreading misconceptions of the movement.
BLM critics wrongly believe that the organization encourages and endorses violence when the foundation of the movement is one built on love. It seeks equality and justice for black Americans through peaceful demonstrations and other powerful tactics that make clear that violence is in no way tolerated. And, quite frankly, reiterating the message and mission of the  BLM movement time and again is daunting, maddening and entirely exhausting. 
When one black person, or a small group of black people, commits an act of racial hate, the entire Black Lives Matter movement is blamed. Will this ever end? Do black people constantly have to defend that BLM is not a movement that seeks violent retaliation against white America? Will BLM critics constantly seek to tarnish the movement's name? Sadly, the answer to these is likely yes ― because this is America and racism lives on despite organized attempts to dismantle it. 
In the meantime, black social justice leaders and activists are left to defend BLM from damaging misconceptions, dangerous labels and disastrous smear campaigns from critics who fail to see what movement is truly about. In doing so, CNN panelist Angela Rye joined a segment on Thursday to discuss the attack and denounce any connection of the attack to the BLM movement. 
"These folks are not trying to kill people, they're trying to protect black lives," she said. "It's horrible to put that at the feet of Black Lives Matter."
Calling all HuffPost superfans!
Sign up for membership to become a founding member and help shape HuffPost's next chapter
BEFORE YOU GO
PHOTO GALLERY
Powerful Black Lives Matter March In Washington