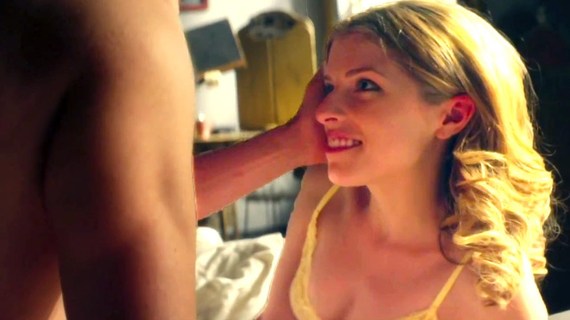 "It's important to think. It's what separates us from lentils."
--Richard Lagravanese, The Fisher King
He did it the hard way, like David battling Goliath this past Valentine's Day. Yes, Richard Lagravanese's latest effort, The Last Five Years, a romantic musical of sorts with next to no spoken dialogue, opened against the whip-wielding Fifty Shades of Grey, a syrupy softcore melodrama with perhaps too much dialogue.
The battle's result so far, at least as of this past Wednesday: $51,475 versus a worldwide take of $311,673,020. Well, at least David got the better reviews.
Yes, Richard Lagravanese, the Oscar-nominated screenwriter of such acclaimed titles as The Fisher King, Behind the Candelabra, The Bridges of Madison County, and Unbroken, which he co-wrote with the Coen Brothers, and the intermittent director of such fare as Living Out Loud and Freedom Writers, is a survivor of numerous Hollywood battles, many won, some lost. Beloved, for example, didn't fare so well. Neither did Beautiful Creatures, the recent teen-witch love story with a southern twang and numerous Charles Bukowski references.
However, with The Last Five Years, Lagravanese was aiming small. He wasn't seeking out the mall crowds but that bijou contingent of folks who can tell the difference between Kelli O'Hara and Patti Lupone. This film adaptation of the cult off-Broadway musical composed by Jason Robert Brown begins with the aftermath of a romance and then jumps back and forth in time to unearth why true love went wrong for the characters portrayed by Anna Kendrick and Jeremy Jordan. The tuner, which has been performed over 1000 times in the United States and around the globe, even caused The New York Times to print an article on why "people travel the world to see it, or make marriage proposals using the show's lyrics."
Fans of the original show will not be disappointed. Not a note has been cut and the two leads can really belt out. Additionally, Sabine Hoffmann's editing is calm and unfancy unlike say Martin Walsh's for Chicago. No Dramamine is needed. The song is king here.
But what attracted Lagravanese to the rather simple boy-meets-girl-becomes-a- success-cheats-and-then-drops-inconsolable-girl material? Was it that the film is Manhattan-based where he lives with his family? Or that the lovers are a Jewish and Catholic mix like he and his wife?
Gravanese, couched in the offices of his publicists, PMK, laughs: "No. That's funny. I just love musical theatre. I was a theatre major, and musical theatre was a part of that. I never saw the original production, but a friend, Todd Graff, who directed a movie called Camp with Anna and A Joyful Noise with Jeremy gave me the score a couple of years after it closed. I kept hearing from musical theatre friends that The Last Five Years had this amazing score. So I would just listen to it over and over, and I became obsessed with the music. It's one of my favorites."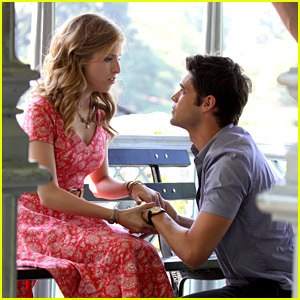 Raised in Bensonhurst, Brooklyn, this son of a taxi driver did admit being able to shoot in Central Park and its environs was an additional incentive: "That was an extra gift. I do love my city and stories that are based in it. But I have to say it was the score itself. It's how it emotionally made me feel. It got me. You know when you hear music and you get chills and choked up. That's what this score did. I just felt emotionally very connected to it."
"And that's why I made it this way and for this budget," Lagravanese continued. "I've said it a million times before: theatre purists are very similar to Comic Con purists. Our personalities are similar. We're obsessive, we're possessive, and hypercritical, and when we love something, we are very wary of it being adapted to film because people cut songs or they cast people who can't sing. So a big goal of mine was to keep it as pure as possible for the audience I knew would love it. If other audiences get to enjoy it and are open to it, that's wonderful, but I really had a specific audience in mind."
Consequently, one would assume getting investors was rather difficult?
"Not to raise money, no," Gravenese smiles and readjusts himself on the sofa. "But to find a distributor was a little bit of work. But there are millions and millions of musical theater fans. Ever since Glee opened the door, its multiplied and multiplied the musical theater fans across the country and across the world and . . . So because the budget was so low, I knew there was a profit to be made in creating it. Nowadays I'm just exhausted with the pressure of trying to create things to appeal to massive audiences. You know everything has to hit $100 million. It doesn't depend on how much something costs.
Shaking his head, he noted with resolve, "You can make something unique and something fresh and something that hasn't been seen before if you do it for a responsible budget and you hit your audience. You don't have to appeal to everyone. And that's a freedom. The other is a kind of censorship creatively."
Creatively, you can never tell what a Lagravenese project will be like except that the writing will be chockfull of bons mots. In The Fisher King, Jeff Bridges playing a down-and-out shock jock who finds happiness through a homeless man spouts, "Have you read any Nietzsche? Nietzsche says there are two kinds of people in the world. People who are destined for greatness like Walt Disney and Hitler. And then there's the rest of us. He called us the bungled and the botched."
The Last Five Years is about the bungled and the botched who want to love, try to love, and make a hash of it all not because they are bad people, but because they are human. It's a lovely film by a lovely man who once had Robin Williams woo Amanda Plummer with the line: "I have a hard-on the size of Florida."
Calling all HuffPost superfans!
Sign up for membership to become a founding member and help shape HuffPost's next chapter