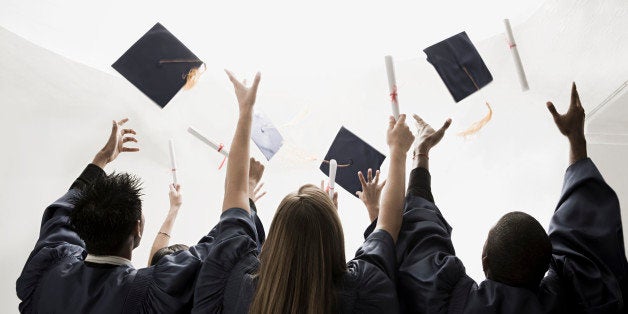 It was graduation weekend. My daughter was to receive a master's degree in upstate New York, and my son, who is an educator in western Massachusetts, was sending off high school seniors in their final outdoor nature class. The seniors would cook pancakes on an outdoor stove, and I was to bring the pancake mix. Then, we would drive to meet my daughter and head for graduation at Bard College on the Hudson.
I packed the pancake mix and my graduation clothes into the car and set off.
However, halfway across my small town outside Boston, the car began to sputter. A mile later, I barely made it across a major highway.
By the time I had phoned the car rental, transferred the baggage and pancake mix into the rental car and driven to western Massachusetts, I had missed the graduating seniors, but a class of hungry seventh graders ate all the pancakes. Then, my son and I drove to New York.
My daughter was taking the train North from Manhattan to Hudson, in upstate New York, where we would arrive at 6:30 and have a picnic dinner. Then, at 9:15, her boyfriend would arrive, and we would all drive to the hotel I'd reserved, the SuperLodge in Kingston.
In New York State, my son and I got on the Taconic Parkway south, where would take the exit for Hartigan Road to meet my daughter.
We never saw a sign for Hartigan Road.
Instead, I was enjoying the zippy rental car so much that 45 minutes later we realized we were too far south on the Taconic, with Hudson and its train station nowhere in sight.
After a flurry of questions to drivers at a convenience store, and a text from the station master in Hudson giving us correct directions, we finally got to the train at 9 p.m., just in time for my daughter's boyfriend's train to arrive at 9:15.
At last! We would drive to Kingston, and eat the picnic at the SuperLodge.
It was getting dark. As my daughter directed us to the hotel, where we had each reserved a room, the roadway began to mount, and soon we were traveling up twisting turns past shadowy mountains and rocky waterfalls.
"The Catskills," said my daughter, "Where Washington Irving got inspired to write his spooky tales about Sleepy Hollow."
"But Kingston isn't in the Catskills," I said.

"What do you mean, Kingston?" she said.

"That's where the SuperLodge is," I explained.
"We're not going to a SuperLodge," said my daughter, "We're going to the Headless Horseman Inn. I made my reservation at the Headless Horseman Inn, because you made your reservation at the Headless Horseman Inn, and we both did it on the web together. Two rooms. Headless Horseman."
"But I confirmed my SuperLodge reservation this morning!" I croaked, as we drove on, deep into the Catskills.
Rain flew. Wind whipped. The landscape grew rugged, with cavernous plunges.
Soon, we saw a street number close to the one we were seeking, on a building where a man was standing outside peering down the street, but there was no sign for a Headless Horseman Inn. Instead, we saw a sign that said Headless Horseman Park, "Private," so we drove in.
There, a man with a flowing long white beard directed us to a deserted hotel, but no one answered the door. Cats howled in the night. Trees creaked as if about to crash down. We beat it out of Headless H. Park and finally, found the correct street number. It was right where the gentleman was standing outside, and he was our host.
"The SuperLodge, with my room, is 40 miles away," I told my daughter, "What do we do now?"
"Go in and eat," said my son, stomach rumbling.
When we got to my daughter's room, guess what? It was a two-bedroom suite, complete with dining room table. We spread out the picnic and feasted, then fell into a Rip Van Winkle snooze.
The next day, Bard College was sunny and blooming. At the graduate students' luncheon, we walked among flowers and topiary of Blithewood, an Italianate mansion overlooking the Hudson River.
As we waited in line at the buffet, I overheard another mother talking on her cell phone.
"Can you believe it," she said, "We wasted two hours driving south by mistake, and ended up in New York City."
At the ceremony, everybody cheered the graduates.