As a patron of Los Angeles' most unique underground theatre, The Cavern Club, I have become a fan of actor/performance artist John Cantwell's annual Love Connie extravaganzas, but until last weekend I had yet to experience The Nellie Olesons, the veteran sketch comedy trio that gave rise to Connie. Well thanks to Evil Never Dies, the Nellie's bawdy, brilliant and bizarre 20th Anniversary bash, I am a Nellie Olesons virgin no more. Thank goodness!
The Cavern Club (located in the basement of Silver Lake's Casita Del Campo) revels in the kinky and the kooky, hilarious and ooky -- but The Nellie Olesons' Evil Never Dies is On Beyond Zebra. In fact, I have had a hard time imagining a single season ticket holder for The Geffen or The Colony making it easily through this wild ride, parts of which go as far as John Waters ever went. If you're game, you have only three more nights (Friday, October 2 -- Sunday, October 4) left to check this show out.

The original Nellie Oleson of Little House On The Prairie, yes THE Alison Arngrim, has bestowed her blessing on her namesake trio, even appearing with the group on several occasions and calling them "my evil children."
The packed opening night audience (which included the legendary Ellen Greene and writer/producer extraordinaire Bryan Fuller) loved up every minute of the Nellie's latest Sturm und Drang. After the show, over a banana blended margarita, I had the pleasure of getting to know the talented trio of Nora Burns, John Cantwell and Terrence Michael, who haven't performed together since 2008 in Provincetown.
Xaque Gruber: Happy 20th Anniversary! So how does this collaboration work? Who writes the sketches?
John Cantwell: Terrence writes the sketches and anything involving "mangina." Nora writes her monologues as well as the one I did on the Gay Dad. I do all the choreography, but we still help each other out with editing.
XG: What Nellie Oleson fan-favorite characters have returned?
JC: Junkie Jones, the crack-head illusionist is back and so is Connie, and also the Veeg Sisters, two flute-wielding wood-nymphs.
Terrence Michael: The Veeg Sisters is a take on the crunchy granola Earth Mother types that live in Topanga Canyon. They spend their days making composts, eating organic heirloom tomato salads and washing their hair in collected rain water.
XG: There is so much to love about the show's music with Bananarama, The Motels, and Human League.
JC: There is something about Bananarama music that works with the Nellie sensibility. I liked that it's menacing & youthful and with Bananarama being a trio, it gives a nod to the three menaced girls from Halloween.
XG: Has your show become raunchier? Darker? More topical? More nudity?
TM: I think this show is consistent with our previous efforts. We've always remained true to our sensibility.
Nora Burns: We consistently find new genitalia to exploit.
XG: Was the blind girl short film (my favorite of the pre-filmed sketches) a takeoff on See No Evil with Mia Farrow or Eyes of a Stranger with Lauren Tewes? Tell me!
TM: This is a commercial parody of an ad for a drug for blind women with sleep cycle problems. The drug is so specific and kind of ridiculous that I wanted to amp it up.
XG: Was there any sketch in this show that you were wary about doing? Or had to be toned down or modified?
TM: We don't censor ourselves. If we think something is funny, we go for it, no matter what.
NB: Toned down and modified aren't in Terrence and John's vocabulary. We did have to cut the sketch where they pull a Nazi kitten out of their asses, but only because the kitten changed parties at the last minute.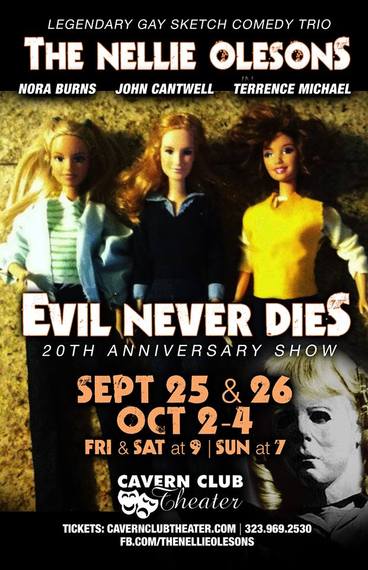 XG: Tell me your inspiration for the Mendocino Farms sketch? Did you have a bad experience eating in there? Inquiring minds want to know.
TM: I was in Mendocino Farms one day when someone rang the cowbell and all the employees yelled, which I found horrifying. You know there was some corporate meeting where someone decided that would be a "fun" idea and the sketch came out of that.
XG: I loved the suburban moms droning on about their kids - were these loosely based on people you know?
TM: The suburban moms sketch came about from friends who show me videos or talk about how special their kids are, and 99% of the time it's not special -- it's just kids being kids, so I wanted to take that to another level.
XG: If Kentucky Clerk Kim Davis came to Cavern Club and saw that sketch about her - and you knew she was in the audience - would you do it at all differently?
TM: Nora can answer that one.
NB: Damn, I heard Kim Davis came to Jackie Beat's last show, sorry she's so busy signing book deals, changing political parties, talking to The Pope, and lapping up attention that she can't make the show, but I told her I was doing this and she said I should actually stick the crucifix up my pussy.

XG: Let's talk about the otherworldly horse head dancer and country maiden sketch. Is that based on a mythological story?
JC: The horse number is based on Hitchcock's Marnie.
TM: The inspiration was Suddenly Last Summer by the Motels. The song has a great wistful quality.
XG: Could you ever see Evil Never Dies on TV? A Nellie Olesons weekly sketch series on television? Or maybe TV specials?
NB: Definitely a Christmas Special.
TM: We're a perfect fit for The Hallmark Channel. They're looking to shake things up.
XG: Have you ever had audience members walk out from being offended or have a bone to pick with you about the content of your show?
NB: Um yes. Do we care? Um, no.
TM: Yes, a few times. If you're so fragile that a comedy sketch crumbles your world, please don't friend me on Facebook.
XG: Will Evil Never Dies be performed in other cities?
NB: Hopefully New York City, maybe Provincetown, San Francisco.
SHOW INFO: The Nellie Olesons in Evil Never Dies START TIME: Friday & Saturday at 9:00 p.m., Sunday at 7:00 p.m. LOCATION: 1920 Hyperion Ave, Silver Lake, CA 90027 TICKETS: http://cavernclubtheater.com/
The Nellie Olesons' (L to R) John Cantwell, Terrence Michael, and Nora Burns (Photo by Tom Ackerman)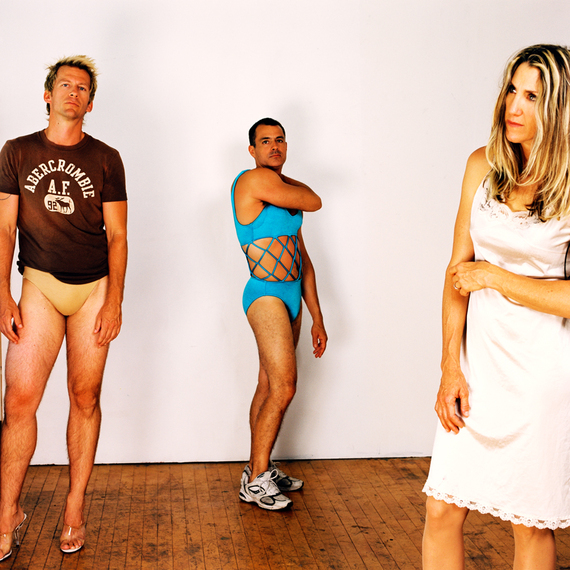 Calling all HuffPost superfans!
Sign up for membership to become a founding member and help shape HuffPost's next chapter