When Grace DiChristina went to the Santa Clara University gym on Jan. 20, for a workout, she wasn't expecting to be thrown out for a dress code violation. The college student wore a pair of black gym shorts and a short, sleeveless T-shirt with "POW!" written across the front.
That same day, DiChristina posted a photo of her outfit accompanied by a status where she explained that after she was asked to leave, she sought an explanation from the supervisor of the athletic facility, and was given two reasons: "MRSA (a staph infection by the name of Methicillin-Resistant Staphylococcus Aureus) and the fact that [Santa Clara University] is a Jesuit institution." 
DiChristina pointed out in her Facebook post that a strip of bare midriff can't possibly put a student at bigger risk for MRSA than a man in the gym wearing a muscle tee. 
Muscles tees with long armholes are extremely popular for men... the gym is packed with men sweating directly onto the equipment. However, these men feel safe. One of the rules in the gym is to wipe down equipment after use. Why are women being singled out and punished just because other people can't follow the rules?
DiChristina added that the "Jesuit" explanation isn't a fair one, either.
The fact that this is a Jesuit school should absolutely not be linked to the dress code at the gym. I do not go to the gym to be sexualized or looked at by other people -- I go to improve my health and my self-confidence.
Tina Vossugh, a Santa Clara University spokeswoman, told The Huffington Post that "this was the second time the student wore the shirt showing her midriff to the recreation center, she had been warned the first time not to wear it because it is against the gym policy for health reasons related to MRSA," but that the same policies will be expected of men.
Vossugh told HuffPost: "Male students are allowed to wear tank tops (aka 'bro-tanks'). However, if the bro-tanks have been cut and modified and the chest is exposed, they will also be asked to leave the gym. We are working to formalize the above in our current policy and add that bro-tanks cannot be modified or cut in any way to expose the chest."
The below policies are posted at the entrance of the gym and weight room.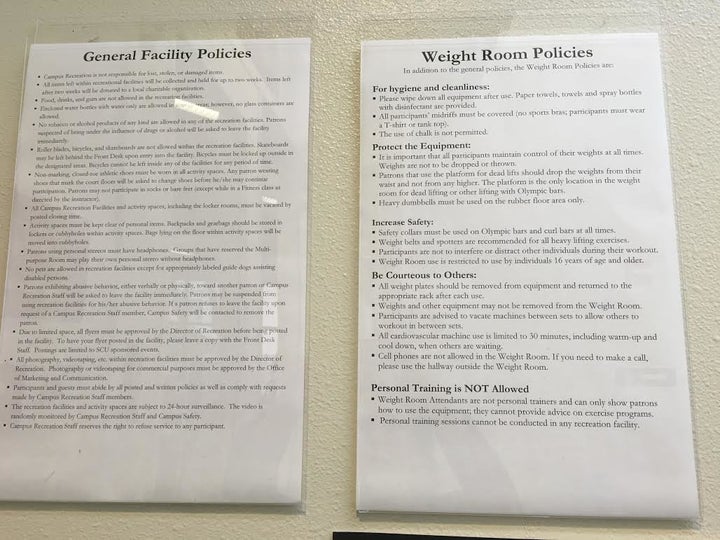 DiChristina has taken this opportunity to advocate for MRSA, by providing links to various awareness and prevention websites. She ultimately concluded that, "not sharing towels and wiping down machines are much better ways to prevent MRSA than forcing women to either cover their stomachs or leave."
DiChristina could not be reached for comment before publication. 
PHOTO GALLERY
11 Ways College Athletes Are Treated Worse Than Unpaid Interns
Calling all HuffPost superfans!
Sign up for membership to become a founding member and help shape HuffPost's next chapter