The voyeurism of photography / stolen moments / glimpses into other realities. With the click of a shutter, the photographer catches a moment in time, thereby capturing a desired subject. Sarah Kaufman focuses her lens on moments of quotidian experience. A Professor of Photography at Ursinus College, Kaufman explores the relationship between individuals and the spaces they inhabit. Kaufman's triumvirate series Moments of Absorption, Homebody, and Devil's Pool visually mesh the individual's experience with the surrounding physical space. The images, which explore the body's relation to environment, capture deeply subjective realities.
"The work is an inherently human investigation," Kaufman says of Moments of Absorption. Kaufman's photographs portray individuals in quiet moments of palpable vulnerability. "I visit people in their homes and ask them to try to show me the place that they inhabit when they are alone. The resulting photographs chase glimpses of this world and explore relationships among the subjects, their bodies, and their spaces." Kaufman's images transport the viewer into intimate spaces, typically within their own homes. The photographs of Moments of Absorption are impressive in size. Grouped together, they resemble city windows revealing the reality of daily life. The figures are lost in thought. Nude, they expose themselves to her photographic eye. "Ideally," says Kaufman, "the viewer can share in this reverence for the familiar by soaking in the gestures and details within another person's domestic space and routine."
The photograph Untitled (Sliding Door), 2010/14, portrays a woman casting a gaze in an open doorway. Is she thinking about her past, her future, or, is she simply lost in a daydream? Light floods the room, spilling in through the parted doors. Visible in the background is an apartment building, awash in a sheet of white haze. Scattered about the apartment, several cachepots filled with tall, leafy plants divide the space between the subject and the onlooker. The arm of a couch appears in the foreground, further suggesting a sense of depth and space. Untitled (Sliding Door) showcases a woman at home, comfortable in her personal space. This space is not limited to physical reality, but a deeply subjective inner reality. "These interiors represent both the physical space of the home and a more elusive idea of being at home," Kaufman says. The series Moments of Absorption captures interiors of the home and the mind.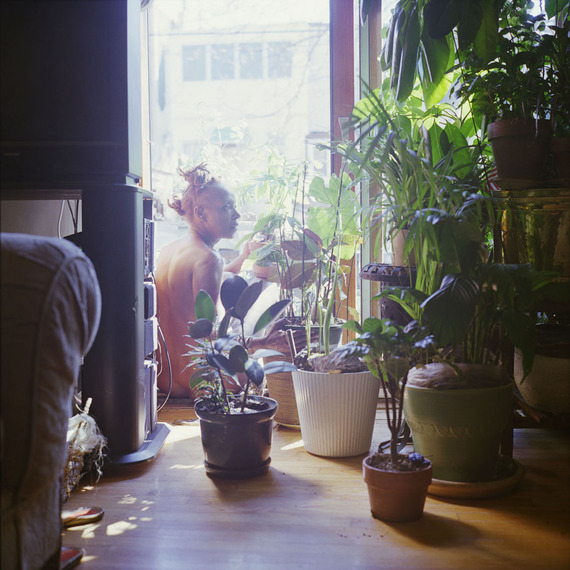 Kaufman places herself as the visual focus in her series, Homebody. Appearing in various awkward positions inside her home, Kaufman inserts herself into the physicality of the space. "After years of asking people to open their homes, strip down barriers, and attempt comfort in front of my camera, I have turned the lens around on myself," she says. Homebody explores Kaufman's fascination with the body's relationship to environment and onlooker. "In an effort to consider how becoming rooted in a place can carry vulnerability and risk," she says, "I have begun to explore the intimate world of my own home and my body's presence within it." A Sliver of Sky, 2013, depicts a Santa-esque fireplace with Kaufman's legs awkwardly twisting in the embers. Sooty footprints trail across the hardwood floor. Kaufman has inserted her upper body into the chimney, leaving only her legs and feet exposed. A Sliver of Sky, along with the accompanying images in Homebody, present an artist's attempt to merge her body as one with her surroundings, thus blurring the line between a physical house and a figurative home.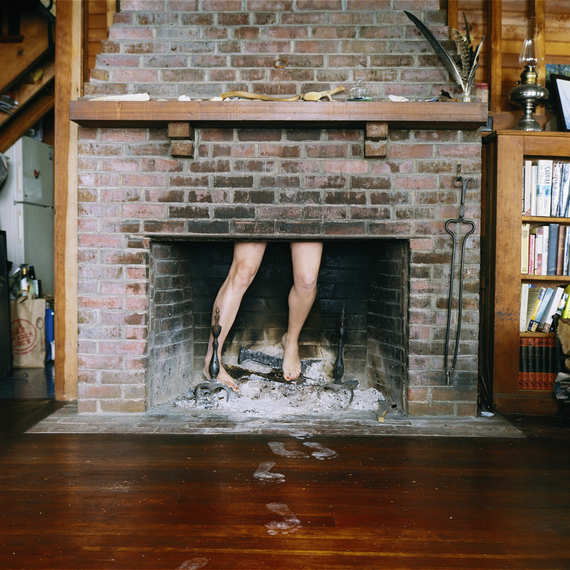 The series Devil's Pool, depicting an urban swimming hole, captures the carefree spirit of youth. "Devil's Pool stems from my love for Philadelphia's Wissahickon Park and the respite it provides," says Kaufman. "People from all over are drawn to its urban swimming hole as a place to play and revel in physicality and nature." Shot at dusk, Devil's Pool Diptych #4, 2014, utilizes deliberate, obvious effects to enhance its moody aesthetic quality; an artificial light shines upon a rocky outcropping, while glaring specks dot the image. Resembling a homemade Polaroid, Devil's Pool Diptych #4 calls attention to its artificiality, further complicating the reality of experience. In Devil's Pool, swimming is a communal activity, as the bathers explore the natural landscape. "My work," she says, "also grows from an interest in bathing throughout art history (both indoors and out in nature) and the potential for a pictorial space where the body could be represented and celebrated openly." While the photographs of Devil's Pool nod to an art historical theme, they retain a strikingly fresh quality.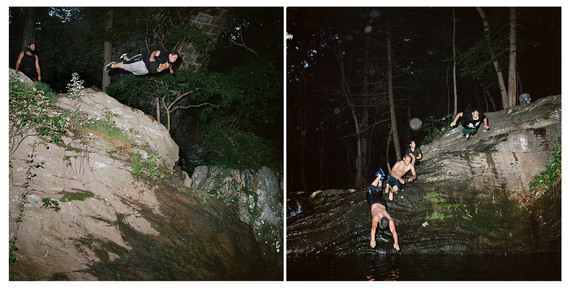 This summer, you can catch Kaufman's work at the following venues:
•Currently on view as part of Bradley Maule's One Man's Trash exhibition at Philadelphia's Fairmount Waterworks
•An iteration of Kaufman's Devil's Pool series will be shown during the next exhibition season at the Allen's Lane Art Center in Philadelphia. Kaufman: "This venue is right up and out of the woods from Devil's Pool and should be a great opportunity for local community engagement."
Support HuffPost
The Stakes Have Never Been Higher
Related
Popular in the Community