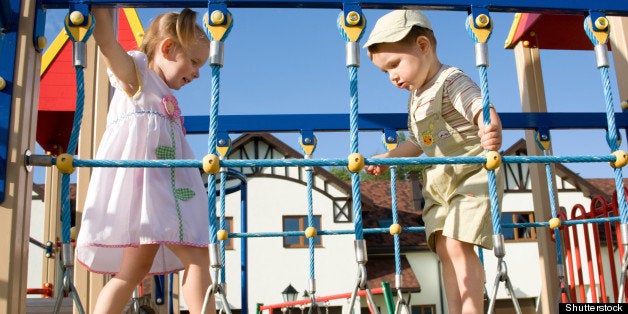 Sometimes when a word in our language slips out of favor, the marketers among us look for another word to reframe and replace it. There is no doubt that "play" is under appreciated, even misunderstood, especially when it comes to children. So it was significant to me that the Aspen Institute Ideas Festival organizers not only boldly embraced the word play, but added a whole track to its 2010 agenda called "the promise of play." And even more significantly, the nine sessions in this track were very well-attended, some with standing room only, despite the fact they were competing with sessions at the same time on global health, the next economy, or world affairs.
Why do I say that play is undervalued? As adults, we go to the theater to see plays. When we are creative, we "play around" with ideas. However, the signs that we undervalue play for children are omnipresent. Kathy Hirsh-Pasek from Temple University asked, "When did play become a four-letter word?" Quoting from David Elkind's book, Greater Good, she listed some of the warning signs, such as the following: in the last two decades, children have lost eight hours of free play per week and 30,000 schools have eliminated recess to make time for more academic studies. And that is the crux of the problem, she says: we see play and learning as opposites, rather than understanding how we learn through play.
Many of the speakers at the Aspen Institute Ideas Festival explored why play is vital. Architect David Rockwell has focused on play and imagination. As a father, he noticed that many playgrounds were rigid and didn't allow children the opportunity to be creative. After 9.11, he became involved in a venture to create an Imagination Playground in New York City with large blue foam interlocking blocks in a variety of shapes that children can use to make things. As he observed children playing with these foam pieces, he noticed something else. For the first 15 minutes or so, children tend to build solitary structures but then they begin to look over at what other children are doing and want to collaborate. He is now engaged in joint venture with the non-profit KaBOOM! whose mission is to save play, to ensure that all children in America will be within walking distance of a place to play and has built 1750 new playgrounds since its founding. By the end of the year, this partnership will have launched 100 Playgrounds in a Box in ten to twelve cities using Rockwell's design and materials. Rockwell says that play also offers children the opportunity to "take the bumpers off" and learn to collaborate.
Stuart Brown of the Institute of Play spoke about the neuroscience of play in both people and in animals. He has concluded that play is a survival instinct, like eating or sleeping. On one hand, play is a force that enables us to discover our most essential selves, to find fulfillment and growth. And on the other hand, by studying murderers in Texas prisons, Brown has found that the absence of play in childhood is an important predictor of criminality. Play is vital to our mental health and well-being.
Ezekiel Emanuel of the National Institute of Health, now Special Advisor on Health Policy to the White House Office of Management and Budget, and one of the architects of First Lady's Michelle Obama Let's Move Campaign spoke with the CEO of KaBOOM! Darell Hammond at Aspen. He talked about the importance of play and exercise as one significant way of reducing obesity in our country and of improving children's physical health and well-being.
Play is also vital to learning, as Hirsh-Pasek and I discussed in our session at Aspen. Think of a group of preschool group of children building a bridge with blocks and then playing with it. Not only are they learning about what bridges are and how to make them sturdy, they are learning the life skills I identified in Mind in the Making as central to helping children thrive now and in the future. For example, as their drama unfolds, they are engaged, paying attention, and controlling themselves so that they can collaborate with the other kids (focus and self control); as they take on different pretend roles such as a cop or a truck driver, they are learning how that person might think and feel (perspective taking); as they use blocks to pretend to be trucks and police cars, they creating symbolic representations (making connections); and when the bridge falls down, they have to rebuild it so it doesn't collapse (critical thinking).
What role do adults have when children play? Sometimes it is just setting up the environment with interesting open-ended materials. But sometimes, it is stepping in. An important study by Kathy Hirsh-Pasek and her colleagues experimented with three ways of teaching children about shapes. In one, the children simply played with the shapes. In the second, the children were taught didactically about shapes: "this is a triangle." And in the third, children were allowed to explore, but the teacher stepped in and asked questions: "How are these two shapes the same? How are they different?" They found that children learn the most about shapes when they are able to explore and are asked open-ended questions that push their thinking.
If we continue on a path of reducing play in children's lives, we should heed children's own words in a video that Rockwell showed. One said, "When we use our imagination, anything can happen." Another said, "you get to dream and anything you dream will come true." When I heard those words, I thought of how many adults are trying to recapture this ability. I also thought of how much industry is spending to cultivate innovativeness among employees. Yes, the name of the track at Aspen was right-on--the promise of play!

Calling all HuffPost superfans!
Sign up for membership to become a founding member and help shape HuffPost's next chapter