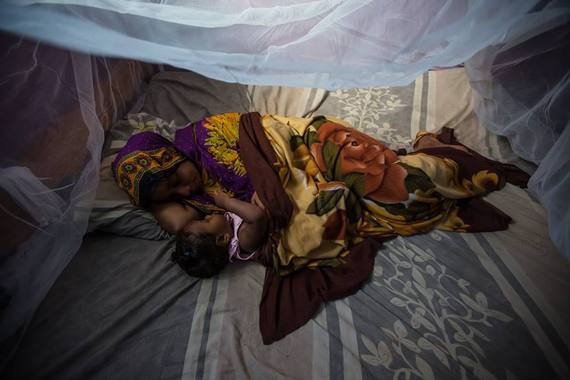 We are appalled as Daesh, Boko Haram and other extremists endeavor to shred our sense of humanity, carrying out despicable acts from Paris to Jakarta. We reel from the tragedy of lives lost and families uprooted by natural disasters in Nepal and Ethiopia. We worry about the threat of epidemic diseases like Ebola wreaking havoc in countries across Africa and South America. And we understand that what happens in countries as close as Mexico or as far away as Syria impacts us here in America.
As the worldwide landscape continues to evolve, and with the power of social media and technology connecting us all more closely than ever before, we are truly a global community. What may appear to be a distant concern has the power to impact Americans right here on our home soil. That is why our foreign assistance budget matters--it is both our shield and our olive branch, our tool to promote U.S. national security and development goals abroad.
The fiscal year (FY) 2017 State Department and USAID foreign affairs request is $50.1 billion, and includes $34.0 billion for foreign assistance programs and activities overseas. It may seem like a lot, but in reality this foreign affairs request makes up just one percent of the total federal budget. Despite its small sliver of U.S. federal budget pie, this one percent has enormous effect on U.S. national security and development goals. This one percent works on behalf of the American people to end the scourge of epidemic diseases like malaria; bolster democracies around the world; counter violent extremism; enhance nations' law enforcement capacity; and much more. As Secretary of State John Kerry stated in his testimony before the Senate Foreign Relations Committee on February 23, "... that one percent... is the minimum price of the leadership role that the United States of America plays on a global basis... And the scope of that engagement... is absolutely essential to protect the interests of our nation and to keep our citizens safe."
The FY 2017 Budget request prioritizes our efforts to address the crises in Syria and Iraq, counter Russian aggression; combat climate change, bolster global health programs, and address other critical regional challenges and opportunities. Our support for the expected peace agreement in Colombia is a prime example of how the Department of State and USAID take advantage of critical windows of opportunity. We, American taxpayers, are helping end one of the longest-running civil conflicts in our hemisphere, between the Colombian government and The Revolutionary Armed Forces of Colombia (Spanish: Fuerzas Armadas Revolucionarias, FARC.) Our foreign assistance budget is more than our taxpayer dollars at work--it is a symbol of our American values, of peace, democracy, and hope.
Foreign assistance funding allows us to address multi-faceted challenges before they crash into our shores--and the return on investment is palpable. Our military is the finest in the world, and our security assistance programs enhance the capacity and interoperability of our partners to address common security challenges, while at the same time promoting American values among the leaders of foreign forces. Further, the Department's assistance to foreign militaries is primarily comprised of U.S. equipment and services, including U.S. manufactured helicopters, planes, and radios, which helps to create and sustain jobs here at home. In terms of global health, since 2000, the number of children who die from malaria has fallen by more than 50 percent--that adds up to more than 6 million lives saved, a vast majority of which are young African children. Our Feed the Future program is contributing to substantial reductions in child stunting and poverty; for example, in Honduras, average incomes of Feed the Future beneficiaries increased 55 percent between 2012 and 2014, helping nearly 27 percent of more than 135,000 beneficiaries rise out of extreme poverty. These are just a few of the advancements made possible in part with your support.
You are our most important stakeholders, and we are committed to showing you accountability, transparency, and the effectiveness of foreign assistance dollars. Informed, data-driven decisions drive our strategy to address these increasing global challenges, and are a critical component of this commitment. Last year, the State Department updated and expanded its evaluation policy, requiring each bureau to conduct evaluations every year and, for foreign assistance programs, to publicly post results within 90 days of completion. We also expanded the quantity and quality of data available on ForeignAssistance.gov, which publishes the aid data of the agencies that implement foreign assistance activities on behalf of the American public. These critical monitoring and evaluation efforts make us a more transparent government better able to serve you, and more effective in our use of U.S. dollars abroad.
America is at the forefront, a leader in addressing the various crises around the world that are producing more disasters, more refugees, and more global health pandemics than we have ever seen before. We step up because it's the right thing to do, because our core American values dictate equality and freedom for all. We step up because when we lead, we promote U.S. national security goals and development objectives abroad. We step up because when our global community is thriving--healthy, at peace, and economically sound--we thrive.
Popular in the Community