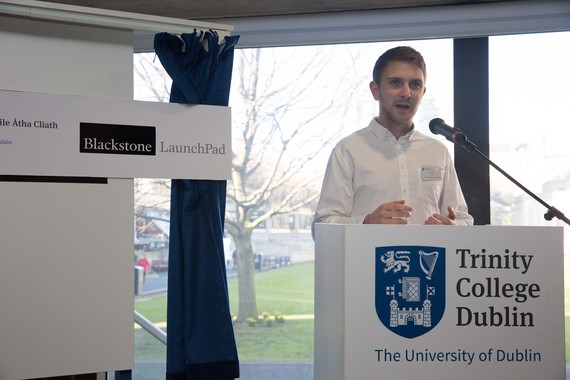 Co-founder of iDly Systems, Finn Murphy creates cloud software for organizations to issue digital IDs onto mobile devices. With a degree in Mechanical and Manufacturing Engineering at Trinity College Dublin tucked firmly under his belt, Finn recently spoke at Trinity's campus launch as part of the first international expansion of the Blackstone LaunchPad program.

People often ask me what the 'secret ingredient' is to successful entrepreneurship. If anything, my answer just raises more questions: it's all about luck.

Ask any budding entrepreneurs just starting out what will make them successful, when so many others are not. The answers are typical: some say they know their market inside out, others praise the killer team in the background, and the rest count themselves lucky that they have huge resources at their disposal.

However, if you inquire as to why the truly successful movers, shakers and industry tycoons succeeded, most will put it down to one, singular factor - luck.

Of course, this isn't what we're told in school. In fact, it's the opposite- you cannot simply teach someone to be lucky. Some are born lucky, some achieve luck, and some have luckiness thrust upon them. But fret not, prospective enterprisers - all hope is not lost. What you can do is to learn the appropriate skills, so that when an opportunity presents itself, you're ready to take full advantage of the situation at hand.

The courses you've taken and lessons you've learned are just ways of shutting out the noise of the world so that when opportunity knocks on your door, you won't be caught singing in the shower.

Of course, it's easy to say that hugely successful people have just been lucky. If Sergey Brin hadn't been asked to give Larry Page a tour of Stanford, would they have gone on to found Google? If Ryan Graves hadn't seen Travis Kalanick's tweet looking for a co-founder, would Uber be the company it is today? And if Sean Parker hadn't heard about a dorm room startup called 'The Facebook,' would Mark Zuckerberg still have gone on to change the world?

The easy answer, of course, is that they got lucky. But the reality is that they were prepared and capable to act when the right person, the right opportunity, and the right time crossed their path.

I know this first hand. The simplest way to describe how I'm running a company straight out of college is luck. Junior year had just ended, I was elected to student government and I had just closed the book on my first failed start-up. Closing one door and opening another, so I thought.

Although I did not realise it at the time, new ideas were starting to form in the already bustling corporation between my ears. Slowly but surely, I was becoming more confident in meetings and presentations. I was preparing research and planning documents for student projects. I was building connections and leveraging my network without a clear goal.

Then these different strands all came together in a student government meeting with the college President. The agenda was finished, and as we were about to sit up from our chairs the President asked:
''We're trying to develop a strong digital strategy for the campus. Does anyone have any ideas?''

Light-bulb.
I pitched the fresh thought atop my head, something that had come to mind just the week previous- a digital student ID would make life so much easier on campus.

Fast forward 16 months, with the unwavering support of the President, college staff and Blackstone LaunchPad, we launched in Trinity with almost 7000 students on the platform, and a new company founded to bring the technology to other institutions and organizations. We've had plenty of ups and downs, but the support from LaunchPad to form what was once a potentially throw-away idea has been invaluable. But still, when people ask me how I got here, I'm likely to say;
"I was luckily in a meeting, with the right person, at the right time."

That sort of explanation is quick. It's easy. And in a way, it's true.
The hard times, sleepless nights, the close shaves and the unanswered e-mails make for a long, complex conversation. These are not the moments you remember. You remember the breaks and the chances. All the times you met just the right person. The conversations that lead you down the right rabbit hole, be it lonely, dark and unchartered.
So when you're starting out on your journey, always know that luck takes many forms. You're the one who has to be ready for it when it comes your way and for when it goes against you.

If you're prepared, capable, and tenacious, the strokes of luck will come. If they don't, try not to take it to heart. Sometimes things go your way and other times it seems like the whole world is working against you. What's in your path won't pass you by - and if one opportunity wasn't yours for the taking, then the next one will be. Promise.
I'm just hoping my luck of the Irish hasn't all been used up!
REAL LIFE. REAL NEWS. REAL VOICES.
Help us tell more of the stories that matter from voices that too often remain unheard.