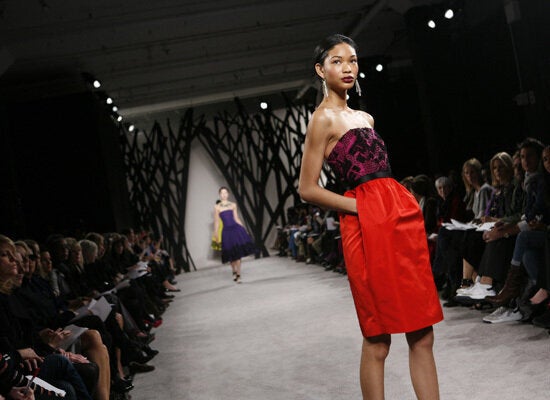 New York Fashion Week is here - and, as Lela Rose, the Texan designer, says as she threads her needle and fits her models, "the show must go on." "We need a little pick-me-up," she emailed me, "and I actually think the upcoming week should be a way to move forward. That doesn't mean we aren't all facing reduced orders."
Fashion week is an apt metaphor for what we are all doing: namely, getting on with our lives, still enjoying the "pick-me-ups" like lunches or dinners with friends, but in a different way from before. Friends email to ask me to lunch, but as we make the arrangements I've noticed we establish two or three weeks ahead of the engagement both who will be paying and where the venue will be. The unspoken reason for the latter is that there will an inbuilt cost for the person who has to travel.
Then there's travel itself. It isn't just Ken Lewis, chief executive of Bank of America, who finds it now takes him eight hours to get to congressional hearings in Washington rather than hopping on the corporate jet as he used to before we made him sell it. The rest of us now find when we travel we stay with friends, rather than in hotels, and we all fly economy, not business.
Of course, it's necessary financially, but I do wonder if the result is really worth it. I discovered many years ago that if I had to step off a plane having missed a night's sleep I was pretty hopeless at being productive. So I couldn't help agreeing with New York Mayor Mike Bloomberg when he proclaimed that a journey of eight hours "was a hardly a good use of the CEO of Bank of America's time." Mayor Bloomberg added: "We've gotten so skittish about some of these things. The populist attitude of 'Let's go and cut out any frivolity' just doesn't make sense."
He has a point. I'm all for regulating Wall Street and trimming the fat cats whose excesses led us down the path of destruction but let's at least keep some perspective, and, above all, our humor and joy.
Lela Rose agrees, aesthetically, at least. She's promised me she'll show "jewel tones and really beautiful color, even a purple floral trench -- not sad, depressing clothes." After all, no one ever suggested that fashion needed to reflect reality.
Related