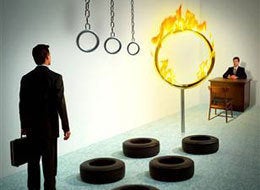 From the big screen to the Broadway stage, a stellar lineup of stars is joining the fight for working families.
Brenneman, one of the television actors appearing in the video, says the freedom to form a union gives working families the economic security they need:
People associate actors with fame and glory. The truth is for a long time my union contract was the reason I could support my family. That's why I support the Employee Free Choice Act. Because each worker, regardless of their field, deserves the freedom to bargain for a contract, for a better life.
These artists -- including Oscar, Emmy, Grammy and Tony award winners and nominees -- together with veteran writers and technicians, have created a clear, impassioned explanation of why America's workers need the Employee Free Choice Act to restore balance in the workplace and have the bargaining power they need to rebuild a strong middle class.
The project came together through the incredible coordination of eight entertainment unions: Actors' Equity, American Federation of Musicians (AFM), American Federation of Television and Radio Artists (AFTRA), Directors Guild of America (DGA), Theatrical Stage Employees (IATSE), Screen Actors Guild (SAG), Writers Guild of America, East (WGAE) and Writers Guild of America, West (WGAW).
The presidents of the eight unions have released a joint statement about why the Employee Free Choice Act matters to them:
The members of all our unions are standing together to support the Employee Free Choice Act because we know that if workers don't have the freedom to bargain, it affects all of us -- our livelihoods, our rights as professionals and our strength to create an economy that works for all.
Got to Facebook and Twitter? Spread the word.
Popular in the Community