One year after writing about a gruesome summer of trans murders, the state of emergency in the United States for trans women, especially trans women of color, seems more prevalent than ever.
Two weeks ago, I organized a vigil at Chapman University in Orange, California to honor the lives of trans murdered this year in the United States. I was motivated by the death of KC Haggard, a 66-year-old trans woman from Fresno and a 1977 graduate from Chapman. The space prioritized the voices of trans women of color, and included prominent activists, speakers and musicians such as Jennicet Guttierez, Ashley Love of Transforming Media, Jennifer Thompson of CSU Fullerton and Alexandra Grey.
As I read the names of the women aloud with a moment of silence and the lighting of a candle following each name, the violence facing the trans community hit home for Chapman students, faculty and staff. And after reading the last name, one single candle remained unlit with the hope that there wouldn't be another murder of a trans woman. Unfortunately, that candle was lit just one week later.
As of today, there have been 14 reported murders of trans women this year in the United States. Most of the murders are of trans women of color, specifically black trans women. The National Coalition of Anti-Violence found in 2013 that almost 90 percent of LGBTQ homicide victims were people of color. They also found that 72 percent were transgender women and 67 percent were trans women of color.
Here are the names of the 14 murdered this year to date. I encourage you to read their names out loud and take some time to learn more about them:
Papi Edwards, 20
Lamia Beard, 30
Ty Underwood, 24
Yazmin Vash Payne, 33
Taja Gabrielle DeJesus, 36
Penny Proud, 21
Kristina Grant Infiniti, 47
Mya Hall, 27
London Chanel, 21
Mercedes Williamson, 17
India Clarke, 25
KC Haggard, 66
Amber Monroe, 20
Shade Schuler, 22
Say their names, all of them, and never forget them. Also remember Bri Golec, a gender nonconforming 22-year-old from Akron, Ohio, and Jessie Hernandez, a genderqueer 17-year-old from Denver who, like Mya Hall, was shot by police in January. Jessie and Mya's names must be included and are instrumental in discussions regarding police brutality and excessive use of force.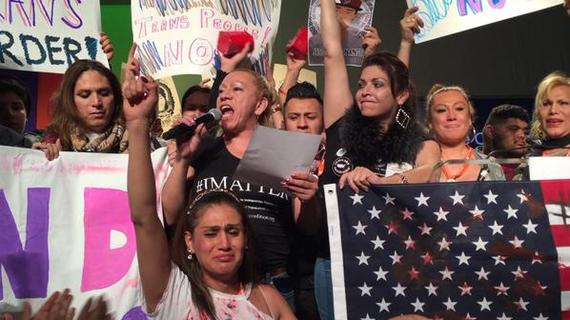 Bamby Salcedo and other Latina trans rights activists from L.A. storm the stage at the 2015 Creating Change conference in Denver, Colorado in response to Jessie Hernandez's death. Photo via Bilerico
But we must do more than say their names. We must get involved and create tangible change for the community in whatever quantity and method we are able to do so. In addition to awesome lists by Autostraddle and Black Girl Dangerous, here are some ways you can make an impact and help support trans communities, especially trans women of color:
1. Donate to their funeral funds and local trans-oriented groups in your/their area(s). Consider this fund to help cover the funeral costs for Shade Schuler in Dallas, Texas.
2. Organize a vigil led by and prioritizing trans women of color voices to unite community members, mourn our losses and mobilize for change. If a vigil is already being planned in your area, consider volunteering or donating to those organizing it, as well as spreading awareness through social media platforms.
3. Push for legislation that will eradicate the trans panic defense and address trans-specific issues such as immigration, homelessness, job security, access to healthcare and ability to update/attain identification and documents. This means voting and holding political representatives responsible for the well-being of the community through protests, petitions, campaigns and necessary interruptions.
4. Include the needs of trans people, specifically trans women and femmes of color, in your activism and amplify their voices in your movements. As we fight for the lives and needs of marginalized communities, we must avoid further harming trans individuals and recognize intersectionality in our activism and feminism.
Trans lives matter, and the lives of the 14 trans women lost this year mattered. It is our duty to protect the community and prevent further killings. We cannot and will not stand by any longer as our sisters and siblings are murdered in the streets, ignored by the nation and misgendered by the media. We must do whatever possible to keep trans women alive, for we cannot afford to light any more candles.
Related
Popular in the Community