Fans of TV's The Talk know Aisha Tyler often jokes about being mistaken for a drag queen. While the towering six-foot-tall comedian says this is only one of many connections to the LGBT community, she admits it was personal prejudices faced in her interracial relationship that cemented her commitment to marriage equality.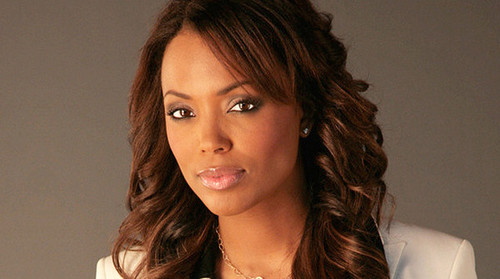 "When my husband and I were dating and living in Oakland, we used to get chased down the street," recalls Tyler, who returned for her fourth season on the popular daytime gabfest (now in its fifth year) last month. "This was 20 years ago, not in the '50s."
Tyler and her now-husband - who is Caucasian -- returned to her native Bay Area in the '90s. During a recent interview at San Francisco's KPIX CBS 5 studios in Downtown San Francisco, she shared how they were unable to hold hands in public or even sit next each other on the bus for fear of ridicule. After a frequently grueling experience in the East Bay, Tyler said the couple found unexpected refuge among the gay community.
"We came into the city on Pride Weekend, and were walking out of the Castro Muni station, when some seven-foot-tall gorgeous thing came running by in a thong, platforms and a headdress," she shared. "Nobody even blinked an eye. I thought, 'Ain't nobody going to look at us over here!'"
Two weeks later, the couple called San Francisco home! Since then, Tyler acknowledges, things have changed - both for interracial couples and gays. Still, whether it's Ferguson or continued opposition to marriage equality, the comedian isn't joking when she notes "recent events have shown we're not there yet."
"The same arguments people [were] using against interracial marriage are the same ones they're using against gay marriage now," says Tyler. "That it would undermine traditional marriage, that it wouldn't work. I mean, literally all the same arguments they used to make about why black and white shouldn't fall in love is what they're using [against marriage equality]."
Tyler, whose family includes a sister and two nieces who are lesbian, calls her support of marriage equality "a very intuitive thing."
"It's been part of my life from the time I was very young," she points out. "It's not until you leave that you realize it's not like that for everyone -- or it is like that for everyone, but they're not acknowledging it. That's the truth of the matter.
"The whole principle of coming out is that everyone knows someone who's gay," Tyler continued. "The minute someone comes out, no one can be a bigot because someone they love is gay. I just always have had that -- and I'm very proud of it."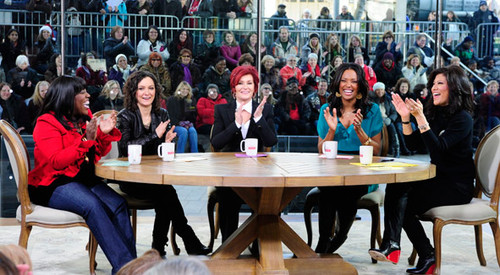 Now with an elevated profile, Tyler (on the set of The Talk above in a blue blouse) is all-too-happy to use her daily platform to express these opinions and voice support. She frequently weighs in opposite fellow panelists Sharon Osbourne, Julie Chen, Sheryl Underwood and Sara Gilbert (who is an out lesbian).
"It's been really gratifying for me, personally, to be able to turn some of my energy toward supporting the [LGBT] community," Tyler explained, "Again, it wasn't like, 'Maybe I'll support gay rights.' It was like of course! Whatever I can do, I'll do."
According to Tyler, the decision is an easy one. For her, it basically boils down to one simple concept.
"I feel if you believe in equality, you have to believe in it for everybody," she concluded, "And that's the way I've always lived my life."
'The Talk' airs weekdays at 2pm EST, 1pm PST, on CBS.

REAL LIFE. REAL NEWS. REAL VOICES.
Help us tell more of the stories that matter from voices that too often remain unheard.