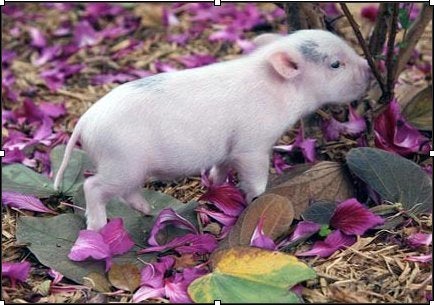 Pigs get a bad rap for being messy, but a new trend is emerging that's turning homes all over America into literal pigsties. Teacup pigs -- an endearing name for a miniature potbelly pig -- have wiggled their way into the hearts of pet lovers with their curly tails, turned-up noses and especially small stature. And entrepreneurs in the teacup pig game are starting to capitalize.
The latest pet trend started in Britain, where celebrities like David and Victoria Beckham and red-headed "Harry Potter" star Rupert Grint purchased teacup pigs. Now the little piggies have crossed the pond. Florida's Angel Enterprise Farm markets the pigs as "the fine little swine," and describes them as "a friendlier version of a cat." Like cats, the pigs can be trained to use a littler box. Unlike cats, they have trouble moving their stocky bodies up a flight of stairs and rarely land on their feet. But by most accounts, they're an affectionate breed.
Teacup pigs have a lifespan of 15 to 20 years and a price tag up to $1,600, depending on just how small the oinker is. Teacup pigs are known by other names, too, including micro-pigs, mini-pigs and teacup piglets, but they're all the same -- a downsized version of a potbelly pig.
Dave Fox, owner of Aquapawrium in Waretown, N.J., says he has seen rising demand for teacups in his shop. He knows that having the pigs in stock would be good for business, but so far, he's only come across micro-pigs for sale in the Midwest. Shipping them to his shop in New Jersey can cost $400 and could also damage or scare the pigs.
"If I could find someone locally who would bring me them, I would bring a couple in, because I've had a lot of people inquiring," Fox says.
The original version of this article appeared on AOL Small Business on 7/8/10.
Popular in the Community