The Golden State Warriors played the worst game of their record-setting 73-win season on Sunday night. They're the defending champions, and have felt like the Kings of the NBA for about 20 months now.
But tonight, for the first time in what feels like years, the must-see Warriors will lick their wounds. Losing to the Thunder 133-105 to find themselves down 2-1 in the Western Conference Finals is bad. Losing the biggest game of the season to date by 28 points on the road is worse.
It's shocking. Oklahoma City is abuzz tonight -- who knew the vaunted Warriors could get beat like this? 
Russell Westbrook's aggression took three of the Warriors' top players right out of the play for Kevin Durant's slam.
They got smoked. And if any team could do it, it's the Thunder. Only Russell Westbrook and Kevin Durant could combine to split the Warriors defense, a top-five unit in the regular season, in such a vicious manner. They took turns burning that defense so badly that they've gained a psychological edge that few teams can claim against the them: They're not afraid of the Warriors. 
I repeat: The Thunder players aren't afraid of the Warriors. 
Westbrook racked up a near triple-double with 30 points, 8 rebounds, and 12 assists (he's got a league-leading 12 double-doubles this postseason) and Durant pitched in 33 points. He even managed to split his legs and the Warriors' defense at the same time. 
Game 3 was a blitzkrieg. The Warriors allowed 73 first half points and found themselves down 25 points at halftime — an amount that no team has ever overcome at halftime in a playoff game. At one point, they were down as much as 41 points. They've lost three games this postseason by 19 total points.
28 points was the losing margin tonight. 
Steph Curry sat the fourth quarter, as he's done many times this season with the game comfortably in hand for the Warriors. Tonight, he sat, but on the losing side of that feeling for once.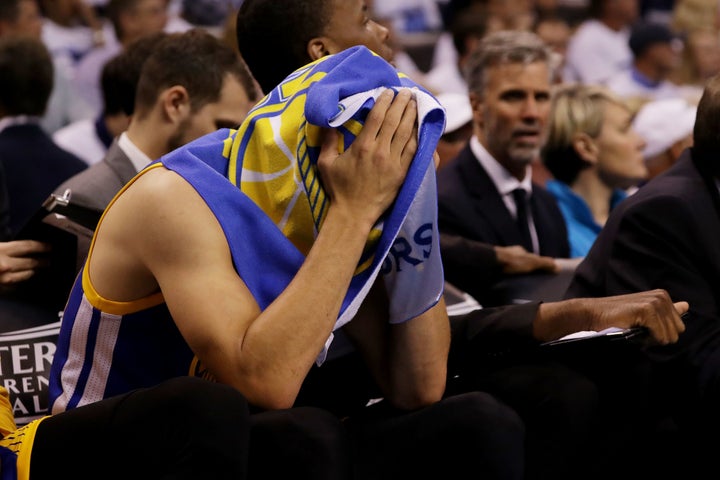 CORRECTION: An earlier version of this story said the Warriors had lost to the Thunder twice in a row. Golden State lost twice in the series, just not in a row. Also, Russell Westbrook recorded a double-double, not a triple-double as previously stated. 
REAL LIFE. REAL NEWS. REAL VOICES.
Help us tell more of the stories that matter from voices that too often remain unheard.
BEFORE YOU GO
PHOTO GALLERY
The Most Emotional 2016 NBA Playoffs Moments