Other than the people who, I don't know, get a show up every day, the Tony nominators are pretty much the most important people in theater. But who are they? And when do they recuse themselves?
The process on selecting Tony nominators is not fully transparent. They are chosen by the Tony Awards Administration Committee to serve after review of their CV or other bio. Some, such as lyricist Susan Birkenhead, have served multiple times in the last decade. I've asked former members of the Administration Committee how exactly these folks are selected and I've received slightly different responses throughout the years, but, the moral is, they are deemed worthy to be Tony nominators and so they are. (There is some stuff in the rules about the mix of people who shall make up the Nominating Committee -- they want it to be a balanced group -- but I won't go into all that here.)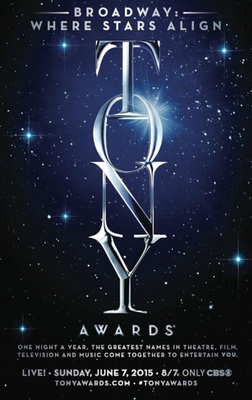 Technically, 50 people are on this year's Tony Nominating Committee. While many think that is not enough -- the Oscars have hundreds or thousands nominate the select few -- this number has actually swelled in recent years. To give you a brief history of this figure: in 2007-2008 it was 27, in 2008-2009 it was 29, in 2009-2010 it was 30, in 2010-2011 it was 30, in 2011-2012 it was 35, in 2012-2013 it was 42 and in 2013-2014 it was 46. Of course, not all of the people on the nominating committee actually perform their full job. Some recuse themselves. The amount of these recusals (and the percentage of them) varies year-to-year. In 2010, only 3 people backed out, according to reports. Last year it was 13. This year, so far, it is 11.
Why do people recuse themselves? Well, a variety of reasons, but usually conflicts of interest or inability to see all eligible productions. Recusals have always happened. However, just last year, the words "recuse" or "recusal" did not appear anywhere in the rules. And the rule was, as it was in the past, that: "No member of the Nominating Committee may abstain in any category..." So, if you had some sort of conflict in any category, you recused yourself. For example, last year Rick Elice reportedly recused himself because his husband Roger Rees was eligible for his performance in The Winslow Boy.
This year the folks at the Tony Administration Committee have decided to define when someone must recuse themselves.
The first related new rule is as follows:
A Nominator must recuse himself/herself from the Nominating Committee for any year during their three-year term in the event that any of the following situations apply to him or her: Active participation in a Tony Award eligible Broadway production; Inability to attend a performance of all Tony Award eligible productions in a season: Inability to view a performance of all Tony Award eligible Actors and/or Elements in a season; or Employed by or a Board Member of an organization that has a financial interest in a Tony Award-eligible Production.
They have also amended the rules so that a nominator can just abstain from one category in a very limited circumstance. (This, in theory, should lead to less complete recusals.) The revised rule reads as follows:
No member of the Nominating Committee may abstain in any category except as follows: A Nominator must recuse himself/herself from voting in any specific category or categories where there is a direct relation to an individual who is eligible. A Nominator will be permitted to vote in all other categories where this does not apply.
(Emphasis mine.)
What do these rules do? Well, for instance, Rees is Tony eligible again for The Visit. But Elice has not recused himself. According to a Tony spokesperson, he must only recuse himself from the Best Leading Actor in a Musical category. So he will be able to nominate in the Best Musical category and others related to The Visit.
In yesterday's post, I wrote about my surprise that former Williamstown Artistic Director Jenny Gersten -- who selected three of this season's Broadway shows (The Elephant Man, Living on Love and The Visit) for production at Williamstown -- was still a current member of the nominating committee. I reasoned that she must believe, or some monitor believes, that she neither has "[a]ctive participation in a Tony Award eligible Broadway production" nor is "[e]mployed by or a Board Member of an organization that has a financial interest in a Tony Award-eligible Production." The second criteria is easy -- I don't know her board affiliations, but she's no longer employed by Williamstown (I don't think). The first is a little tricky, as "active participation" is not defined. As head of Williamstown, she was actively involved in grooming the productions. (Though she had already resigned by the summer The Visit and Living on Love premiered, she did still select the pieces and oversee the relevant productions.) However a narrow reading would be that "active participation" means current active participation and "Broadway production" means the actual Broadway mounting, not a prior mounting that may have transferred.
I think many in the Broadway community would argue that nominators know when they should recuse themselves. After all, people recused themselves when there was no written rule telling them exactly when to do so. These are honorable people. There is also a fallback -- nominators can be removed by a joint determination of the General Managers of Tony Awards Productions and the chief operating officers of the League and the Wing. So there is some sort of policing mechanism. Additionally, I think some would argue that, in such a small community, everyone is friends with someone eligible or has worked with someone eligible, so we can't take these things too far. I'm sure at least 60% of the nominators have some easily discernible connection to someone involved in a Tony eligible production. (The ones I pulled out above were most obvious to me, but it is by no means an all-inclusive list.)
Those are valid arguments, and they may even win the day, but, they don't fully respond to the problem. In larger nominating groups, these conflicts are diffuse. But here we're talking about a small group of deciders. If you were the producers of another eligible musical, given the possibly tight fourth-place race, would you truly want either Elice or Gersten nominating a Best Musical? Maybe if you had your own version of them? Maybe never? There are also people who may just be fine with this because they believe there is no way around it. It is an issue though.
Those that have recused themselves this year are: director Mark Brokaw, retired producer Barry Brown, composer/lyricist Adam Guettel, costume designer Ann Hould-Ward, Cheyenne Jackson, John Leguizamo, Marsha Mason, Debra Monk, Mary Louise-Parker, director Susan H. Schulman and director Scott Schwartz. Press agents I have spoken to have noted many of these recusals have come in the last couple of weeks, perhaps owing to the daunting April crush of openings (well-documented by Adam Feldman here) or perhaps something else. No one knows if there are more departures to come.
In addition to Elice and Gersten, those still in the category of "almost most important people on Broadway" for the next week are:
Douglas Aibel - Artistic Director, The Vineyard Theatre
Arin Arbus - Associate Artistic Director, Theatre for a New Audience
Ira Bernstein - Former producer/general manager/stage manager/casting director
Susan Birkenhead - Lyricist
Donald Byrd - Choreographer
Ben Cameron - Program Director for the Arts, Doris Duke Charitable Foundation
Mary Schmidt Campbell - Dean, Tisch School of the Arts at New York University
Veronica Claypool - Arts Management Consultant, Full Circle Management Group/former general manager
Paul Cremo - Dramaturg/Director of Opera Commissioning Program, The Metropolitan Opera
John Darnton - Former Cultural Editor, The New York Times
Jacqueline Z. Davis - Executive Director, The NY Public Library for the Performing Arts at Lincoln Center
Harvey Evans - Actor
Paul Gallo - Lighting designer
Kent Gash - Director/Founding Director, NYU Tisch School of the Arts' New Studio on Broadway
Liza Gennaro - Choreographer
Wendall K. Harrington - Projection designer/lecturer
Philip Himberg - Artistic Director, Sundance Institute Theatre Program
Jack Hofsiss - Theatre/film/television director
Julie Hughes - Former casting director
Stephen Karam - Playwright
Corby Kummer - Senior Editor, The Atlantic Magazine
Dick Latessa - Actor
Kate Levin - Cultural Assets Management Principal, Bloomberg Associates
Reynold Levy - Former President, Lincoln Center for the Performing Arts
Sara Lukinson - Documentary film producer/television writer
Patricia Marx - American humorist and writer/former television writer
Jim McLaughlin - Former Producer, CBS News/TV feature and documentary producer
Roger Morgan - Lighting designer/theatre designer
Katherine Oliver - Principal, Bloomberg Associates - Media and Technology
Christian Parker - Chair, Columbia University MFA Theatre Program
Ravi S. Rajan - Dean, School of the Arts - SUNY Purchase
Nigel Redden - General Director, Spoleto Festival USA/Director, Lincoln Center Festival
Arlene Shuler - President & CEO, New York City Center
Linda Shelton - Executive Director, Joyce Theater Foundation
Wynn Thomas - Production designer
Robin Wagner - Scenic designer
Preston Whiteway - Executive Director, The Eugene O'Neill Theater Center
The Tony Awards nominations will be announced on April 28.
Popular in the Community