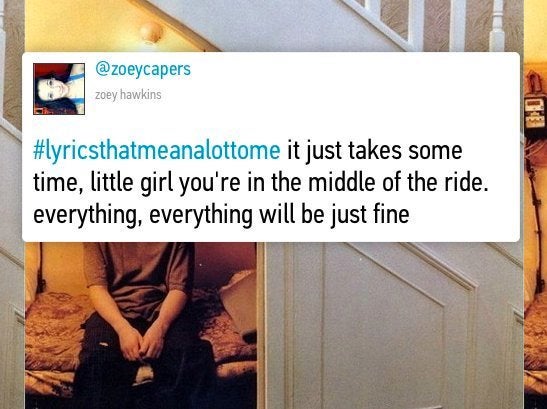 "The Trending 20" is a regular series where we round up interesting, informative and hilarious tweets from worldwide Twitter trending topics, fueled by young tweeters on the interwebs. Have a tweet to submit? Give us a shout @HuffPostTeen.
Is your brain 80 percent song lyrics? If so, which lyrics mean the most to you? From the heartfelt lyrics to songs like "Little Things" and "She Will Be Loved" to universally relatable words on self-acceptable and belonging ("It just takes some time, little girl, you're in the middle of the ride"), sometimes song lyrics can describe your innermost feelings like nothing else. Yesterday, young tweeters shared intimate lyrics that describe their lives with the worldwide trending topic #LyricsThatMeanALotToMe. Click through the slideshow below for 20 poignant and relatable lyrics on love and life.
Tell us: What song lyric means the most to you? Can you relate to any of these lyrics? Tell us in the comments or tweet your own #LyricsThatMeanALotToMe @HuffPostTeen.