The Federal Reserve is entitled to its opinions.
But when its opinions and actions lead to chaos, it's a bit tough to take them seriously.
It was July 2014 when Federal Reserve Chairwoman Janet Yellen warned of stretched valuation concerns in the biotechnology space, rattling investors, sending many fleeing from biotech.
The warning was wrong, though.
In the months that followed, biotech would soar more than 50%, as tracked by the iShares NASDAQ Biotech Index (IBB).
Shortly after, the central bank would warn that commercial real estate was in bubble territory, earning itself quite a reputation for making bad calls. In fact, according to its policy report at the time, "valuation pressures in commercial real estate are rising as commercial property prices continue to increase rapidly," as reported by The Wall Street Journal.
Again, the central bank was wrong, as a great deal of capital flowed into U.S. commercial real estate on the heels of historically low interest rates and high-yielding opportunities.
Then, by December 2015, the Federal Reserve made the worst decision it could have made.
It raised interest rates by a quarter of a percentage point.
While a pittance of a raise, it was still a sign that the Fed was confident in the direction of the U.S. economy. But it was the wrong move - one that would cost us dearly.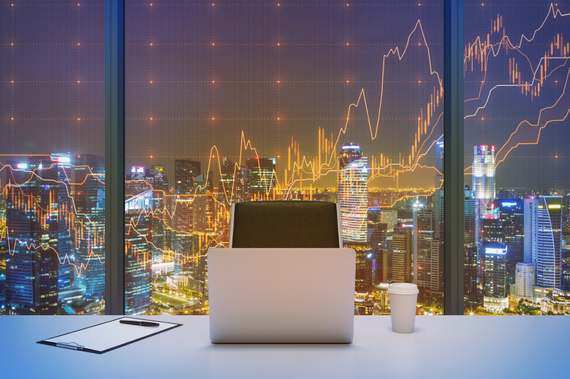 The Dow Jones Industrials lost 12%, sinking 2,200 points in weeks. More than a trillion dollars was wiped out of U.S. markets. This was a major catalyst for market downside.
They had no business raising rates with the U.S. economy in the position it is today. There are more people without jobs today than when the financial crisis began in 2008. Manufacturing is contracting. Commodity prices have nose-dived.
Consumers have opted to save money instead of spending, as seen in the 5.5% savings rate. Retailers have been struggling. WalMart is closing 269 stores. JCP Penney, Macy's, Kohl's, Bed Bath & Beyond, and Best Buy are all closing stores, too.
Even as prices fell at the gas pumps throughout the country, Americans didn't spend that money. They saved it, as seen with higher savings rates.
Yet the central bank resolved itself to raise rates on undue confidence, and to make matters worse, had plans to raise rates another four times in 2016.
However, once the Federal Reserve realized its grave error, it lowered the four expected rate hikes to just two, still believing that consumers, housing and unemployment are all improving.
Unfortunately, while housing has shown signs of improvement, we are seeing cracks. In fact, for the first time in two years, new home sales have now fallen year-over-year for two consecutive months. The latest 6.1% drop last month was the biggest drop since 2014.
That's weak housing data.
Headline unemployment of 4.9% is not accurate, leaving off millions that gave up looking for work. Manufacturing has been contracting and consumer spending has been soft. In fact, January retail sales were just revised to -0.2% from a gain of 0.4%. February retail sales fell 0.1%, as well.
Again, the Federal Reserve is in no position to raise rates. The U.S. economy is not on solid ground. And, unfortunately, that reality is being ignored. In fact, there's now talk of rising rates again at the April 2016 meeting, which spooked the market and gold.
Federal Reserve Bank of St. Louis President, James Bullard, has noted officials should consider raising rates on an unchanged outlook for the economy. San Francisco Fed President, John Williams, and Atlanta's Fed President, Dennis Lockhart, made similar comments earlier in the week, too.
"In my opinion, there is sufficient momentum evidenced by the economic data to justify a further step at one of the coming meetings, possibly as early as the meeting scheduled for end of April," Lockhart said, as quoted by MarketWatch.
Unfortunately, raising rates with the U.S. and global economies in disarray could cost us dearly, wiping out trillions again. While the central bank is certainly entitled to its opinions, acting on them without proper due diligence will be another wrong move.
REAL LIFE. REAL NEWS. REAL VOICES.
Help us tell more of the stories that matter from voices that too often remain unheard.