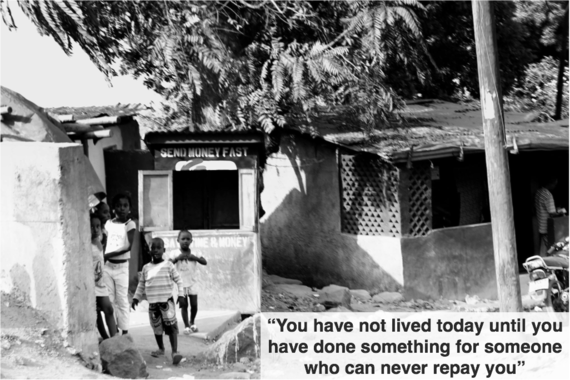 "Hands up!" The intruder's stare was chilling.
"General Sir, he's the doctor. We cannot kill him. He saved my brother from malaria three years ago," one of the rebels interjected.
Protected by my mother, I could barely see the General as I looked down the barrel of his AK-47. The four intruders who had forced their way into our home were from the Revolutionary United Front that had taken over Sierra Leone during the civil war. These guerrillas had burned families and amputated limbs. They had raped preteen girls and drugged boys, forcing them to become child soldiers. It was three o'clock in the morning. Backed against the wall of our living room, my parents and I did not know what to expect.
This recount of my seven-year-old self is what many Sierra Leoneans experienced during a 12 year civil war that devastated not just the West African country's infrastructure, but also its healthcare and economic development. Thousands of those maimed and injured went without medical care due to the scarcity of health centers that remained open. Today, as peace prevails, healthcare remains a right that is largely sacrificed. Sierra Leone experiences the world's fourth highest maternal mortality rate. To put things into perspective, think of your closest friends and their mothers. If your friends had been born in Sierra Leone, about one out of every hundred would be motherless from birth. That would be about five to ten of your friends. In countries like the United States, one out of every twenty thousand people is motherless. This discrepancy is not because of lack of treatment options for the mothers in Sierra Leone. Sadly, and unfairly so, it is because they are either too poor to afford medical services or because they live in regions where they cannot access them.
But this avoidable inequity does not just stop in Sierra Leone or with maternal health. It is astonishing to consider that every day, 5,000 people in developing countries around the world die of diarrhea -- a preventable waterborne disease caused by poor hygiene. Today, yes every day, nine out of every ten patients that suffer from this treatable condition are children under the age of five. What would you do if you knew that these children could be saved through education on the importance of sanitation and the provision of medication?
As my other home, Ukraine, and countries like Venezuela and Syria face turmoil, healthcare needs extend past those in Africa. In this day and age, when battles over power are being fought in far too many regions, more people are left without access to medical care. Preventable deaths worldwide caused by uneven access to healthcare do not just make for an alarming situation,they make for an emergency. I propose we respond to this global health emergency with a battle of a different kind. I propose we fight for the justice of health equity.
With our world dealing with more than its fair share of civil unrest, we are all aware of the destructive nature of conflict. So why not be shamelessly constructive and idealistic in our thoughts as well as our actions? What do we have to lose by doing so, really? Bill and Melinda Gates have repeated relentlessly, "Every life has equal value," and how reasonable of them. In joining the health activists at the front lines of the battle for health equity, we would be working to ensure that nine out of ten patients sick with diarrhea survive. We would be fighting for the right for individuals to be born to healthy mothers. Who cares if our thinking is derogatorily called naïve if we stand a chance of preserving life!
The good news is that together, we can join forces to achieve health equity. We can start now! Organizations like Malaria No More and Medic Mobile offer the opportunity for us to contribute by donating money to subsidize the cost of medication, and donating used cellphones for use in mobile health communication. Everyday Ambassador encourages us to share our experiences in outreach for others to learn and be inspired from. For those of us seeking to make more hands on contributions in local settings, there are grassroots and international organizations that are more than happy to benefit from your fresh perspective and positive attitude. All it takes to start is you reaching out to them.
The need for healthcare in our world is so pressing that it stares those of us who are either too stunned to look away, or who are brave enough to acknowledge it as a smack in the face. I, for one, have been and remain too stunned to ignore it. Growing up in healthcare deprived Sierra Leone and witnessing how the services of a medical doctor inspired mercy and compassion in rebels lit my passion for health equity from the age of seven. Today, after reaching out, I work with doctors from Massachusetts General Hospital (MGH) to improve maternal health outcomes in Africa. As we learn each week of women whose lives we helped save with an intervention we brought to local health centers, I am amazed by how simple it is to start making a difference.
So to address the question, "What can you do about this health inequity?" the answer is simply to join the movement in whichever way you can. Your passion needn't be mature, and you needn't have experience in the health sector to contribute. Just donate, advocate or serve in a capacity that you can afford to maintain. Rockstars like Bono and other activists have enlightened us to the fact that together we can improve the health of the underserved. Benjamin Franklin eloquently gives us a reason for which to do so, "He who has health has hope. And he who has hope has everything." I have seen, first-hand the potential that is unleashed in an individual with a renewed sense of health and hope. The "value" of a healthy individual is precisely why health equity is so important, and is the reason we should act on it.
Related