My 13-year-old daughter and I attended a portion of this past week's Wisdom 2.0 conference held in San Francisco. If you've never gone, it's a kind of Burning Man meets Facebook, where spiritualists and new agers collide with the tech worlds to explore mindfulness and its application in today's distracted and, dare I say, mindless world.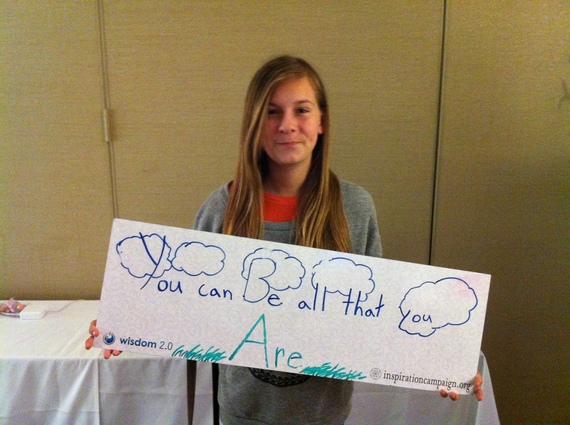 The eclectic group of speakers included Arianna Huffington, Alanis Morissette, Jon Kabat-Zin, President Paul Kagame of Rwanda, and representatives from tech giants like Google.
My daughter said of the event, "it was peaceful. Everyone looked like they wanted to give you a hug." And in fact we did collect some unsolicited hugs.
She went on to describe the event as inspirational, creative, and informative. "You knew everything they (the speakers) said was true, but you never really thought about it like that."
But she also pointed out that we didn't see a single other person her age in the audience. "I thought it could be fun for kids if they were involved, including talks from youth about what is interesting and important to them."
She astutely observed, "the world is revolving around technology and that is all anyone is paying attention to...especially kids. Youth could be much more involved in mindfulness...being mindful of themselves, but at the same time be mindful of others." (I silently wished that I had had half her wisdom when I was 13).
In fact mindfulness as a practice is slowly making its way slowly into the halls of middle schools and high schools through innovative new curriculum and classes like those developed by Mindful Schools.
Hidden behind popular images of youth lost in Instagram, X-box gaming, and Beats by Dre headphones, there is a fascinating counter-trend emerging where kids are learning to go deep inside themselves and to become more present through meditation and other centering practices.
The integration of mindfulness into education and the daily life of youth is something Wisdom 2.0ers should perhaps give greater voice and mind to? I for one would like to know more about how younger folks feel about the increasingly distracted world we live in.
Maybe they have innovative answers to its challenges that we adults are too jaded and overwhelmed to discover? Maybe they can teach us how to arrive at even greater wisdom and self-knowledge in the new era and what lies ahead...shall we say Wisdom 3.0?
If we go to Wisdom 2.0 again next year I hope my daughter and I are joined by a roomful of energetic, thoughtful youngsters. No matter how enlightened, we can all benefit from the wisdom of youth.
Related
Popular in the Community