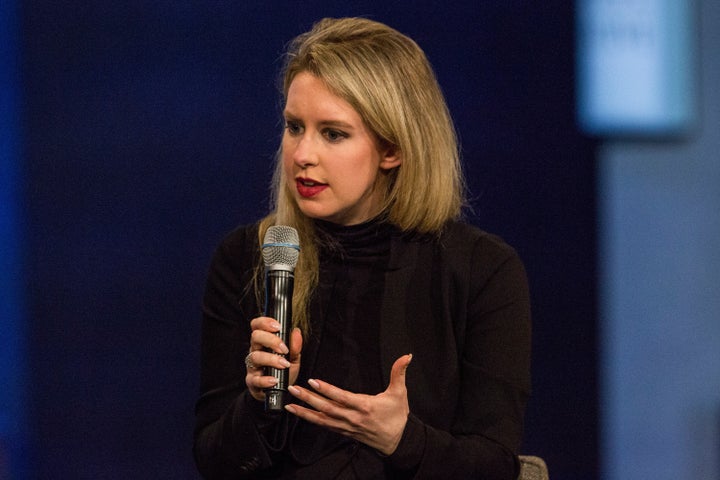 Things just keep getting worse for Theranos chief Elizabeth Holmes.
Federal regulators on Thursday banned her from operating a blood-testing lab for two years. That's a devastating blow to a company with seemingly revolutionary blood-testing technology that skyrocketed the privately held firm's valuation to $9 billion and made its 32-year-old founder a billionaire and Silicon Valley celebrity, as well as a regular on magazine covers.
"We accept full responsibility for the issues at our laboratory in Newark, California, and have already worked to undertake comprehensive remedial actions," Holmes said in a news release announcing the sanctions by the Centers for Medicare and Medicaid Services. "While we are disappointed by CMS' decision, we take these matters very seriously and are committed to fully resolving all outstanding issues with CMS and to demonstrating our dedication to the highest standards of quality and compliance."
The ruling ― which forces Theranos to pay an unspecified monetary penalty and suspends the firm from using government labs ― came nine months after The Wall Street Journal exposed major flaws in the company's technology. Using proprietary "nanotainers," Theranos claimed to be able to run more than 240 blood tests using just one drop of blood.
At first, the company rebutted the report, claiming the story was "factually and scientifically erroneous and grounded in baseless assertions by inexperienced and disgruntled former employees."
Then more reports kept coming. On Oct. 16, a day after the first exposé, the Journal published another report stating that the U.S. Food and Drug Administration had pressured Theranos to stop collecting blood via finger prick for all but one of its tests.
Later that month, Walgreens ― the company's chief retail partner ― said it wouldn't open any more Theranos blood-testing centers in its pharmacies until the company got things sorted out with federal regulators.
Things remained relatively quiet for a few months. Then, last month, Forbes — whose lists evaluating the world's richest people and companies are considered the most definitive measure of wealth — reassessed the value of the startup, once a so-called unicorn worth $9 billion, around $800 million. As such, Holmes, whose wealth was tied to her 50 percent stake in the company, saw her net worth evaporate overnight. Theranos brushed the report off as speculation.
Two weeks later, Walgreens terminated its relationship with Theranos.
It's unclear what will happen to the company next. Holmes said Theranos plans to reconstruct its lab "from the ground up, rebuilding quality systems, adding highly experienced leadership, personnel and experts, and implementing enhanced quality and training procedures."
In other words, all the things you would expect of a $9 billion company.
"What system of education or business culture encourages and tolerates such a delusional, wingnut, swinging-from-the-rafters claim such as that Theranos, the would-be bloody unicorn, is not already a dead horse?" Paul Murphy wrote in the Alphaville commentary section of the Financial Times on Friday. "It's over Elizabeth. The blood test thing didn't work and all the money's gone. Go home."
Popular in the Community