Below is a graphic showing the weight of each category: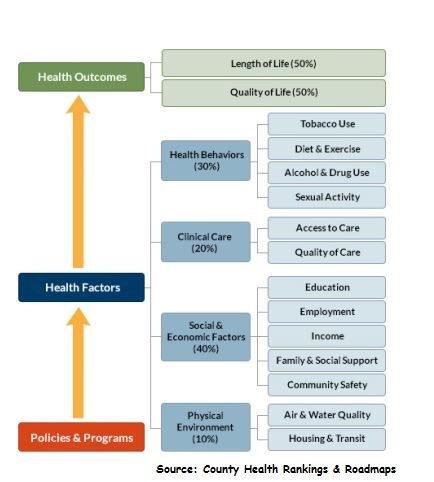 There are 102 Illinois counties, and the map below includes the 25 healthiest and the 25 least healthy in each category. For each county, there is a set of statistics providing a more detailed glimpse into the county's health. These statistics can be viewed by visiting
:
Percent of adults reporting poor or fair health (age-adjusted).
Percent of adult population reporting a body mass index (BMI) equal to or greater than 30.
Excessive drinking (binge plus heavy drinking).
Physical inactivity (number of adults aged 20 or over that report having no leisure-time to partake in physical activity).
Uninsured (percent of population under the age of 65 without health insurance).
Percent of 9th graders who graduate high school in four years.
Percent of children living in a single-parent household.
Violent crime rate per a population of 100,000.
Air pollution (average daily measure of fine particulate matter in micrograms per cubic meter - PM2.5).
You can read more on the
. To view all of Illinois' counties as well as additional metrics, check out County Health Rankings & Roadmaps'
*Click on the map to see the detailed list of counties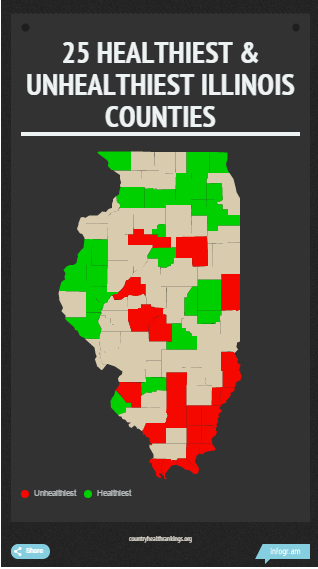 To see a detailed list of all 25 unhealthiest and 25 healthiest Illinois counties, including adult obesity rates and high school graduation rates for each county listed, check out Reboot Illinois.
Sign up for our daily email to stay up to date with Illinois politics.
Calling all HuffPost superfans!
Sign up for membership to become a founding member and help shape HuffPost's next chapter