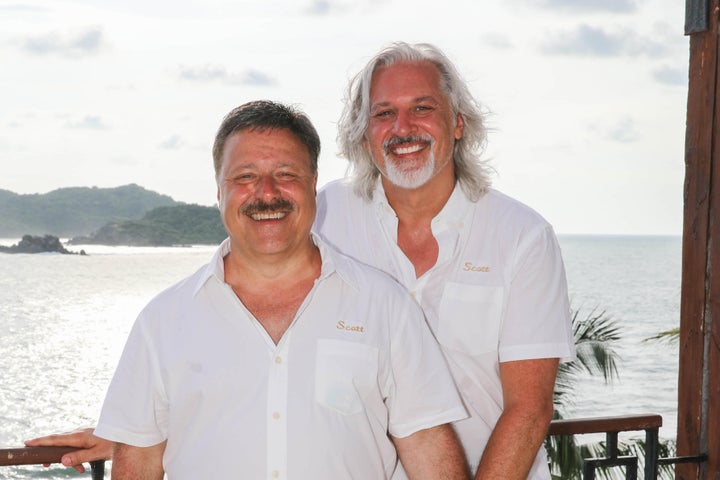 November is National Adoption Month, and RaiseAChild is celebrating our LGBTQ community with weekly "Let Love Define Family®" series for Huff Post Queer Voices. In this first of four series installments, contributing writer Eric Criswell introduces us to a couple who are weighing their family building options.
The decision to become a parent is never easy, or at least it shouldn't be. Whether that choice is to have biological children, or creating a family through fostering or adoption, the effects it will have on your life and the child's life is monumental. In recent years, the ability for LGBTQ individuals to get married and start a family has not only become a reality for so many, but has brought along with it societal pressures that previous generations have not had to wrestle.
This summer, on an r Family Vacations (www.rfamilyvacations.com) in Ixtapa, RaiseAChild CEO Rich Valenza met Scott Saladino and his husband Scott Kricho. who have been together for 27 years, and married for two. They currently do not have children, but have weighed the decision to become parents and have struggled with making the right decision for themselves and the children they could potentially help by starting a family of their own.
The couple met in 1990 in Breckenridge, Colorado while both were on a ski trip, and within three months Kricho had moved to New York city to be with Saladino and the two have been together ever since. Admittedly, they never really thought about adding to their family until they moved to Arizona in the early 2000's and met their friends, Bob and Will, who began contemplating having a child.
"We never really thought about having our own kids because we never thought it was possible", noted Kricho.
Bob and Will had looked into many options, but settled on surrogacy and became the proud fathers of a daughter, now 13 years old. Throughout their parental journey, Saladino and Kricho observed the joy experienced by their friends and began to wonder if becoming parents was something they should do.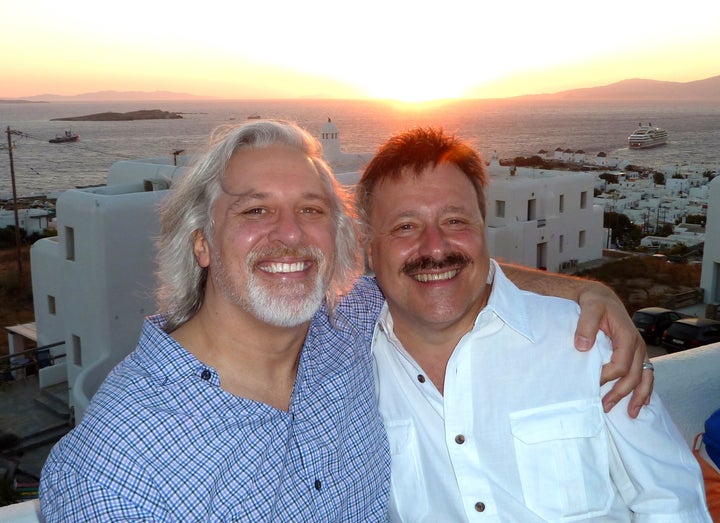 "Everyone would ask us why we don't have kids and always told us that we would make perfect parents" notes Kricho as Saladino quickly adds, "And my response was always, 'don't you know me, I'm so set in my ways.'"
The two Scotts watched as Bob and Will raised their daughter, and later adopted two more children through the foster-adopt system. They saw the joy that Bob and Will brought to the children, and also the joy that the children brought to Bob and Will. Through it all they wondered if they were making the right decision to hold off on starting a family of their own.
A number of years back, they reluctantly accompanied Bob and Will on an r Family Vacations cruise. Their fears of a miserable week were quickly dissolved as they got to spend time with hundreds of LGBTQ families. "We now go every year, that's our vacation time, meeting up with these families with kids on these vacations." Saladino continues, "These kids have become such a part of our lives, and we have become part of theirs. The parents, who have become our dear friends, tell us all the time that their kids only want to go on trips that Scott and Scott will be on!"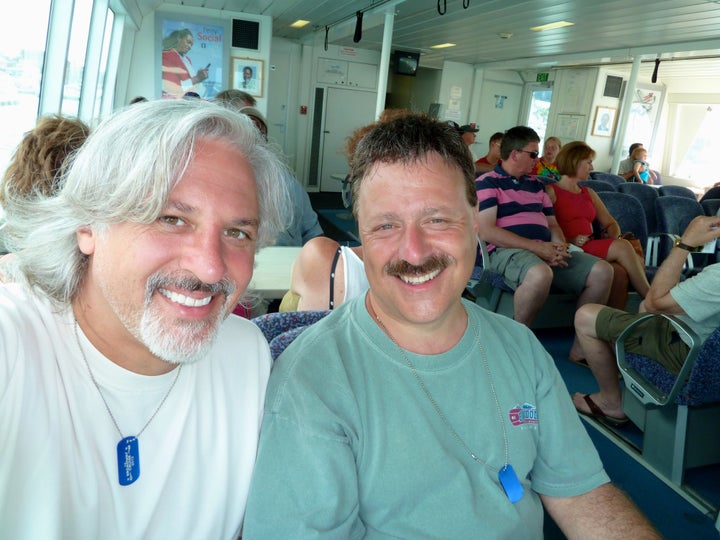 Not only have the two Scotts become surrogate gay uncles - guncles - to the numerous families they have known through r Family, but they also began volunteering at a local group home for homeless gay teens.
Even though the timing had not felt right for them to create a family of their own, Saladino and Kricho still had a yearning to give of their time and a desire to help, in any way they could, children that were suffering.
"I was having lunch with a friend," Saladino tells the story, "and he had begun volunteering at this group home called Mulligan's Manor in Tempe, and thought that we should also volunteer."
The two met with the owner, Jenny, and were blown away by the work she was doing and the eight boys that were under her roof. As they spent more time with the boys, listening to their stories and learning of the experiences that left them hopeless and homeless, they both realized that there were other ways they could help without being parents.
It was a comfort to them both to know they could make a difference without the commitment of parenthood. Soon they rested in the knowledge that just because they would make great parents, it did not mean they needed to be fathers. They could shine their light the best way possible for them.
Kricho acknowledges, "even with the time we spend at Mulligan's Manor, it never feels enough, and we both have jobs that limit the hours we have for volunteering. We wrestle with putting in enough time and not making these kids feel like they are being abandoned again."
On their most recent vacation, they listened as Rich Valenza told personal stories of LGBTQ families created and changed by the foster-adopt system. "It brought me to tears," says Saladino. "We both want to be that couple that could really help these kids."
In their hearts, they grapple with idea of becoming fathers, but deep down they know the clock is ticking and that it may be enough for them to know that they have touched lives through their volunteering; their caring for their biological nieces and nephews; and the countless r Family Vacations families from around the world that look up to their guncles, Scott and Scott.
They both express an incredible fear that they may regret the decision not to have a family. They feel they may miss out on the joy of parenthood, and the time to make a decision is winding down. Saladino rests in his belief that, "if there is a greater plan for a kid to be in our lives, it will happen. And for all I know, it has already happened and we've changed the life of someone for the better through the work we do at Mulligan's Manor or on the cruises."
Are you curious about the benefits of building a family through fostering or adoption? RaiseAChild is a national 501 (c) 3 nonprofit dedicated to building loving families for foster children®. RaiseAChild has engaged more than 3,600 prospective foster and adoptive parents as the nationwide leader in the recruitment and support of LGBT and all prospective parents interested in fostering and adoption. For more information, go to RaiseAChild.org or call (323) 417-1440.
Join us at a free, fun, and inspiring RaiseAChild "Let Love Define Family®" Info Event. Enjoy a special performance by actor/comedian Alec Mapa with complimentary food and beverages. We will answer all of your questions about the process, including all of the benefits of becoming a foster or adoptive parent. All are welcome.
Wed. Nov 15 @ 6:30p The New Children's Museum San Diego, CA
Tue. Nov 28 @ 6:30p Museum of Latin American Art Long Beach, CA
Wed. Nov 29 @ 6:30p The Ricardo Montalbán Theater Hollywood, CA
Thu. Nov 30 @ 6:30p The Discovery Cube Santa Ana, CA
Sat. Dec 2 @ 6:30p All Saints Church Pasadena, CA
REAL LIFE. REAL NEWS. REAL VOICES.
Help us tell more of the stories that matter from voices that too often remain unheard.