Folks, big news: the White House is hosting a South by South Lawn (SXSL) event on Monday, October 3rd. This is about civic engagement and accessibility, which is more important than ever. The deal is, the Craig Newmark Foundation is a partner in the SXSL event on the White House lawn.
Earlier this year, President Obama traveled to South by Southwest for a conversation on civic engagement. In Austin, TX, he called on creative folks and entrepreneurs nationwide to help tackle the toughest challenges facing our country today. The SXSL event next week's to celebrate that spirit of innovation with a festival of ideas, art, and action.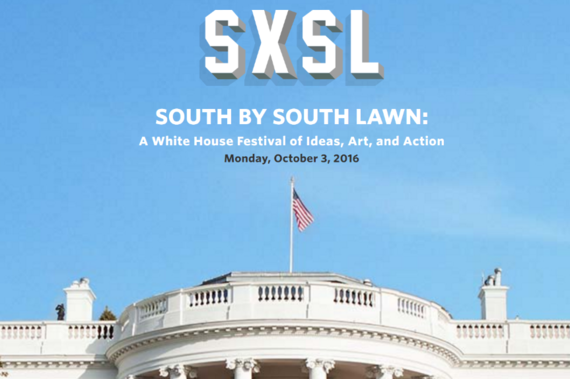 This is a call for Americans to roll up our sleeves and discover our own ways to make a positive difference in our country. And this is an opportunity to celebrate the inspiring work so many folks have already accomplished.
The White House's mission with South by South Lawn is to highlight the work of people who have really got their boots on the ground harnessing new technologies to solve real problems -- and to get participants to think critically about how they can do the same in their own lives. Essentially this is part of the baton pass from the President back to non-government folks to carry on change. We're long overdue for greater civic engagement from all sectors, but the focus here is really the tech community.
I'd like to challenge you to make a commitment to civic engagement and hold the White House accountable to engage with regular people on a regular basis (maybe one day a week) on issues of civic engagement. The democratization and wide distribution of new technologies is providing new opportunities to more and more people, every day, to engage directly with their governments and make change. Or to start change from the ground up. It's the open and ongoing input of citizens that's really helped drive the conversation in today's political and cultural climate.
As President Obama said in Selma, "It is you, the young and fearless at heart, the most diverse and educated generation in our history, who the nation is waiting to follow." But the thing is, this isn't true for just one generation, tech is a sector that spans generations, gender, race, ethnicity, among other demographics. We've gotta make a commitment to standing up for what's right.
If you're able, please join us on October 3rd, no matter where you are. The festival will be streamed live on WhiteHouse.gov, Facebook.com/WhiteHouse, and sxsw.com/live. You can also participate in the conversation online using #SXSL to share your ideas and tell us how you're working to create real change. Don't hesitate to tell me about it in the comments, too. Thanks!
Calling all HuffPost superfans!
Sign up for membership to become a founding member and help shape HuffPost's next chapter