A 38-year-old Kansas woman who lost custody of her 11-year-old son and faces charges that could send her to prison for 30 years over her use of medical marijuana was released on bail last week.
Shona Banda, who has a severely debilitating case of Crohn's disease, now prepares for the fight of her life -- one that her attorney is hoping will not just keep her client out of prison and restore custody of her child, but one that she hopes will cripple "absurd, archaic and outdated marijuana laws that should have been changed decades ago" in Kansas and the rest of the United States.
Here's how a mother of two using a plant to self-medicate found herself, and her family, being targeted by authorities in her home state. And just how she's planning to fight back.
'She Was Barely Functioning, Barely Living.'
Banda had been suffering from what she calls a "terminal case" of Crohn's disease for nearly a decade.
Crohn's is a chronic bowel disease that causes inflammation of the intestinal tract and produces an intestine that can no longer adequately absorb food and water. This can result in mild to severe diarrhea, abdominal cramping, blood loss and anemia, as well as joint pain and swelling, according to the Crohn's and Colitis Foundation of America. Its exact cause remains unknown, and while death from Crohn's is rare, a multitude of complications that can arise when living with the disease can be fatal.
Banda says she was "bedridden" and "walking with a cane for help" due to the severity of the joint pain she was experiencing.
"With Crohn's disease, it's like having a stomach flu that won't go away, and my body's recognizing that something's wrong and it's attacking itself so it's in overdrive," Banda said in a 2010 YouTube video interview.
She said she frequently was so weak and in so much pain that she raised her kids "from a couch."
To combat the disease, Banda had numerous surgeries, long hospital stays, difficult recoveries and dozens of prescription medications that she was forced to take daily -- and even with all of that, she was "barely functioning, barely living," Banda's attorney Sarah Swain told The Huffington Post in an interview.
"If we were to place her disease on a spectrum, I would place it on the far end as something that could have killed her and I believe, very strongly, still could," Swain said. "If the end result of this case is that she gets sent to prison, I believe there is a real chance that this is the equivalent of a death sentence."
Shona's 'Miraculous' Recovery
Desperate for an effective treatment, Banda began looking outside of traditional medicine. After watching a documentary about the benefits of cannabis oil, Banda said she started to make her own oil in her kitchen and would consume it around meals.
"Literally within days her Crohn's was in full remission," Swain said. And after several months of continued treatment, her health had improved so dramatically that "she considered herself cured from Crohn's disease."
"I'm not in my deathbed, I'm working for the first time in four years, I'm hiking, I'm swimming, I'm able to play with my kids, I'm able to do things -- I love it," Banda said in the YouTube video.
Banda was public about her health crisis, as well as her use of medical marijuana, and detailed it all in a 2010 memoir, Live Free Or Die, which recounts her brutal battle with Crohn's disease for years.
She also recorded a YouTube video the same year her book was published to help further spread her message about the medical benefits of cannabis.
"When you decide to take your life into your own hands and realize that you can do this with a $50 machine, a $5 spatula and a plant that you can grow for free in your backyard, you can do this -- and it's awesome," Banda says in the YouTube video. "This stuff is amazing, it's miraculous."
A 'Drug Education' Discussion Sparks An Investigation
Banda made no secret about her cannabis oil use around her two children, 11 and 18, and they watched firsthand for years as their mother's strength, and health, returned as she continued to self-medicate.
That's why during a March 24 "drug and alcohol education" presentation at Banda's 11-year-old son's school in Garden City, Kansas, her son pushed back against some of the information he was being told about marijuana's dangers -- it didn't ring true to his personal experience.
"So he raised his hand and essentially said, 'No, that's not accurate,'" Swain said.
But his nuanced understanding of the plant inadvertently set in motion a series of events that would turn his family's life upside down. Banda's son was quickly called into the principal's office, where the fifth-grader was questioned at length about his mother's marijuana use, Swain said. That meeting triggered a call to Child Protective Services. The agency notified local law enforcement, which obtained a warrant and then searched Banda's home shortly thereafter.
Inside Banda's home, police found a little more than 1 pound of marijuana, along with equipment Banda had been using to manufacture her cannabis oil in the kitchen. They also found various items related to ingesting marijuana throughout the house that tested positive for THC, the main psychoactive ingredient found in marijuana associated with the "high" sensation and well-known for its medicinal properties. The police also said that the items taken from the house were "within easy reach of the child."
Banda's son was immediately removed from her custody and placed into state custody, where he remains. He has been temporarily placed with Banda's husband, from whom she is separated.
Kansas, A State Of Prohibition
To date, 23 states have legalized marijuana for medical purposes, 20 have decriminalized possession of small amounts of the plant and four have legalized recreational marijuana.
However, marijuana, be it medical or recreational, remains illegal under the federal Controlled Substances Act. Within the CSA, the U.S. has five categories for drugs and drug ingredients, with a Schedule 1 categorization reserved for what the Drug Enforcement Administration considers to have the highest potential for abuse and no medical value. Marijuana has been classified as such for decades, alongside other substances like heroin and LSD.
The states that have legalized marijuana or softened penalties for possession have only been able to do so because of federal guidance urging prosecutors to refrain from targeting state-legal marijuana operations.
But those protections don't extend to states like Kansas that have continued to prohibit marijuana, similarly to the federal government.
Banda was aware of the risks of using medical marijuana in her home state. Twice she had tried to relocate to Colorado, where both medical and recreational marijuana are legal, as so many people have done -- becoming "marijuana refugees" -- but for financial reasons, she was forced to return to Kansas.
"Shona Banda is not a rich woman, she is a lower-middle-class woman who does not have a lot of money or financial support in the world," Swain said. "And at multiple times while she was attempting to live in Colorado and use cannabis legally, she found herself homeless, her and her family. It was very difficult."
Swain said Banda was forced to choose between a state that was too expensive for her to live in but provided legal access to the medicine she so desperately needed, or move back to Kansas, where she could afford to pay her bills and provide a more stable living environment for her children, knowing that the medicine that was keeping her alive and well could land her in prison.
The state of Kansas has charged Banda with five felonies: possession of marijuana with intent to distribute, manufacturing THC, child endangerment and two counts of drug paraphernalia possession.
She faces a maximum sentence of 30 years in prison, an extreme sentence that has outraged advocates for reforming the prohibition policies in states like Kansas.
"Punishing someone for using marijuana to treat a medical condition is ridiculous," Mason Tvert, communications director for the Marijuana Policy Project, told HuffPost. "Taking away their child for it is legitimately evil. Kansas' draconian marijuana laws have caused far more harm to this woman and to her child than marijuana ever could."
Banda turned herself in Monday. She immediately posted the $50,000 bond the state had set and was released from jail just a few hours later. She was only able to do so thanks to a GoFundMe account in her support that has garnered tens of thousands of dollars more than the $15,000 it was initially set up to raise.
Next: A War On The War On Drugs
"Law enforcement messed with the wrong person," Swain said with ferocity.
Of course, first and foremost, Swain wants to see all charges dropped against her client and for custody of her son to return.
But she has a secondary goal. It's lofty, but it's one she says is long overdue and one that doesn't end with changing just Kansas' marijuana laws.
"The goal is to change the law for everyone, to make sure that this drug is classified as something less than a Schedule 1 drug, something that, if changed, would benefit millions of people," Swain said. "We are filling our prisons with poor people and minorities, because, let's be honest, the war on drugs is a war on poor people and minorities, it's a pipeline for mass incarceration -- and it needs to end."
Swain says that she is prepared to take Banda's case every step of the way to achieve those goals -- including before the Supreme Court, if that's what it takes.
"Too many people are being forced to choose between dying or violating a law and facing going to prison -- it's totally unacceptable," Swain said. "It's time to end these absurd, archaic and outdated marijuana laws that should have been changed decades ago."
Further hearings in Banda's case are set to be scheduled on Aug. 24.
Before You Go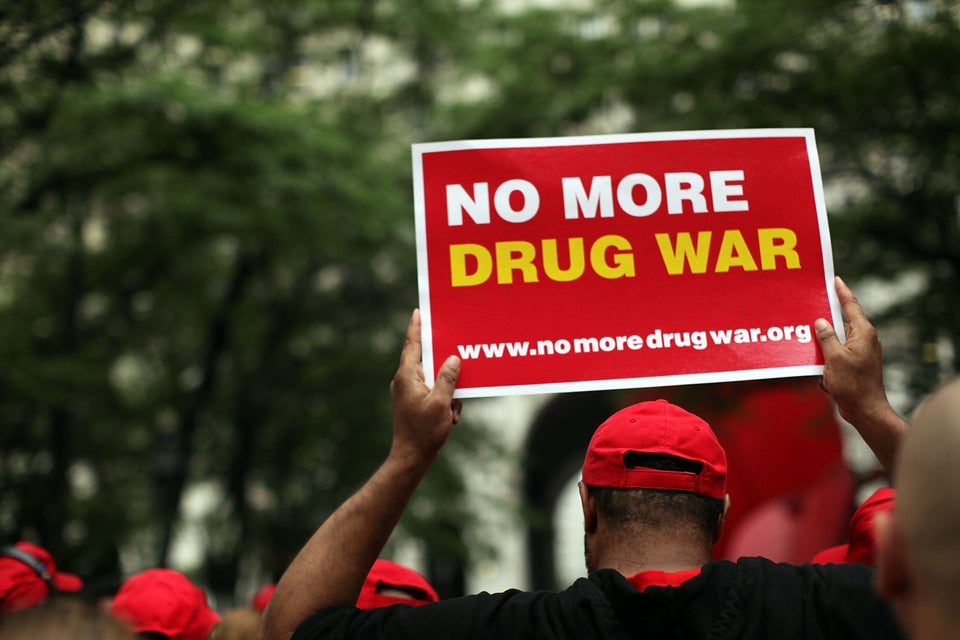 27 Reasons Why The U.S. Shouldn't Lead The War On Drugs
Popular in the Community