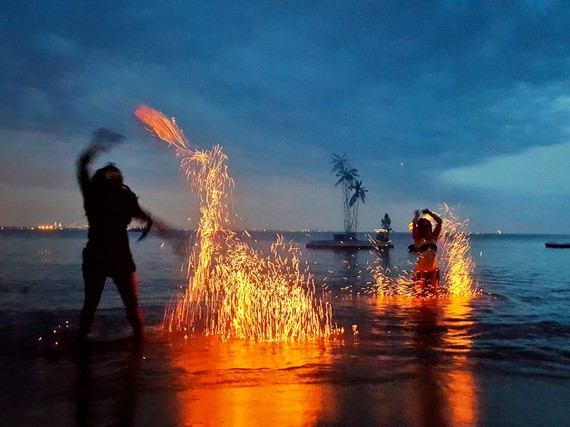 Photo by Timothy Alexander Phillips
From July 15th to 17th three thousand people attended a festival called Gratitude Migration in the seaside hamlet of Keansburg, New Jersey. Keansburg is about an hour south of New York City and it's hELLO beach offers a magnificent vista of New York City. At night the city is illuminated across the calm, shimmering waters and it's a magical setting for camping.
Gratitude Migration is a celebration of art, music, dance, fire spinning, yoga, costuming, body painting, lectures, and more. It's website describes it as "is a world where life becomes art and dreams become reality."
This year when planning for the event the festival organizers painstakingly endeavored to be as inclusive as possible to the town's leadership, businesses and residents. Gratitude Migration founder Drew Meeks explained to me that it wasn't about him, or the organization leaders, but the attendees who were creating the magic. He could facilitate the event, but the quality and success of it was about the individuals who came to co-create a collective experience. They were the creators, not him. I found this level of humility incredibly refreshing.
Gratitude Migration in years past was a type of pre-Burning Man party for New York area camps. It has adapted some of the wonderful principles including leave no trace where you don't throw litter on the ground. What you carry in, you take out. I saw people each day 'mooping' (matter out of place) all on their own volition collecting cans, wrappers, bottles, from the sand.
Taking another cue from Burning Man's uniqueness is the fact that Gratitude Migration isn't a spectator festival. Everyone is participating, everyone is interacting and providing some type of meaningful experience. People wandered by with plates of food, free drinks, a tent with mystical glow in the dark paintings offered Chamomile tea. DJ's performed, fire spinners offered elaborate tribal rituals, a flock of women in delightful butterfly costumes emerged at sunset to skip and dance down the beach. It was a feast for the imagination.
I came to curate a discussion at the educational School of Dreams tent about how I turned my hobby of songwriting into a lifelong career. How to "Do What You Love." I was also tapped to do a musical performance with Catalyst, a 20 year old musician who grew up at the Jersey shore in the town of Brielle. We started off the live performances at noon on Saturday and delighted that a number of people spontaneously joined us including Natalie Lowe of Ellis Ashbook, a Brooklyn based rock group who's band performed on Sunday.
An unexpected downpour of rain on Saturday afternoon caused all performances to shut down. Security hired for the event was extra cautious in protecting everyone, for their own safety. Everyone was ordered out of the ocean as lighting was seen nearby. All metal framed structures were temporarily evacuated. The following day I read that two women were struck by lightning in nearby Point Pleasant Beach so the caution of hired security team was indeed prudent. The rain however caused confusion as it canceled or delayed hundreds of lectures, performances, events. By Saturday night the skies cleared, and the beautiful people emerged full of light, sparkle, glitter, and elaborate costumes.
The town was once a bustling destination for summer beach revelers but over the decades it's glory faded onto hard times. It's the kind of place you'd hear about in a classic Bruce Springsteen song. An aging amusement park, boarded up store fronts next to vacant lots covered in weeds. Particularly after the devastation of Hurricane Sandy this town needed some kind of lift, and a revival came in the most unexpected of ways.
Many of the locals I spoke with like Dennis who grew up in Keansburg told me "this festival is the best thing that ever happened in my town. Local people have been struggling. This festival helps revive the economy, provide jobs, and bring people back to our beach. I hope they come back every year again and again." Dennis told me he used to be a musician back in the day playing guitar in 1950's type groups and later in rock n roll bands. He celebrated his 64th birthday Friday night on the beach. Of course there were a few locals who were angry at the intrusion into their quiet community, but most brought folding chairs and watched the mirth going on around them.
Gratitude is an interesting concept. Wikipedia describes it as "a feeling or attitude in acknowledgment of a benefit that one has received or will receive. Psychologytoday.com describes it as "an emotion expressing appreciation for what one has--as opposed to, for example, a consumer-driven emphasis on what one wants."
This uplifting feeling was present everywhere I went. I moved my sleeping bag out of my tent and fell asleep under the stars Saturday night to the gentle sound of lapping waves. The boom of a nearby dance floor didn't deter a night full of vividly colorful dreams, echo'd sounds of laughter, and an early morning awakening to a peach and cream colored dawn.
A few hours earlier whilst walking toward the Pex stage a young girl remarked that the sand in the center road was rough and bumpy just the night before, but been smoothed down to a sandy silk texture that felt great under her bare feet from so many people walking upon it. This made the road more safe and enjoyable for many others who followed later. It was to me a metaphor of life. As we travel with gratitude, and share that feeling- like a ripple it spreads across the world.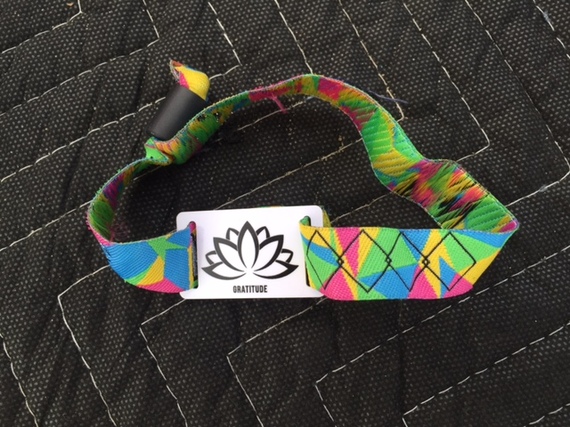 Gratitude Migration Website: http://www.migratewith.us/
Calling all HuffPost superfans!
Sign up for membership to become a founding member and help shape HuffPost's next chapter